Shortcode
You can find the shortcode under gallery preview.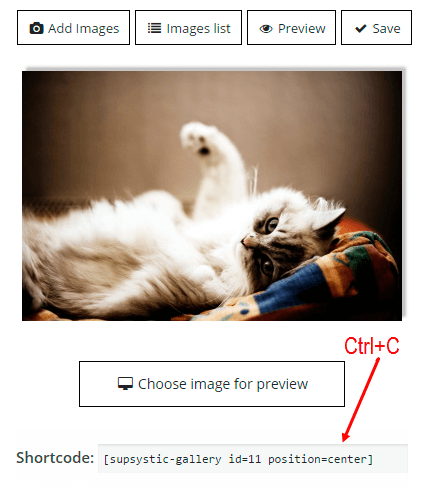 Copy and paste the shortcode into your post or page and Gallery by Supsystic plugin will automatically create the gallery on your page using the settings you choose above.
Important! Shortcode must be inserted in a text editor page, and not in the visual.

Besides you can use "add shortcode" button in WordPress editor. All you need is go to page or post into you want to insert gallery and click shortcode button in visual editor – "Add Gallery". Then choose gallery which you need and click "Select" – shortcode will appear in editor!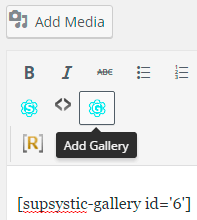 You can also specify position of gallery on page by adding position parameter into shortcode.
[supsystic-gallery id=4 position="left"]
This parameter can have three values:
PhpCode
To find php code – on the left navigation menu click "Galleries". Here, for each gallery written its own php code.

In general php code can be inserted at any place of the page code – to display exactly in this place, for example in the header or footer of the page. Besides it can be inserted in the code of template of the theme – to display on all pages.