Step 1: Installing Membership by Supsystic
In WordPress, navigate to Plugins > Add New. Search for "Membership by Supsystic" and click Install Now. When the installation has completed click "Activate Plugin". You will have a new admin menu item titled "Membership by Supsystic".
Step 2: Customizing the Membership Community
After activating the Membership plugin on your site will be automatically created such Membership pages –
Activity – page with activities of all membership users. Here you can monitor the registration of new users, creating new groups, posting new content from all groups and profiles. Also here you will be informed about new friends of all users of your Membership website.
Groups – list of all groups on your Membership site. On this page plugin allows you to check all communities of your membership website, besides there are separate tabs for your followed and managed groups. Also on Groups page you can create your own new community.
Login – login page for membership users.
Members – list of all membership profiles.
Messages – page where you will be able to create conversation with another membership users.
Profile – personal profile page of each user.
Registration – page for registration new users.
All these pages you can customize in Pages tab of your WordPress menu and add to site menu using this path – Appearance -> Menus -> customize Menu Structure.
After this go to Membership plugin Settings. Let's configure the general settings.
On the Main tab of Membership plugin you will find the next settings –
Admin Email – specify your admin email on which you will receive all notifications about your site. Also here you can send a test email.
Messages, Groups, Friends, Activity – activate or disable this tabs for the profile page.
Choose the Redirection page after such actions – Registration, Login, Logout and Account is deleted.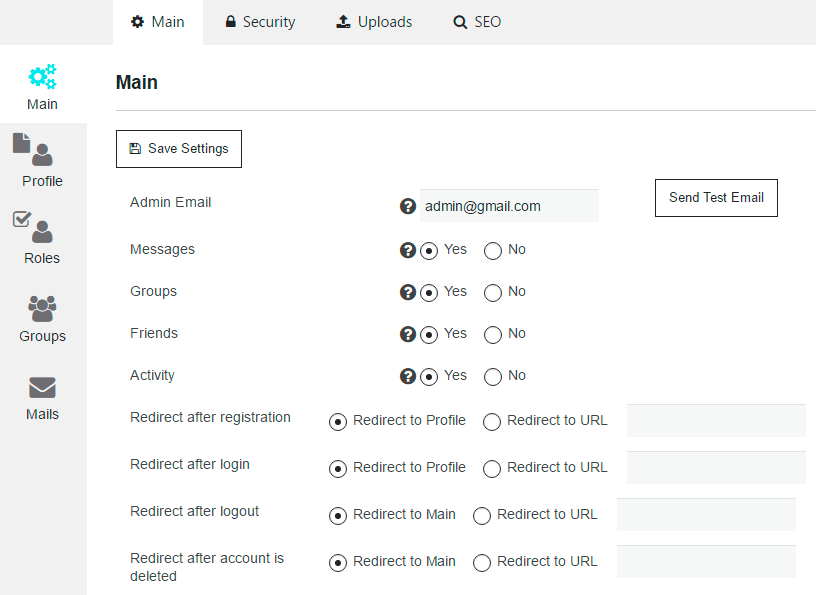 On Security page you can set the Global Site Access – make your site accessible for everyone or to logged in users, enable Redirect from backend login screen to membership login page and keep Blocked IP Addresses list.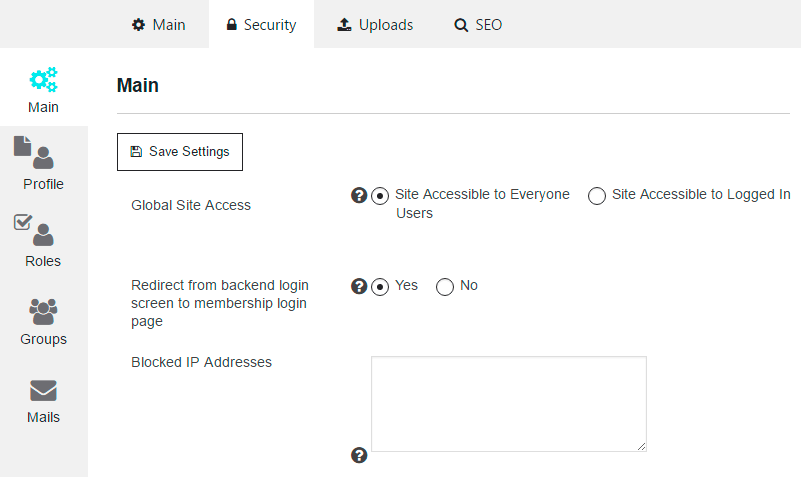 Uploads page allows you to customize such image settings –
Maximum Image Size
Maximum File Size (bytes)
Image Quality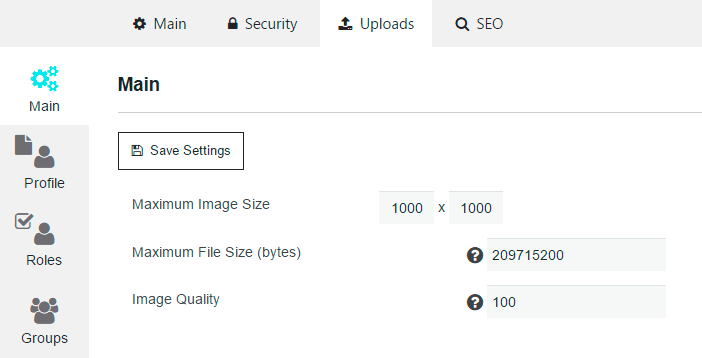 The last tab of Main Settings – SEO. Here you can set User Profile Title and User Profile Dynamic Meta Description.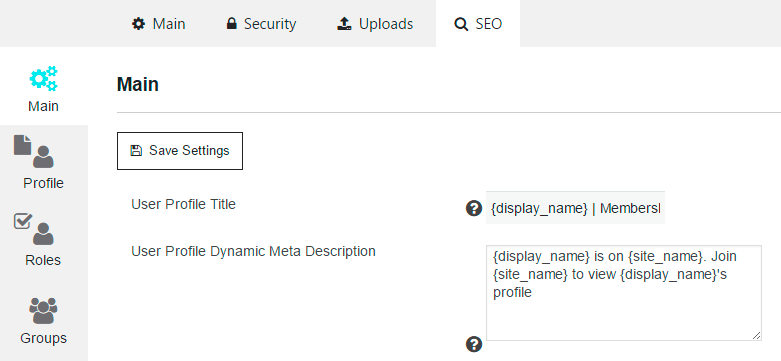 Step 3: Profile Settings
On Profile tab you will be able to customize the following settings –
Select the Default user role. All membership roles you can create on Roles tab.
Use Profile Avatar.
Use Profile Gravatar.
Specify the Profile Avatar Size and Avatar Thumbnails Sizes.
Set the Default Avatar Image
Enable Use Profile Cover and choose the Default Cover Image.
Specify the Profile Cover Size and Cover Thumbnail Small Size.
Select Profile Permalink Base – username or user ID
Customize the User Display Name
Choose the Registration Confirmation –

Auto – after registration will be automatically created and activated the membership account for user.
Email confirmation – after registration user will receive the confirmation message on his/her email address. To activate the account, he/she will need to click the link inside the confirmation letter to confirm the email address.
Administrator confirmation – in this case after the new user registration – administrator will receive Pending Review Email. In this letter administrator can check the information about new user and make the decision – approve or reject the account. To make decision – go to Users page in WordPress menu -> find the user profile -> click Edit -> choose the Status for account – Active or Rejected. Besides here you can select another statuses – Deleted, Disabled, Pending Review. After the administrator will choose the status – user will receive the email about the admin decision.

All letters you can edit on Mails Tab.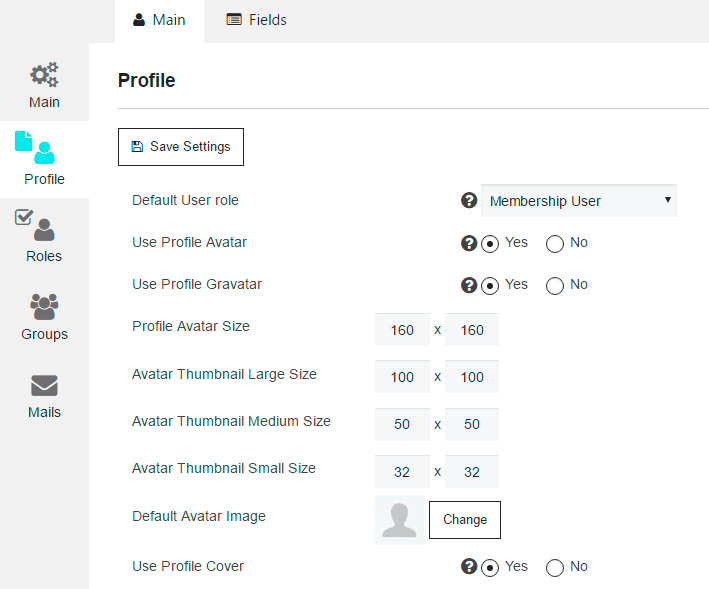 Let's check the Fields tab. Here you can create and customize profile sections and fields. These information will be displayed in About tab of user profile. Besides here you can specify what fields will be used for registration and which of them will be required.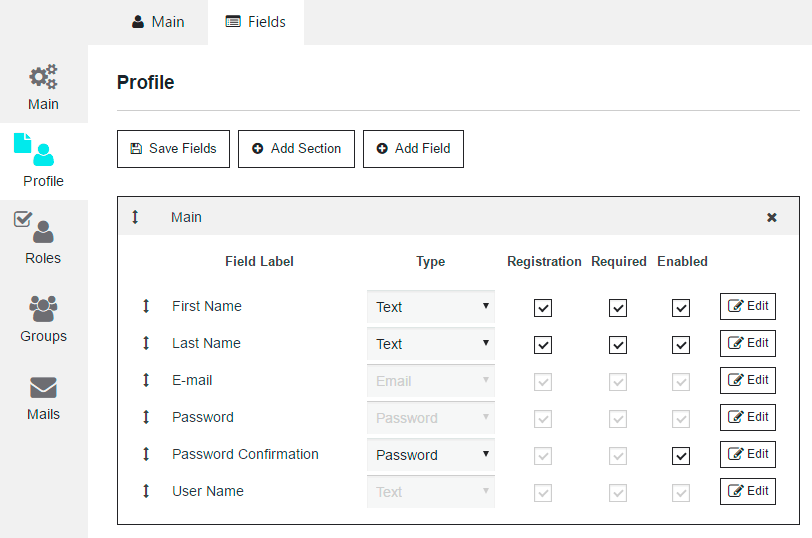 Creating of the new field allows you to set the label, choose the type of field, specify the description, choose the section for field and activate the field statuses.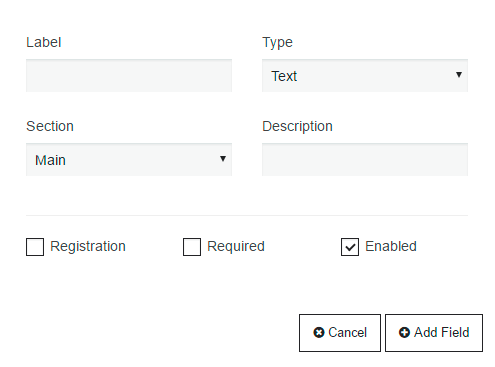 Step 4: Membership Roles Configuration
Roles tab offers you to manage with membership roles – create, edit or delete. By default there are two roles – Membership Administrator and Membership User.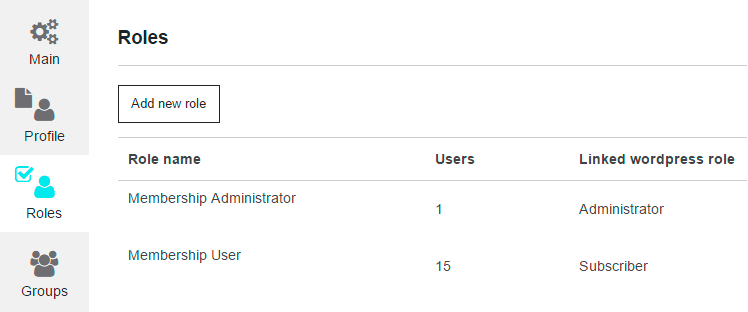 To edit role – hover your mouse on membership role and click Edit. Here you can find such options and permissions for membership roles –
Main settings

Role name
Linked wordpress role

Administrator permissions settings

Can access wp-admin
Can see wordpress admin bar

Profile settings

Can delete their account?

Groups settings

Can create groups?
Can block groups?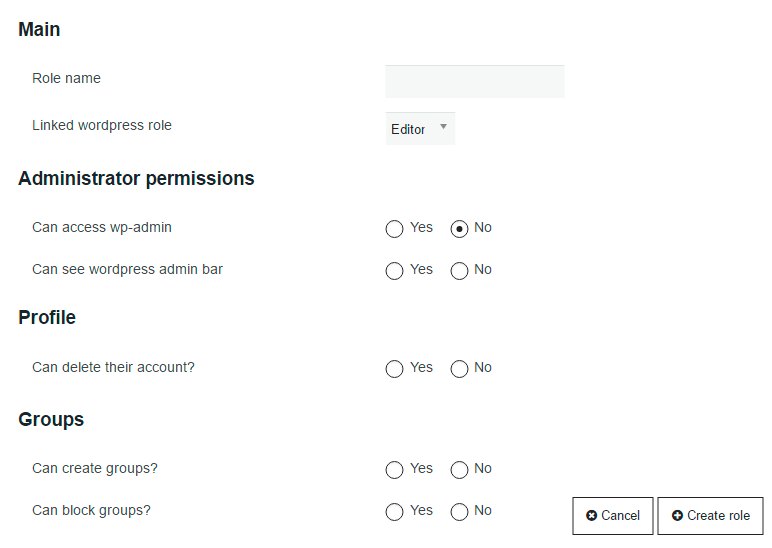 Step 5: Groups Settings
On Groups page you will have the next opportunities –
Specify the Group Logo Size and Logo Thumbnails Sizes.
Set the Default Logo Image.
Choose the Default Cover Image.
Specify the Group Cover Size and Cover Thumbnail Small Size.
Select Group Permalink Base – group alias or group ID.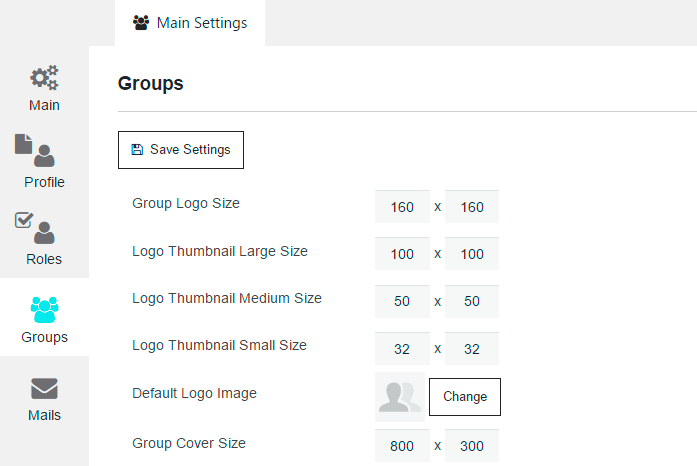 Step 6: Mails Settings
Emails tab allows you to customize the send options and templates of emails. Here you can –
Specify from which name will appear the email.
Specify from which address will appear the email.
Use HTML for E-mails
Enable and edit such emails templates – Account Welcome Email, Account Activation Email, Pending Review Email, Account Approved Email, Account Rejected Email, Account Deactivation Email, Account Deleted Email, Password Changed Email.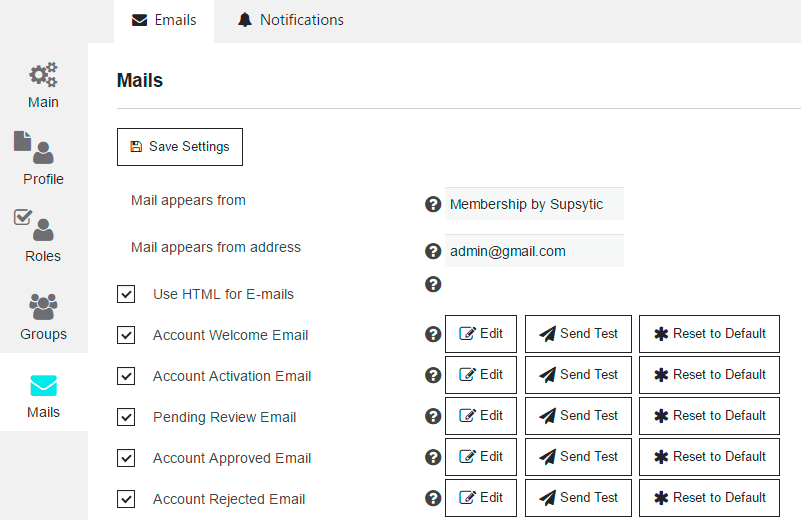 With Notifications tab you will be able –
Set Messages Refresh Period
Specify Admin E-mail Address
Enable and edit such notifications templates – New User Notification, Account Needs Review Notification, Account Deletion Notification.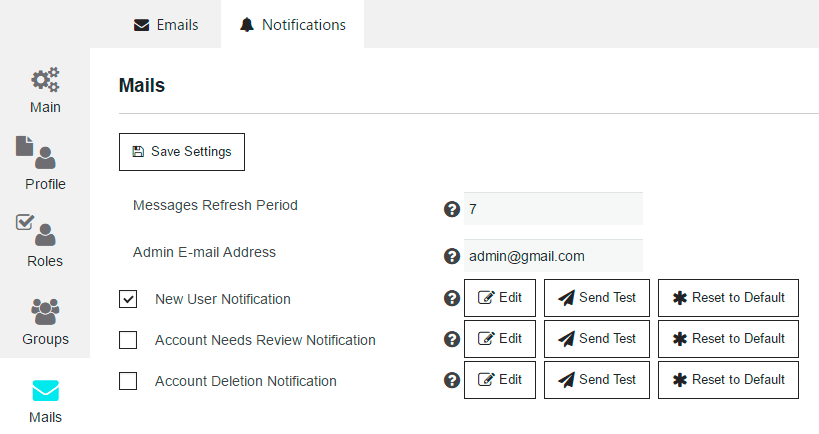 Besides you can reset any of email or notification templates to default or send a test email with this template.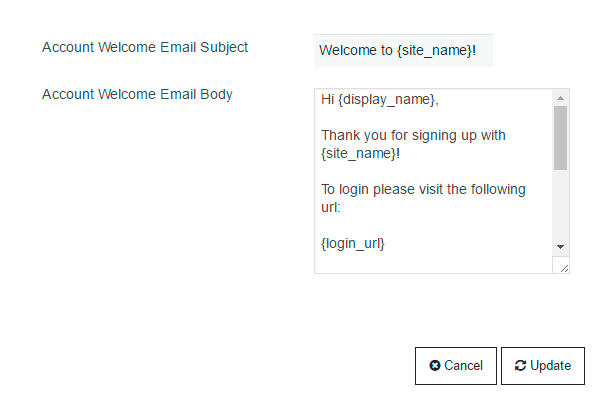 Step 7: Membership Design
On Design Tab, plugin permits to change the front-end appearance. Let's check General tab –
Main section has two parameters:
Profile image style. Here you can modify the form of users photo to circle, square or with rounded corners.
Default theme colors. Allows you to choose whether you want to have default theme colors or no.
Change colors in Buttons section to produce your own style of Membership.
You can choose filling of the primary buttons in the Primary Button Color field, text color of this button in Primary Button Text Color and filling of the button when user places on the cursor in Primary Button Hover Color.
Analogically you can change Secondary button design.
Speaking about Inputs, here is permitted to modificate fields filling, borders and text color:
Label Text Color
Input Border Color
Input Border Focus Color
Input Background Color
Input Background Focus Color
Input Text Color
Input Placeholder Color
On User Profile tab you can adjust the maximum width of Background photo by Profile Container Max Width, the Color Profile Header Background and decide if you want the user's name will or won't be displayed.
Click Registration and Login division to edit the texts of registration/login buttons. You may add Login Secondary Button URL a little below. Also select to show or not buttons remember me and Login secondary button.
In Members Directory it's possible to adopt next moments –
Which user roles you want to show on Members Directory of your Community site –

All
Membership user
Membership administrator

To establish, if you want to see Only Members With Photo/Cover or no.
Favor how you want system to show Default Sort Users By:

New users First
Old Users First
Last name
First name
Random
Step 8: Front-end Customizing
On front-end of your Membership website you and your users also will have a lot of settings which are available to edit.
Profile Settings
Profile settings are available to edit only from personal user account. On your profile page you will be able to edit personal information, make some actions with friends and groups. Besides plugin allows you to upload your photo for avatar and cover of profile.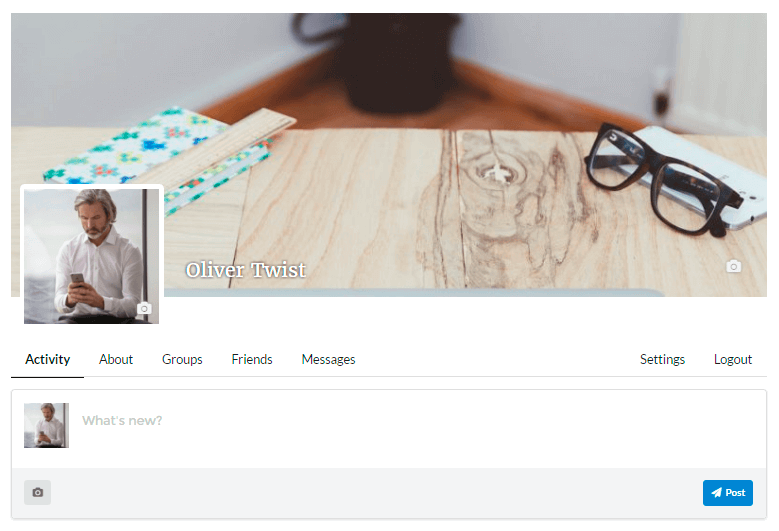 Activity – here you can post your minds, share the photos, your friends will be able to like and comment your posts. Besides you can share the posts of your friends. Also you will be available to delete the post, comment or like.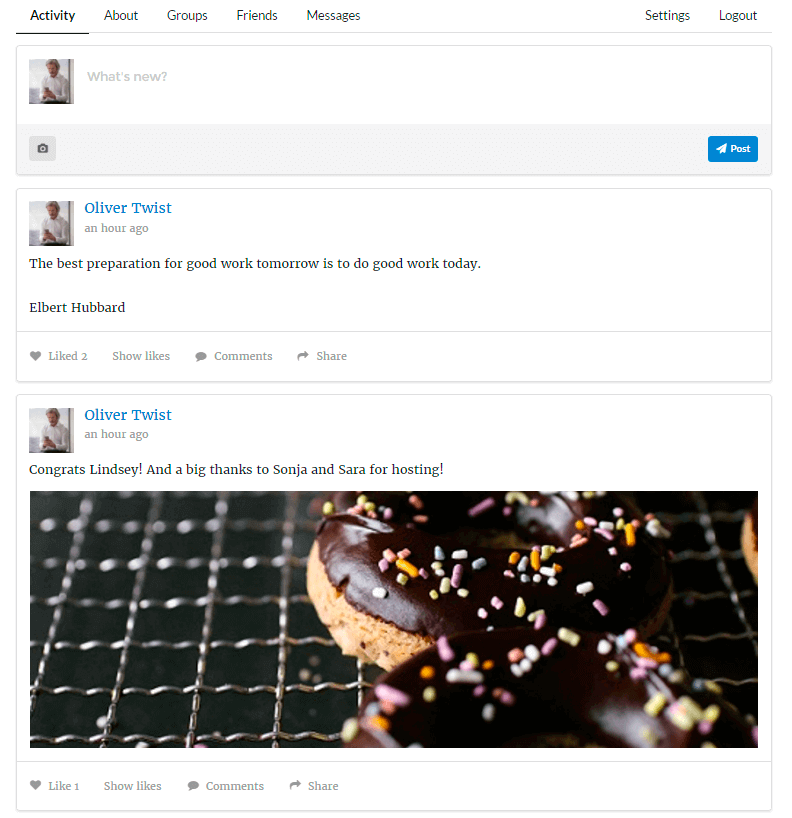 About – on this tab you can edit the information about yourself. Here will be displayed those sections and fields which you have created in Fields Settings of Membership plugin (check step 3). In order to edit the information – hover your mouse on it and click "Edit" button. Don't forget to save the changes.

Groups – this tab shows the communities on which you will be subscribed.
Friends – check the list of your friends. Also here you can accept new friends, which want you to add you to their lists, find new friends or unfriend some of your friends.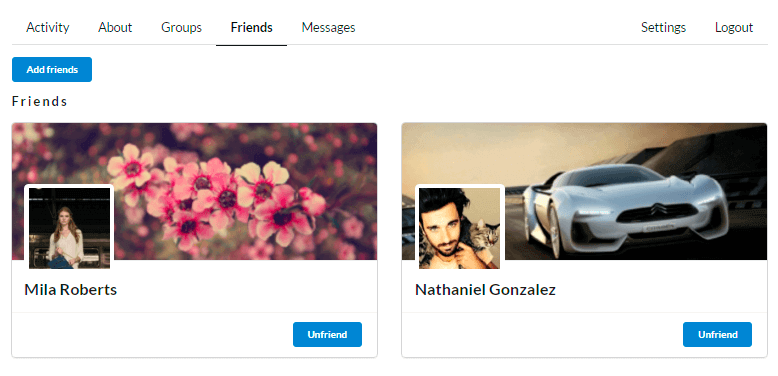 Messages – here you will have the ability to communicate with your friends in personal chats.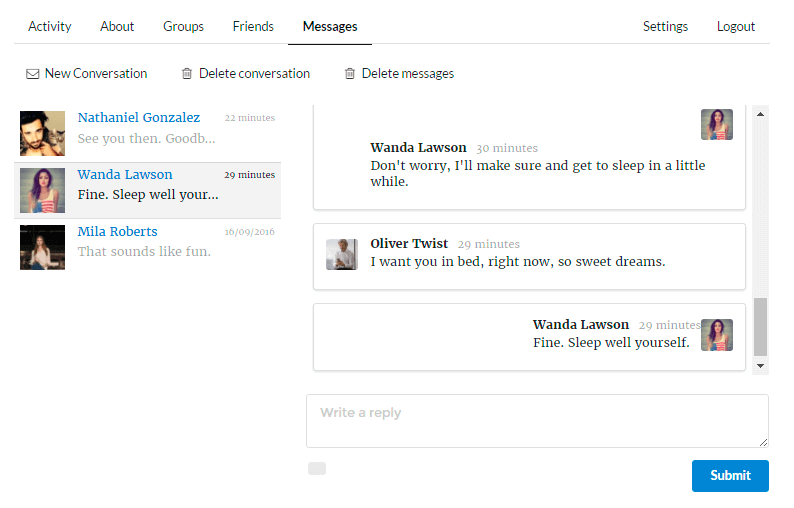 Settings –

Account – here you can change your profile email and password. And also delete the account.
Privacy – set the privacy settings of your profile page for another users. Here you can specify the limitations on different actions with your profile page for different users.
&

lt

;

h4

&

gt

;

Group

Settings

&

lt

;

/

h4

&

gt

;
With Membership plugin you and your users will be able easily create unlimited number of Communities and customize them as you want.
If you want to create new group – click "Create Group" on Groups page. Enter Group Name and Description, choose the Community type (groups settings allows you to make your group open, close or private), invite users to your group and click "Create" button. Set the photos for avatar and cover of your community.
On your group page you will be able –
Add tags for group
Activity tab

create posts with images and publish it from your or group name

Members tab
Settings tab

in Main section you can change the name and description of group
with Privacy section you have ability to change community type and specify the limitations on different actions with your group page for different users.

Invite friends
Invite administrators – you can invite another user to be administrator of your group.
Other users in your group will be able to see all members of group, invite their friends, post the content in your group, comment and like your posts. Besides they can leave the group. Access to all these actions for your users you can restrict in Privacy settings.