To test Exit PopUp option of WordPress Popup plugin by Supsystic – just move your mouse to the top of your browser screen – and you will see how it works.
On exit PopUp functionality (*Pro option) is really helpful to increase your site usage, sales, subscribers, etc. It will show PopUp before user will try to exit from your site. Imagine – visitor looks on your site, and doesn't see anything that he needs. He tries to close web-page – and now we show WordPress PopUp to him – like "Hey, wait, check one more section of our site!" or propose to subscribe – to be notified once you will add something new to your site. And this will be exactly what he needs! This will help you to increase your subscribers, sales and site visitors.
In order to enable this option for your popup – go to the Main tab of Popup plugin by Supsystic -> When to show Popup section -> and choose "On Exit from Site" radio button.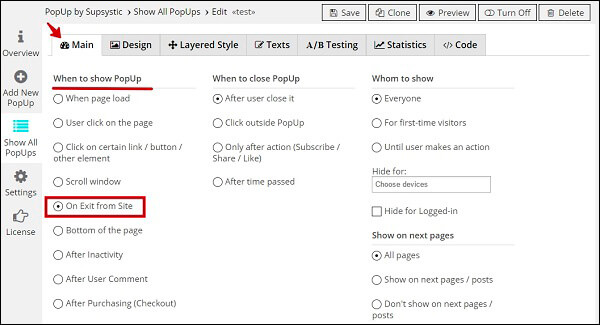 Normally 95-98% of your visitors leave your WordPress site without generating any sales. Now it's possible to show them a special offer with exit popup, new products, discount code or whatever you like before they turn into bounced traffic. With Exit Intent of Popup plugin you'll be able to convert your 2-5% of your bouncing traffic into leads or sales.
Moreover, we believe that lead generation and growing your website is such a crucial thing that every site owner should be able to do that without hiring a developer. Popup plugin made by Supsystic is the most user friendly. You won't have any problems with changing settings and making it an integral part of your website.