Opening tab Design of Popup plugin by Supsystic on subtab Popup Opening Animation you can choose one of the animation styles for opening (closing) your popup window.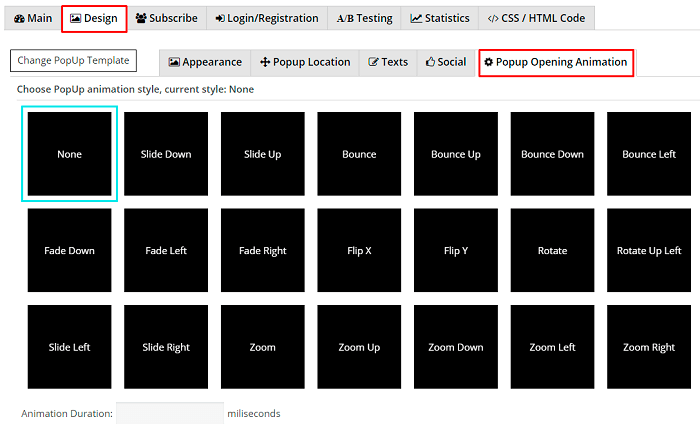 To see the effect of animation you need to point your mouse over the animation. For selected style might be set animation playback duration. There are following animation styles:
Popup by Supsystic is a WordPress plugin that will display a box on your page once the reader has scrolled down the page. (You can change the settings anytime).
It offers a huge amount of customization. You can display the box on the left, right, or middle of the page. You can also adjust the number of days the box stays hidden if a visitor closes it. The box can be shown on posts, pages, and/or the home page.
In the settings area, you can enter the content that is displayed in the box. You are not restricted to display a newsletter sign up form. You could also use it to display a banner or a simple message to readers. Social media sharing buttons can be enabled in the box through the settings page. Alternatively, you can style the box using custom CSS. Don't waste your time. Download Popup plugin by Supsystic, attract the attention of your users!