Useful contact form can be on every site and in different forms: you can add any emails boxes and checkboxes, names and countries etc. You can ask and gather approximately all info you want and you need. The database of your customers' contacts would be very simple and minimalistic, in a very simple table. In addition, all these forms you will get by emails directly to your inbox mail.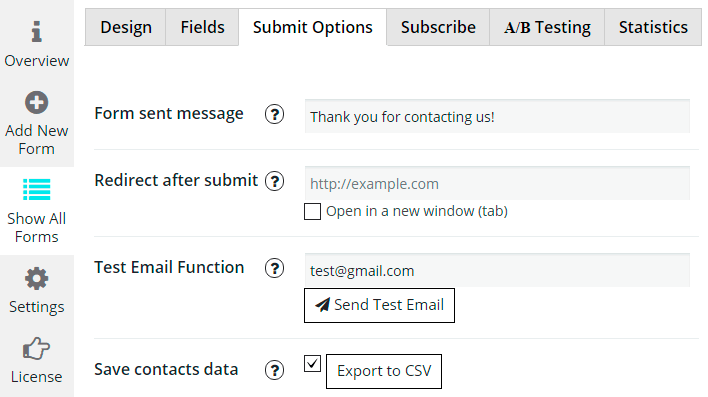 After submitting the form your client can see different messages, according to your idea or requirements. The Submit Options tab helps you with this. The functions you can set there allow you to create an ideal picture for your customer – you can redirect your customer to the site, you need or write the message you want. Psychologists say that the best way is or to redirect to the custom store or to show a thankful message.
Test Email function was created especially for the moment before the start of your site or plugin, when you want to check all the instructions by yourself.
May be the most useful and important option of this plugin by Supsystic – Save the contacts data. On Submit Options tab you can export all the stuff into CSV file to your device.
Besides here you will be able to customize how would look like the email letter with data from contact form.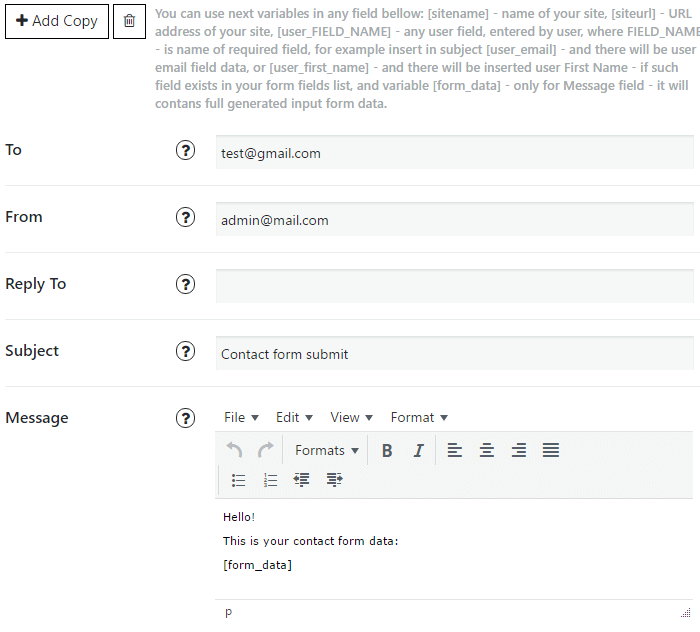 Create your own responsive Contact Form with the help of Supsystic plugin in seconds. Fast, easy set up, beautiful design, minimalistic data and informative result. Connect with your customers and increase the number of your conversations now. Be in touch with them and increase your experience of customer service. Become a really customer-oriented store/site/ WordPress blog with Contact Form by Supsystic.