Generador de Datos de Producto proporciona una característica para crear tablas con filas plegables en frontend.
Tienes una opción de hacer plegable ciertas filas, de modo cuando los visitantes que lleguen a una página con una tabla, vean la tabla de datos con «tabla de contenido». Si haces clic en una categoría, esa categoría se despliega para mostrar todas las filas asociadas. Puedes seleccionar una fila para hacerla principal y las filas se asociarán con la misma.
Si añades filas plegables, entonces, la primera línea de las filas seleccionadas se convierte en la línea «principal». Siempre estará visible y un signo «+» estará disponible en la izquierda. Las otras filas seleccionadas debajo de la principal están plegadas por defecto, y al hacer clic en «+», se despliegan las líneas plegadas.
Además, puedes utilizar no solamente campos ocultos, sino también la herramienta de ayuda visual, un tooltip, para las celdas, convirtiendo el contenido de la celda en un ícono mediante el tooltip.  También, la opción de búsqueda está disponible para plegables filas de tablas de datos, haciendo la navegación mucho más cómoda para los usuarios.
In order to create Data Table with collapsible rows on front-end you need:
Para crear la Tabla de Datos con filas plegables en frontend sigue los pasos:
Haz clic en "Añadir nueva tabla"  en el menú de navegación izquierdo.
Escribe el nombre de tabla de datos y elige el número de filas y columnas.
Haz clic en el botón «Aceptar».
Abre la pestaña «Editor» en los parámetros de la tabla.
Añade datos en la tabla de WordPress.
Selecciona la fila y comprueba este icono. La primera línea plegable se convierte en la fila «principal» con un botón de control. Otras filas plegables se ocultan por defecto, el usuario puede mostrarlas / ocultarlas pulsando en el botón de control de la línea «principal».
Para convertir el contenido de la celda en un icono mediante el tooltip, elige la celda y marca el icono. 
Para habilitar la función de búsqueda para los campos ocultos, pásate a Ajustes, Pestaña Características y marca la opción necesaria. Cuando se aplica la búsqueda, las filas plegadas se despliegan automáticamente para mostrar las líneas que contienen palabras claves, relacionadas con el término de búsqueda.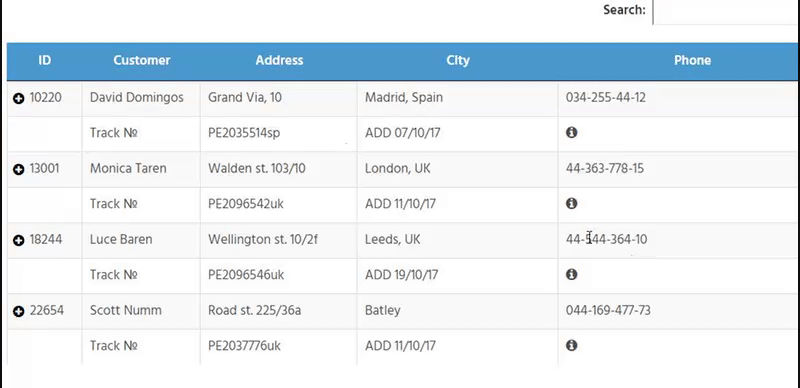 Diseña y gestiona tus tablas de datos sin esfuerzos, utilizando Generador de Tabla de Datos de WordPress.
Tabla de Datos de Supsystic es perfectamente capaz de ampliar la funcionalidad de tablas en tu sitio web de WordPress. Echa un vistazo a los Ejemplos de Tabla de Datos.