Faq & Documentation
Google Maps plugin installation
One more advantage of Google Maps WordPress plugin by Supsystic is an easy installation. To install it, you should make three following steps:
Download Google Maps Easy WordPress plugin.
Upload it to your WordPress plugins directory.
Activate and enjoy.
More info "How to Create a Google Map in WordPress" for the first time users.
How to install PRO version of plugin?
To install
PRO version
of Google Maps plugin by Supsystic follow next steps:
Install and activate the latest Free version of the plugin.
Download zip archive with PRO version from your personal account on the supsystic.com - you will find a unique download link after purchase. Navigate to Plugins > Add New > Upload.
Upload the archive.
When the installation has completed, click "Activate Plugin".
After activation the PRO version, you need to enter license key (you can find it in your personal account on our site).
To do this follow next steps:
Go to the plugin in WordPress navigation menu.
Click License tab on left navigation menu of plugin.
Enter your email and license key.
Click "Activate" button.
Important!
After PRO version installation your old data will be saved. You'll get new PRO options with old data.
Most widespread reasons for plugin non-working
If you have some problem with our Supsystic plugins – plugin is not working at all or partially – please, take into account the most common causes of plugin-crashing.
Tips for Solving Problems More Faster
We are always trying to help our users as soon as it possible. But we can't control the other developers. Therefore bad code of other plugins or templates can provoke a lot of problems. We can help you more faster if you'll try to analyze and describe the problem in more details.
For this, follow the next suggestions. Read more..
How to use Google Maps Easy Widget?
Go to Appearance -> Widgets in the WordPress navigation menu.
Find the Google Maps Easy in the list of available widgets.
Drag the Google Maps Easy widget to widget area, which you need.
Choose the map for widget and configure the settings - Widget Map width and height.
Click "Save".
How to create Google Maps API Key?
Your map suddenly stopped working and you get the following error?
Oops! Something went wrong. This page didn't load Google Maps correctly. See the JavaScript console for technical details.
Please check you browser console, if you'll see such error: This site has exceeded its daily quota for maps.
– the problem is connected with new update of Google Maps APIs Standard Plan. Now it has certain restrictions. Despite the fact we have already added Google API key for our Google Maps Easy plugin, since the large number of plugin users, we can simply exceed limits of map loads per day, therefore you may encounter with this problem. So to avoid this problem, we've added the option to use your own Google API key. You can find this option on Settings tab.
To create you own API key - check this article and follow the instruction.
How to add map into site content?
You can add a map in the site content via shortcode or php code. Learn more about how to do this
here
.
How to zoom and center the initial map on markers?
There is a few different ways to zoom and centralize map.
The easiest one is to drag your map using mouse – "Draggable" option must be enabled, or with pan controller help in live preview. Read more..
How to center the map on current user location?
Open "Map Properties" tab in the map settings.
Scroll down and find "Center on current user location" checkbox.
Activate the checkbox and save the map settings.
Check the example of the map
here
.
How to show distance between two locations?
Open "Map" tab in the map settings.
Scroll down and find "Directions Button" checkbox, enable it.
The new option "Show route data" will appear under "Directions Button" checkbox. Enable it as well and save the settings.
To see how it works on your website, choose any of markers on the map and click "Get Direction" button. Enter the address and choose the required from the list. Click "Go" button. Then click on the route line and you'll see the new window with distance information.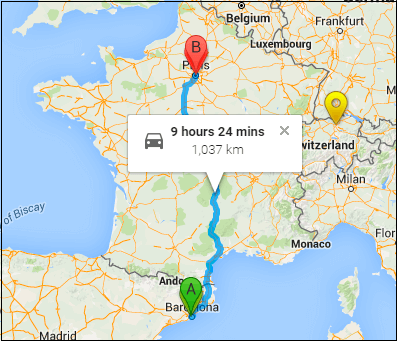 To learn more check this article.
Translation
All available languages are provided with the Supsystic Google Maps plugin. If your language isn't available, your plugin will be in English by default.
Available Translations: English, Albanian, Bulgarian, Chinese (Taiwan), Danish, Dutch, French, German, Italiano, Norwegian (Bokm?l), Persian, Polish, Portuguese (Portugal), Russian, Spanish.
Translate Google Maps WordPress plugin in your language and get a Premium license for FREE. Contact us.