Data Product Generator provides you the feature to create a tables  with collapsible rows on front-end.
You have an option to make certain rows collapsible, so that when visitors arrive at a page with a table, they see data table with "table of contents". If to click on a category, that category expands to show all the rows associated with it. You are able to select which row to make the main one, and which rows to be associated.
If you add collapsed rows, then the first row of the selected rows becomes the "main" row. It is always visible and a "+" sign appears on the left. The other selected rows under it are collapsed by default, and when you click on the "+" – the collapsed rows unfold.
In addition, you can use not only hidden fields, but the tooltips for cells: convert the cell content into icon with tooltip.  Also, the search option is available for collapsible rows of data tables, making navigation much more convenient for users.
In order to create Data Table with collapsible rows on front-end you need:
On the left navigation menu click "Add new table".
Enter the name of data table and choose the number of rows and columns.
Click "OK" button.
Open "Editor" tab in the table parameters.
Add data to the WordPress table.
Select row and check this icon. First collapsible row become the "main" row with control button. Other collapsible rows will be hidden by default – user might show / hide them by pressing on control button of "main" row.
To convert the cell content into icon with tooltip, select the cell and check the icon. 
To enable the searching feature for hidden fields, move to Settings, Feature Tab and check the necessary option.  When a search term is entered, the collapsed rows would automatically expand to show the rows that contain keywords related to that search term.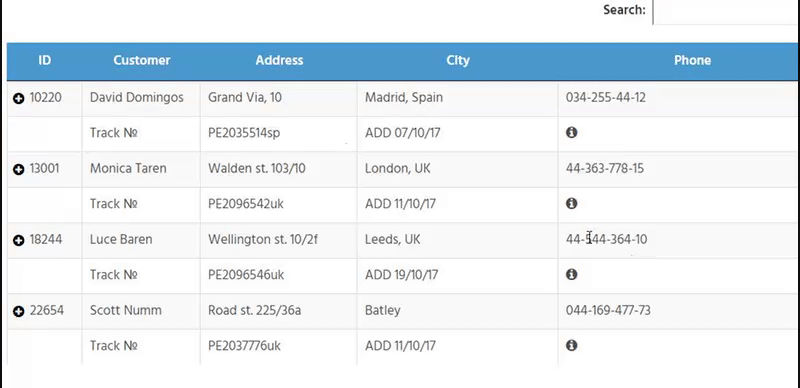 Create and manage your data tables without any efforts using WordPress Data Table Generator.
Data Table by Supsystic is perfectly capable to extend table functionality to your WordPress site. Take a closer look at all Data Table Examples.