Step 1: Installing WooCommerce ProAddon
In WordPress, navigate to Plugins > Add New. Search for "Membership by Supsystic" and click Install Now. When the installation has completed click "Activate Plugin". You will have a new admin menu item titled "Membership by Supsystic".
Then, in your personal account on supsystic.com, you will find a unique download link after purchase. After downloading the file (membership_by_supsystic_woocommerce.zip), navigate to Plugins > Add New > Upload and upload the file. When the installation has completed, click "Activate Plugin". After activation of the PRO addon, you need to enter license key (you can find it in your personal account on our site). To do this follow next steps:
Go to the Membership by Supsystic in WordPress navigation menu.
Click License tab on the left navigation menu of plugin.
Enter your email and license key.
Click "Activate Addon" button.
Step 2: Adjusting WooCommerce Settings
Open Extensions tab in order to find WooCommerce settings. They contain Main and Roles sections. On the Main tab it is possible for you to enable next parameters:
When user bought any product assign role
When user bought specific product: assign role
Show purchases in profile
Show bought products in profile
Show product reviews in profile
Show billing address in user settings
Show shipping address in user settings
Show orders in profile
Show orders in members directory
Show total spent in profile
Show total spent in members directory
At the Roles tab you can establish conditions of assigning roles for purchasing special products.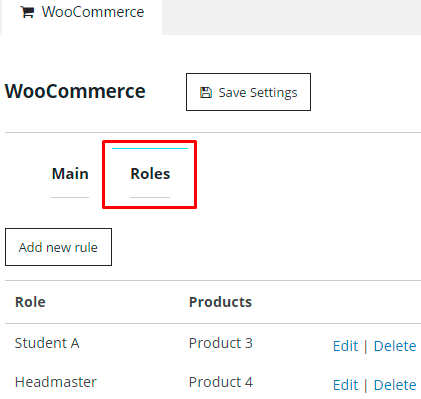 For this click Create new Rule, choose product and role related to it, then Cancel or Create rule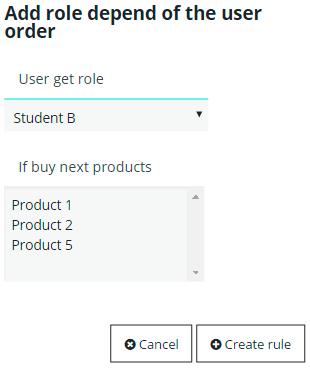 Now, in the table below you can see the list of roles and products that are bonding with your rules.
Don't forget to save changes.
How to use WooCommerce integration in your Membership account?
Firstly Register or Login to Membership account.
Then moove to Settings Tab and fill
Shipping List – where to deliver the products of your purchases
Billing list – who will pay for the order
Don't forget to save changes.
Open Shop Tab – here you can —
Sort products by:

Newness
Popularity
Average rating
Price from low to high
Price from high to low

See product name, price, rating
Add to basket
Look through product description – for this click on product name
To buy click Add to basket on the products you like.
Moove to Basket via Basket Tab or View Basket button – it allows you to preview and change the whole purchasing:
Change the quantity and see the price
Apply Coupon – enter its code to the field
Open product description
Update basket – if you have added something else
Delete the product – click red "X" button
View Basket totals:
To continue click Proceed to checkout.
Also you can see the number of orders and total spent at Orders section inside About tab of personal profile:
Now at Members tab you can also see other people's orders
Besides, when you already got your products and want to tell everybody about it, you can rate it and make a Review. For this go to product destription and elect Review tab.