WordPress Membership plugin contains Members page with list of all membership users. Allow users to find each other, follow, add to friend, send private message
Members Directory will be created by default after plugin activation. If you accidentally delete this page – you always have ability to re-create directory in Main settings -> Pages tab. Select page for "Members" item or create new page.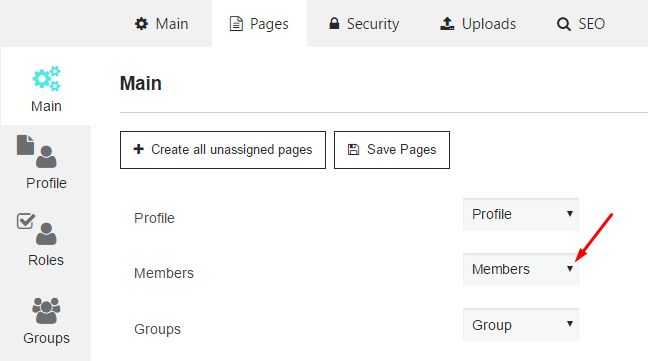 On Members page users will be able to add new friend, follow other users or write a messages.

Note, these abilities refer to your community site configurations.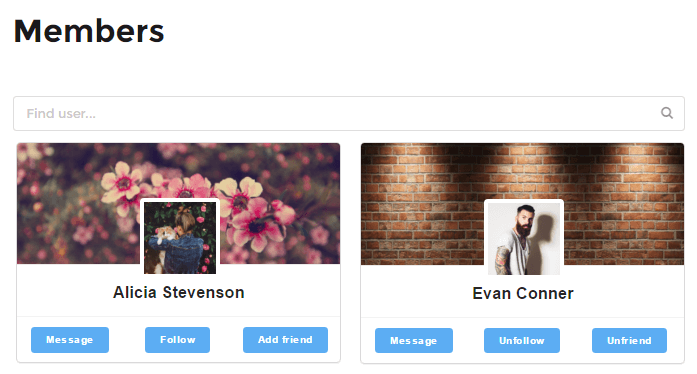 As membership administrator you can customize Members page in Design tab -> Members Directory. In this section you will find the following settings –
User Roles to Display – users with the chosen role will be shown on Members Page.
Show Only Members With Photo – if this option is enabled, only members with avatar will be shown.
Show Only Members With Cover – If this option is enabled, only members with cover photo will be shown on "Members" page.
Show Load More Button – this feature allows to show membership users gradually (group by group) on Members page.

Show Pages – enable pagination navigation for Members Page.

Default Sort Users By – select the sorting order to display users on Members Page.

New users First
Old Users First
Last name
First name
Random

Show Friends and Followers – if this option is enabled, the number of friends, followers and follows of each user will be shown in user cards on Members page.