WordPress Membership by Supsystic includes such amazing feature as Groups! Great opportunity to create your own mini blog and find friends with the same interests.
After activating Membership plugin on your site automatically will be created Groups page, on which users will have the ability to create their own groups or find another interesting communities. On this page will be displayed the list of all groups on your site. Add this page to your website menu.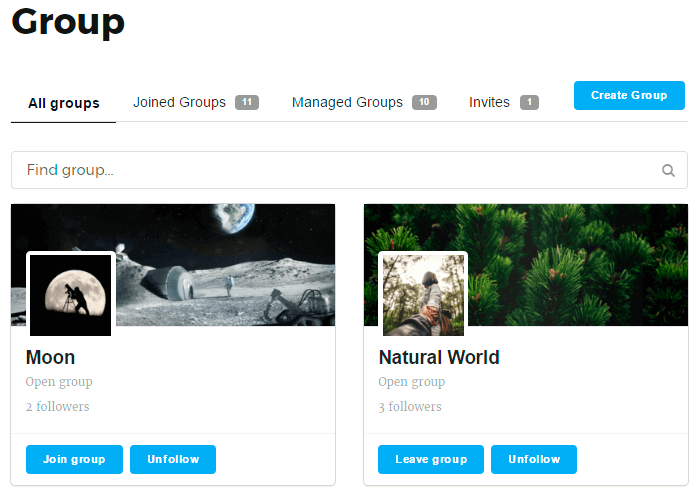 Also on each User Profile page will be Groups section where will be shown only those groups to which users will subscribe.
Let's check backend settings of Groups feature. On Groups Tab you will have the next opportunities –
Specify the Group Logo Size and Logo Thumbnails Sizes.
Set the Default Logo Image.
Choose the Default Cover Image.
Specify the Group Cover Size and Cover Thumbnail Sizes.
Select Group Permalink Base.
Select who can invite to the group.
Select who can be invited to the group.
On frontend of your Membership site you and your users will be able to create unlimited number of groups. If you want to create new group – simply click "Create Group" button. Creation proccess allows you –
Set group name.
Set the description of the group.
Choose the Community type – open, closed (users will need to send request in order to join the group) or private (in this case group will be invisible for other membership users, and joining the group will be available only by invitation from group administrator).
Invite users to your group.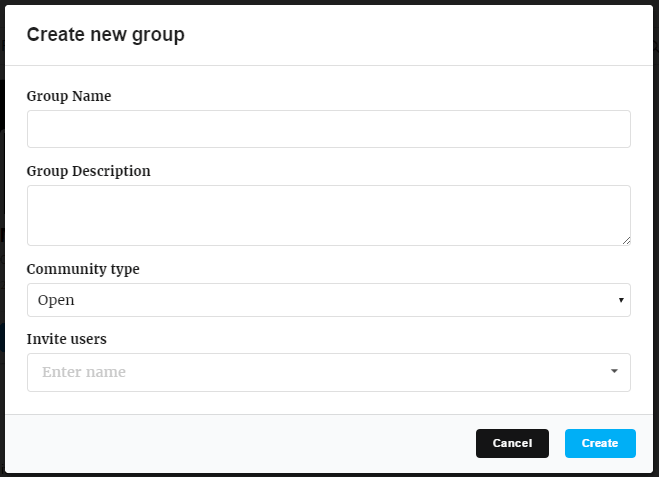 After creation of new group you will be redirected to the Group page.
Group page includes such sections – Activity, Members and Settings. Let's check each tab in more details.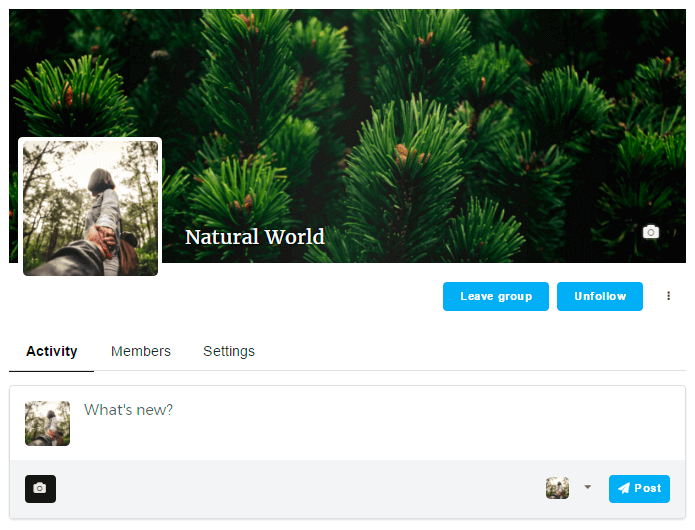 Activity
Create posts with images and videos.
Publish posts from your or group profile –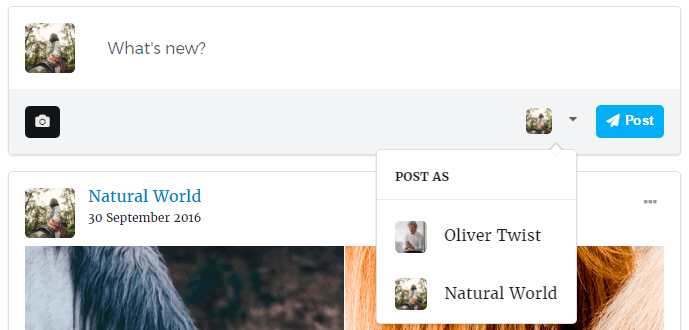 Comment, like and share group posts.
Members
Monitor your members, followers and invited users.
Block, remove from the group or cancel the invitation of users.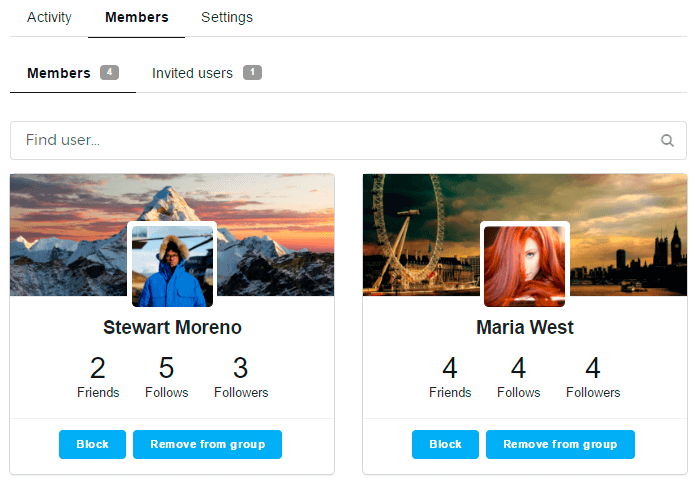 Settings
In Main section you can change the name and description of the group, delete the group.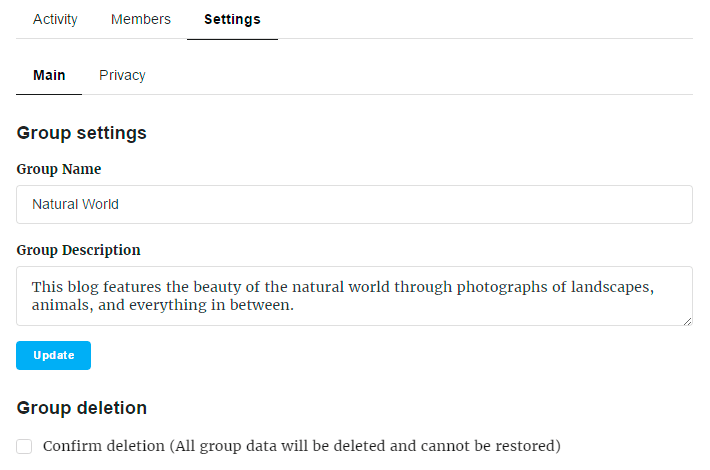 With Privacy section you have ability to change community type and specify the limitations on different actions with your group page for different users.

Community type – open, closed and private.
Activity viewing – who can view Activity of the group – all users or only group members.
Activity post writing – who can write posts – all users, group members or only administartor of the group.
Activity commenting – who can comment the posts – all users, group members or only administartor of the group.
Invitations – who can send invitations to the group – group members or only administartor of the group.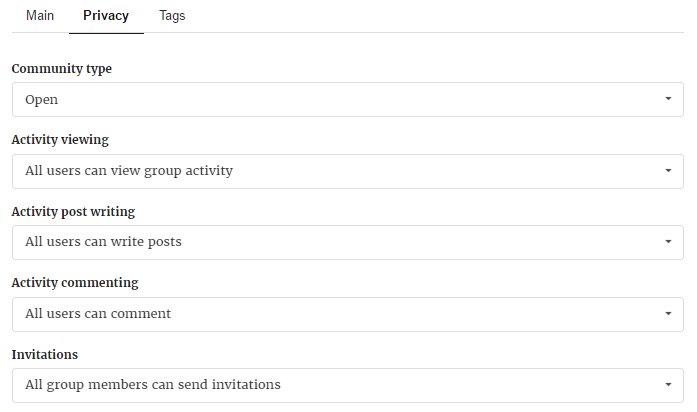 Besides on Group Page you can –
Invite friends to the group.
Invite users to be administrator of the group.
Block the group.
Leave and ufollowed your group.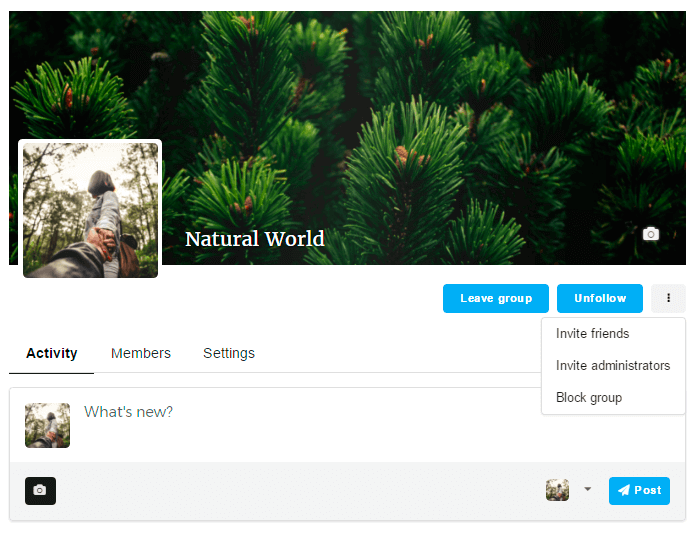 At Roles Tab you can allow to:
Create Groups
Joing Groups
Read groups
Block groups
For specific roles —