WP Membership plugin by Supsystic provides you a huge list of settings for customizing appearance of profiles on your membership website with features (you can turn off any feature):
All these features are FREE
Custom appearance – The user profiles are fully customizable
User info – Friends, Likes, Followers and more
About – Show user information. Registration info or any addition info user can set after registration
Activity – Social function to post text, image or video info. Like, Share with other users
Groups – Shows the communities user subscribed
Friends – List of the user friends
Followers – Follower and Following
Messages – Allow to Communicate with membership users in personal chats
Posts – Users WordPress posts
Comments – WordPress and community comments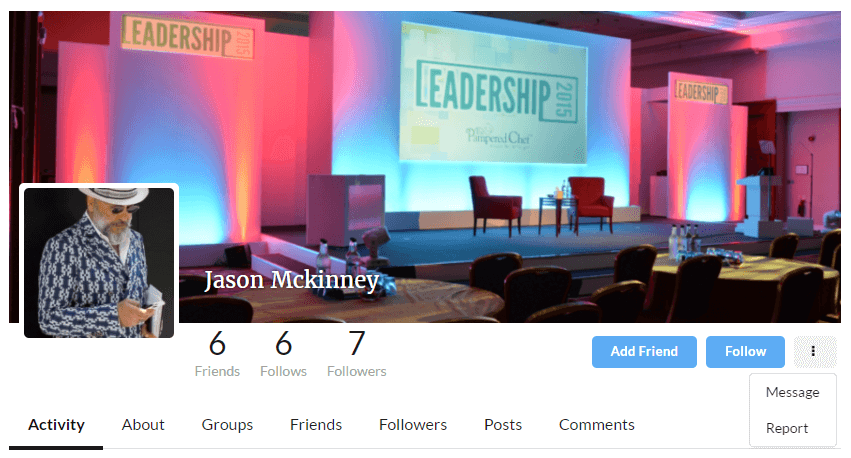 Check Member Profile demo
At first you need to adjust profile settings of the plugin in WordPress admin area. Go to
Main tab
->
SEO Tab
. Here you can customize next profile settings —
User Profile Title – enter the profile title that will be defined in the browser toolbar and displayed for the page in search-engine results.
User Profile Dynamic Meta Description – specify a description of User Profile page. Search engines can pick up this description to show with the results of searches.
On Profile tab of Membership plugin you can set such features –
Select the Default user role. All membership roles you can create on Roles tab.
Use Profile Avatar.
Use Profile Gravatar.
Specify the Profile Avatar Size and Avatar Thumbnails Sizes.
Set the Default Avatar Image
Enable Use Profile Cover and choose the Default Cover Image.
Specify the Profile Cover Size and Cover Thumbnail Small Size.
Select Profile Permalink Base – username or user ID
Customize the User Display Name
Choose the Registration Confirmation –

Auto – after registration will be automatically created and activated the membership account for user.
Email confirmation – after registration user will receive the confirmation message on his/her email address. To activate the account, he/she will need to click the link inside the confirmation letter to confirm the email address.
Administrator confirmation – in this case after the new user registration – administrator will receive Pending Review Email. In this letter administrator can check the information about new user and make the decision – approve or reject the account. To make decision – go to Users page in WordPress menu -> find the user profile -> click Edit -> choose the Status for account – Active or Rejected. Besides here you can select another statuses – Deleted, Disabled, Pending Review. After the administrator will choose the status – user will receive the email about the admin decision.
Further you can create fields for personal information about users. Go to Fields section of Profile tab. Here you can create and edit sections and fields for About tab of User Profile. Besides here you can specify what fields will be used for registration and which of them will be required.
On Design Tab, Membership plugin permits you to change the front-end appearance of your Membership Community.
Follow the path General tab -> Main section that has
Profile image style – modify the form of users photo to circle, square or with rounded corners.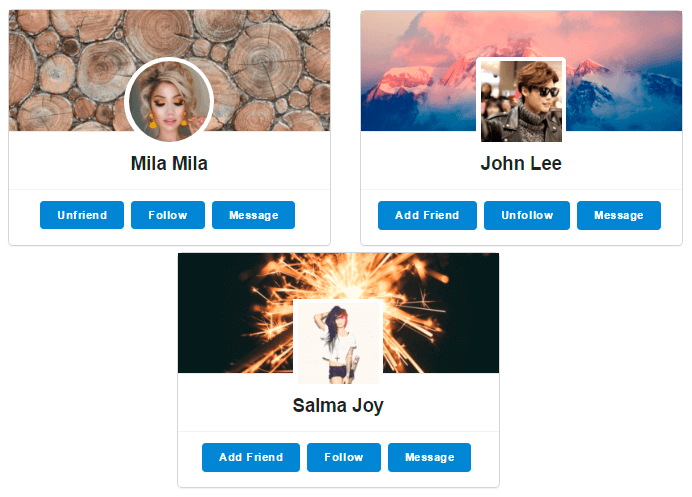 On Design Tab -> User Profile tab you can adjust –
Profile Container Max Width – set the width for profile container. The maximum is 100%.
Profile Header Background Color – set the background color for profile header.
Show Display Name In Profile Header – if this option is enabled, profile name will be shown in header.
Also on the Main tab of plugin settings you can enable/disable different tabs of User Profile on front-end of your membership site – Messages, Activity, Friends, Groups.
All these options help you to prepare the User Profile appearance of your Community.
Let's move on to the Front-end settings. Before this moment we have learned about plugin features which are available for you as for administrator of the membership site, now we'll check all possibilities which will be available for your membership users.
After success registration user will be able to login to his personal account on your site. On profile page user will be able to edit personal information, make some actions with friends and groups. Besides, the best membership plugin for WordPress by Supsystic allows to upload photos for avatar and cover of profile. You can check all these possibilities on your administrator profile page right now.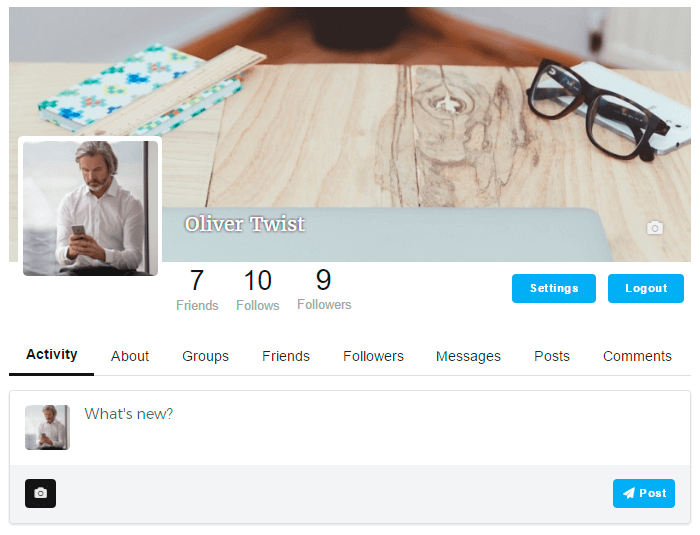 Activity
Post your minds, share the photos and videos, your friends will be able to like and comment your posts. Besides you can share the posts of your friends. Also there is ability to delete the post, comment or like. Activity example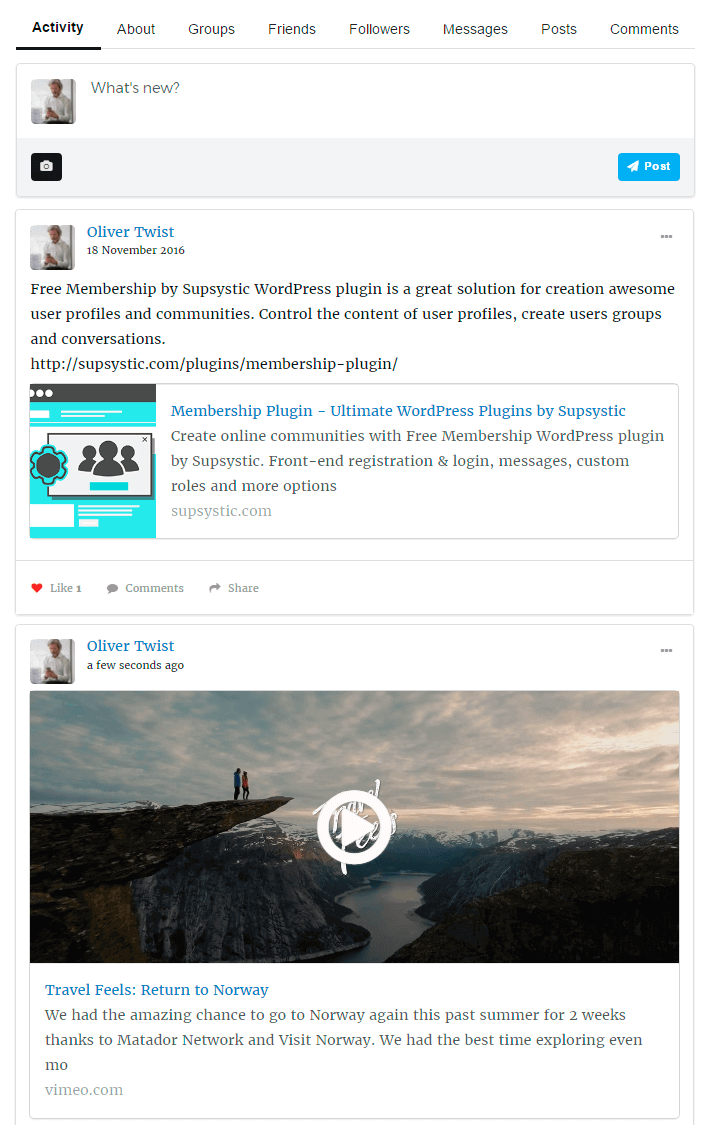 About
On this tab you can edit the information about yourself. Here will be displayed those sections and fields which you have created in Fields Settings of Membership plugin. In order to edit the information – hover your mouse on it and click "Edit" button. Don't forget to save the changes. About example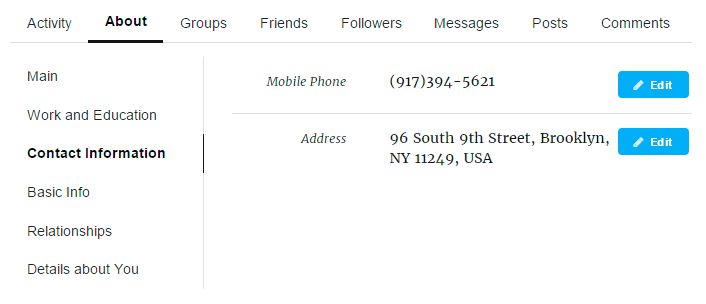 Groups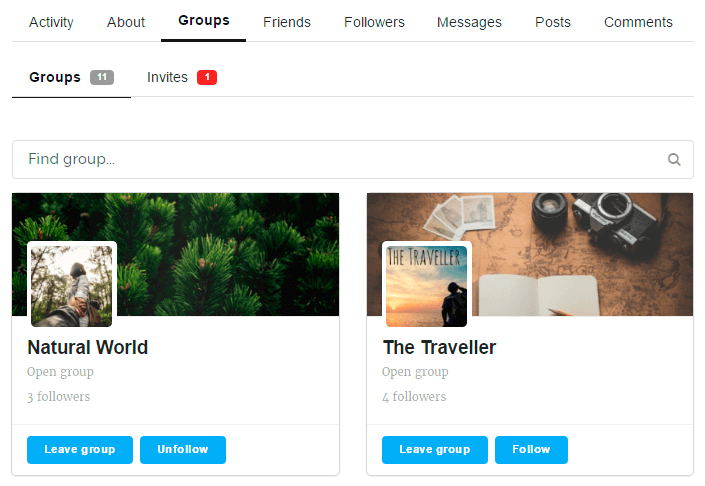 Friends
List of the user friends. Also here you can accept or decline new friends, which want to add you to their lists, find new friends or unfriend/unfollowed some of your friends. Friends example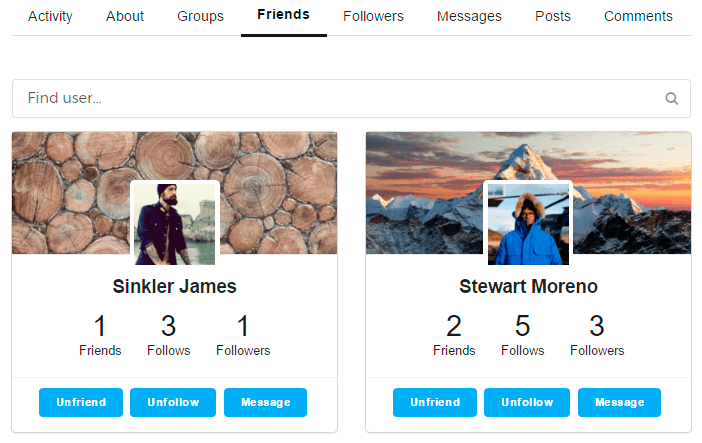 Followers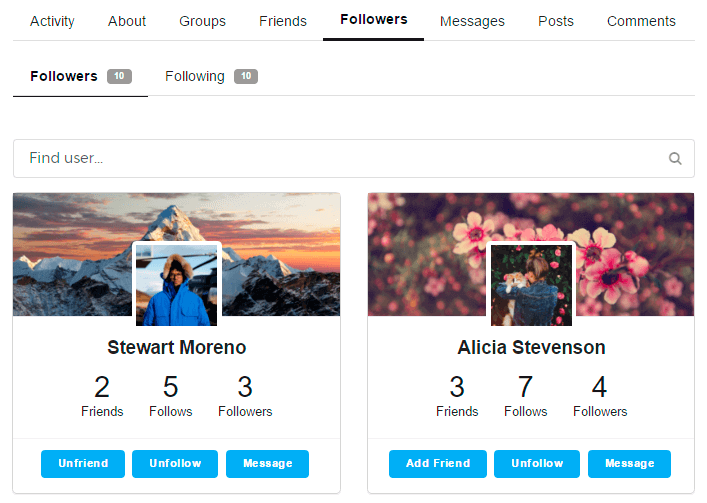 Messages
Communicate with membership users in personal chats.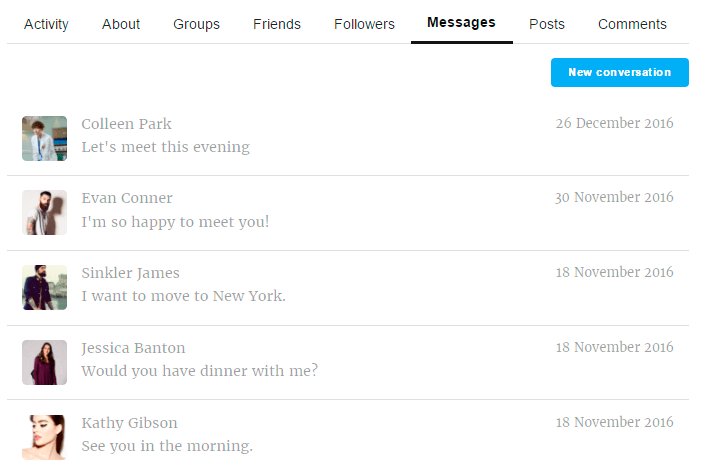 Posts
On this tab will be shown the list of all your WordPress posts. All posts with your authorship.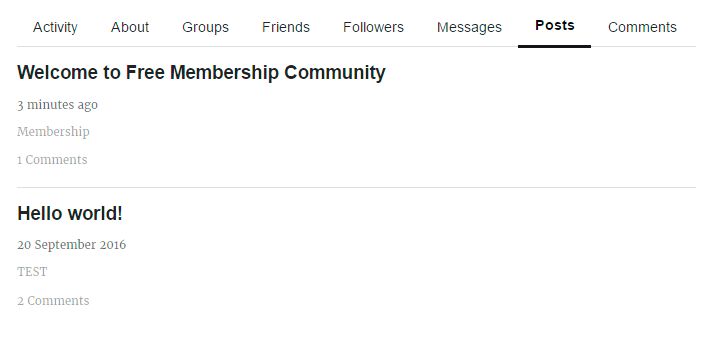 Comments
Comments tab contains the list of posts where you have left the reply. Also this tab will show the text of your comments.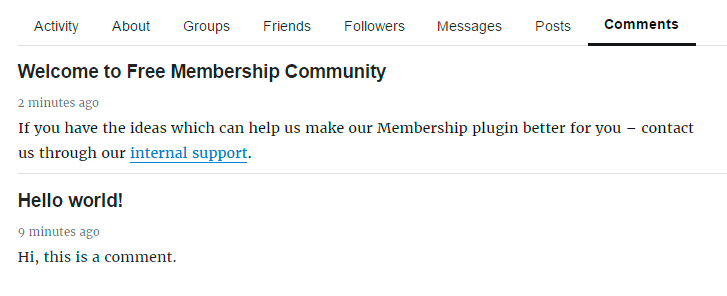 Settings
This page allows you to customize your site users profile configurations –
Account – here you can change your profile email and password. And also delete the account.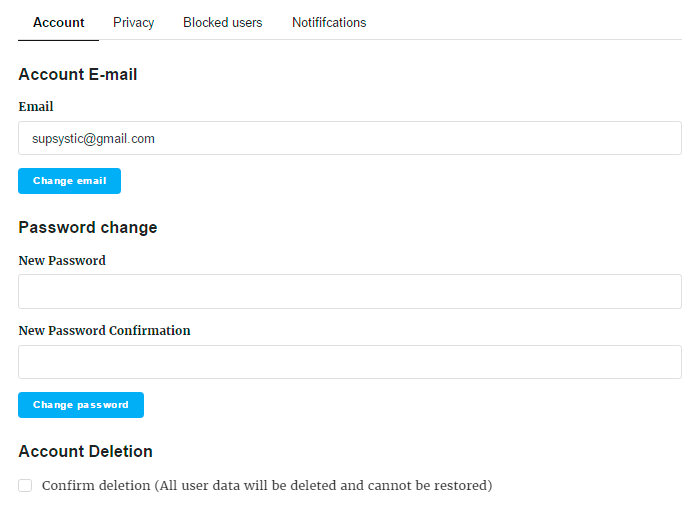 Privacy – set the privacy settings of your profile page for another users. Here you can specify the limitations on different actions with your profile page for different users.

Who can view about information on my profile.
Who can view my friends.
Who can view my follows.
Who can view my followers.
Who can view my groups.
Who can post to my activity.
Who can view my posts.
Who can view comments on my post.
Who can comment on my posts.

For all these settings are provided such variants for select –

All users
Friends
Friends of friends
Only me

By default, user profile is fully available for all users.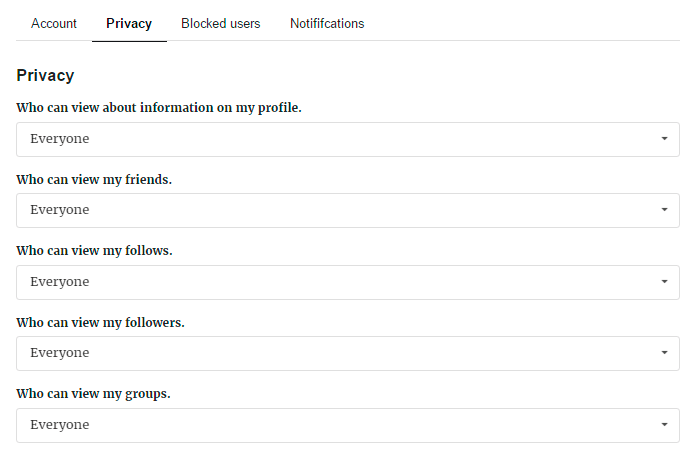 Blocked users – check the list of blocked users.
Notifications – enable notifications about different activity of your Membership profile.

Send private message
Send friend request
Follows me