Increase user interactivity and create curiosity by welcoming your visitors with WordPress Popup message. Popup plugin bu Supsystic will allow your site to set a message for every visitor who comes to the site first time. You can use this Popup plugin with various options. Configure the plugin for your needs.
We hope this popup will be very useful for you.
It is very easy to create popup – just select radio button "For first-time visitors" at the Main tab of WordPress Popup plugin by Supsystic: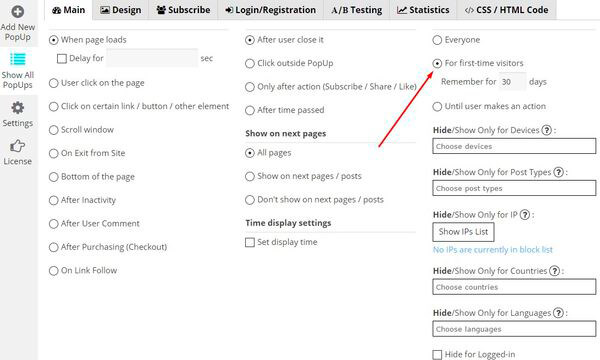 Then choose how many days visitors won't see the popup. If you choose 0 – first time visitors will see this popup in every browser session.
You can see example of First-Time visitors popup at this page.
Not all popups are needed as soon as a page loads. Consider a delayed WordPress pop-up for your site. WordPress popup plugin offers you a variety of options for this, including pop ups that only show on scroll, on click, or after a certain amount of time on the WordPress site. Download Popup plugin by Supsystic and get plugin with fully customizable popup options, with access to numerous templates and data collection options.