We often listen up to the promoter, who crows about the wide difference between actually one and the same thing, but before and after. Bring into sharp relief any fact easily only by words is complicated way. Much more easier to demonstrate this wide difference, giving an opportunity to the customer to compare the thing before and after. Using our improved intellectual comparison slider plugin, you reach conclusion that simplicity is the ultimate sophistication. It would be cogent argument to your credit. The customers would be in raptures. Further on, they promote your product themselves and buy it.
The usage of this Slider Plugin
The usage of the plugin evokes sensation of amusement. You wouldn't feel yourself as an employee, faster like a person, who opens something new and entrancing. You will be involved into exciting adventure full of fun and impressions. Oh, no, we aren't wizards; we just do our work professionally and with pleasure. Now, let's consider the technical characteristics of our software. This wonderful image slider is very easy to use. After installing it you simply click on "New slider":
Then choose your slider type – "Comparison" (it is the last in the list), enter slider name and save everything, as shown below:


After it, you can add two images, which you'd like to compare. It is possible to set the prefered slider width and height. And when everything is done, you can save changes and copy the shortcode, which can be added to any your post: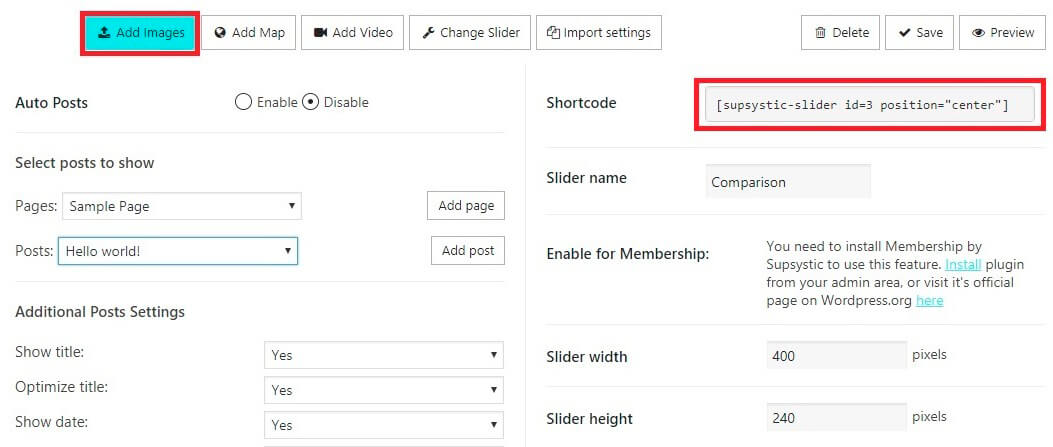 For more information about plugin's settings read Comparison Slider documentation. Here is the example of this responsive image slider:

Your customer can move the divider to the place he needs and compare himself, for example, the appearance before and after your services or compare your products with products of your competitor or something else. You can see more examples of comparison plugin.
Spheres of use of such wordpress plugins
This wordpress slider plugin can be used in different spheres. You can:
point out each stage of the work;
show the view of something before and after the repair;
compare two kind of products;
compare your goods with competitors;
show any changes made.
The best way to belive is to see yourself. We rely, first of all, to our own experience. The comparison website slider by Supsystic is the best way to show your potential buyer the differences and help them to do right conclusions themselves. Use this possibility to show all the differences or changes you want. Our innovation would simplify the life of all your customers and they reach out to you again and again. Make no doubt, by that time, we develop new digital solutions from which you wouldn't reject.