We actually sign up and test the hosting follow this plan:
Website interface
Customer support Phone support Live Chat Facebook Messanger
Service and price
User experience Registration and purchasing Website Builder Uptime/downtime Money Back
GoDaddy reviews by other customers
General Info & Hosting Overview
GoDaddy is one of the world's largest "web services" companies. Although they were founded as a domain registrar, they provide a whole range of services from web hosting to website builders accounting to email to digital storage to online security and much more.
Let's start with the first impression

Website interface
The central and first section – tariff plans and basic services. The menu is convenient, with a clear structure, and the design with pleasant, not very bright colors. The main page provides information about the support channels, Help section, and a Blog. Support Library (Help) is quite big and consists of 8 main sections, where you can select an area of interest question. Further, you will find more specific subsections and detailed articles with step-by-step instructions, videos, and pictures.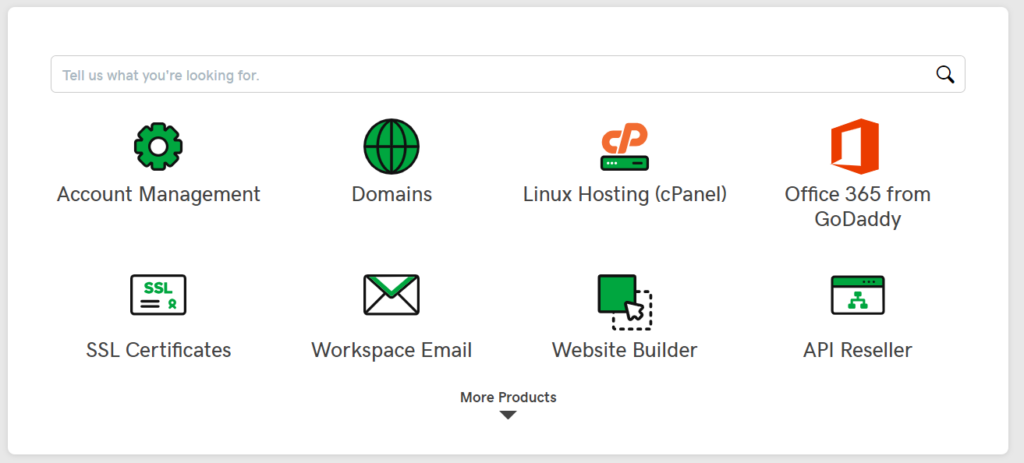 The blog presents a wide variety of articles, recommendations, and useful tips. Unfortunately, readers' comments are not welcome here. Frequently asked questions and an extensive navigation menu in the footer of the site complete the main page. As a result, we can say that all the necessary information is easy to find, the site navigation is convenient and our user experience is quite positive.
One of the important points is customer support
The company offers 24/7 support in 51 countries. Telephone numbers are available in the Contact Us section for the entire list of countries and regions.
Connection charges can vary when calling from outside the area, abroad or from a mobile phone, depending on your specific phone plan.
Be ready to be on hold (in our case it's 8 minutes). If you are calling from a mobile – you will be charged. If you are not a resident of America and call the hotline for your country, most likely that you will be redirected to the international line and get a response in English. The quality of the answer, unfortunately, was mediocre. I was kindly asked to call back later to let clarify the information.
In order to find a live chat, we turned to Google. We got to know, that the live chart is simply not available for some countries and you will not find it in the Contact us section. The customers of other countries are lucky, but not much. Live chat is busy most of the time. You have to click a button to start the chat, as fast as a cowboy jerk a pistol trigger. And to take a queue again. Being the first in line, you can stay first more than once.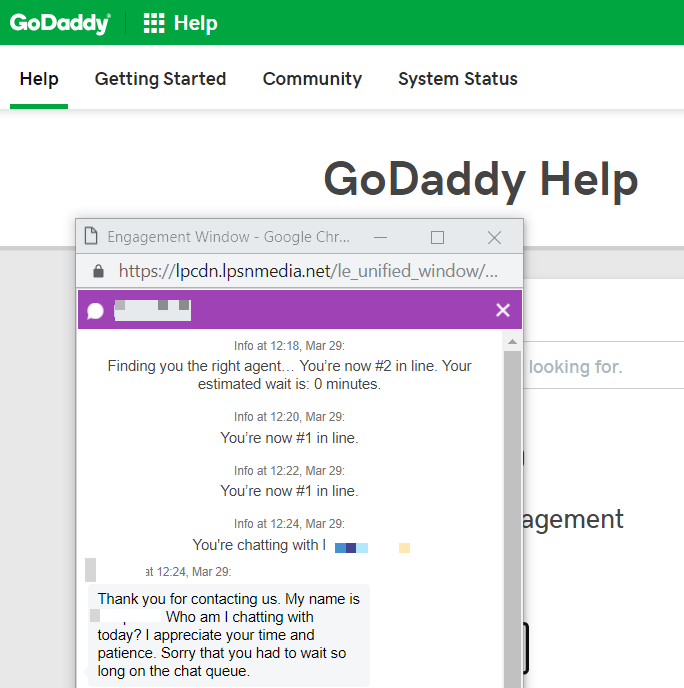 Anyway, we spent 40 minutes to wait for an available chat, then 6 minutes in the queue, and the rest of the time we spent directly to get an answer.
We tried a Facebook chat channel. The response time was 75 minutes and made us go back to the "Contact us" section with advice to use phone support.
Now let's turn to prices
Since the launch of the service, Godaddy has gradually improved its features, quality, the usability of a website builder. Nonetheless, this process is still far from perfect: there is still a lot of work to be done in order to be on par with services like Wix, Weebly and Squarespace. However, the cheapest one costs not a lot of money. It is beneficial, but not very convenient. The problem is that you will get access to a very limited number of functions unless you subscribe to an expensive plan. There are advanced features for online stores, site-maintenance tools, SEO services, pretty decent SSD Storage, SSL certificate, etc, free domain. Sounds good, but it is for free ONLY for 1 year.
Some hosters using tricky prices and show a really low cost. But then you select the plan, in the checkout, you can be surprised, becouse the price is available only for 36 or 24-month plans. We proceeded to the checkout and in every hosting company checked the monthly price for Basic WP plan.
Here we go!
Choosing the Basic plan with the Price $6.99/mo :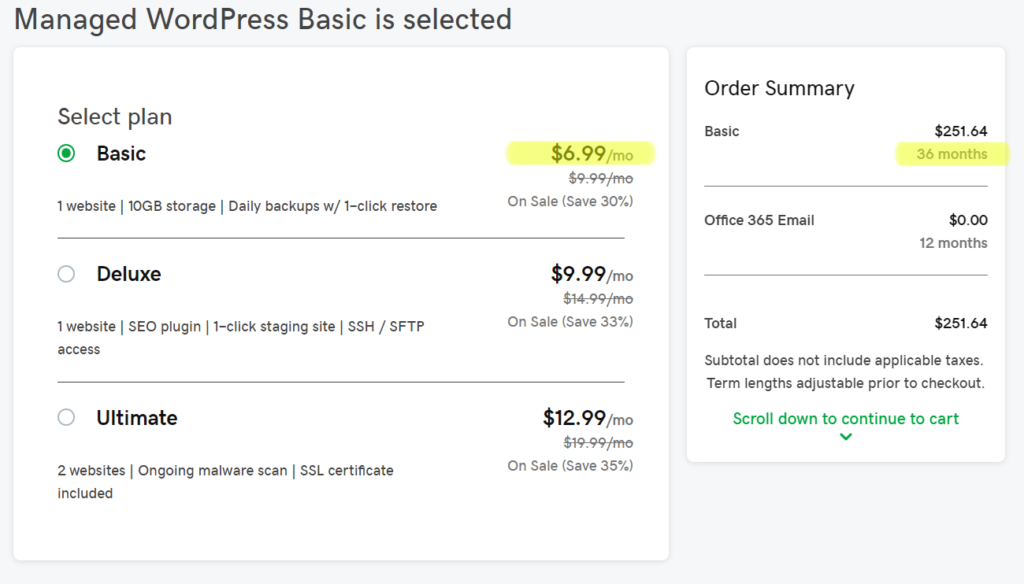 Scrolling down and can select monthly payment AND pay for extra features that do not include but are necessary: From the $6.99/mo price went to $12.99/mo and more surprises – SSL Certificate required an annual purchase. Which is $79.99 for one payment at once, not $6.67/mo as shown. They are the gods of upsells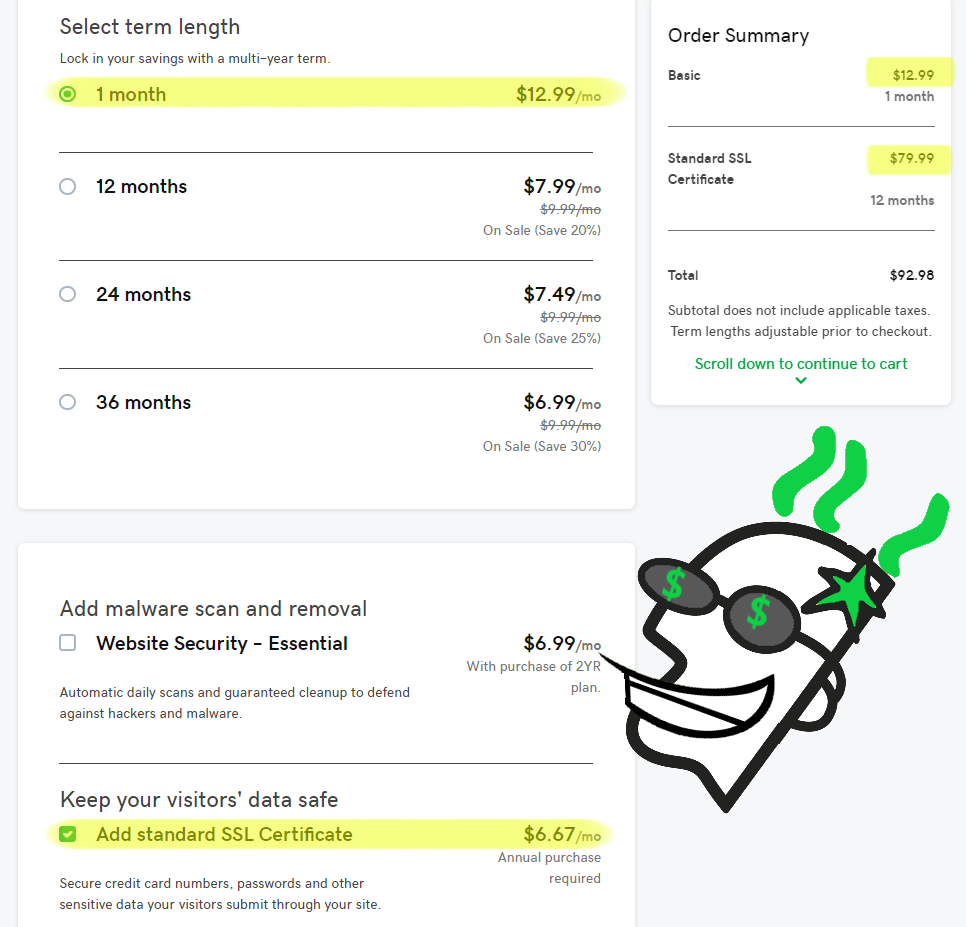 If you're not buying the top plan, for example, only an SSL certificate can cost you crazy money:
$79.99/ year for a single site
$249.99/ year up to 10 sites and more
Those prices are unacceptable because most hosts today will give you a free Let's Encrypt SSL certificate for every site. As the backups and website security. But GoDaddy will charge you another $2.99/month and $6.99/month respectively. Most hosts will transfer at least one site over to their servers for free. GoDaddy doesn't provide any free site migrations, moreover, it will take 7-10 days.
If you consider some of these additional expenses, GoDaddy hosting doesn't look cheap anymore.
User experience
As we said, we actually registered to test the hosting. Your time is limited. So your hosting should provide an easy-to-navigate user experience for you. Managing and start of work should not consume a large amount of your time. This section of the review will explore the overall user experience including points of the process of registration, payment options, purchase, and creating your own website.
Registration and purchasing
Registration is free and fairly simple and does not require verification. It is enough to specify your nickname, password, email, and 4 digits as a personal pin code. After registration, you will receive 3 letters. They include the advertising of existing services, contact information and information about your personal client number, and links to instructional videos and tutorials.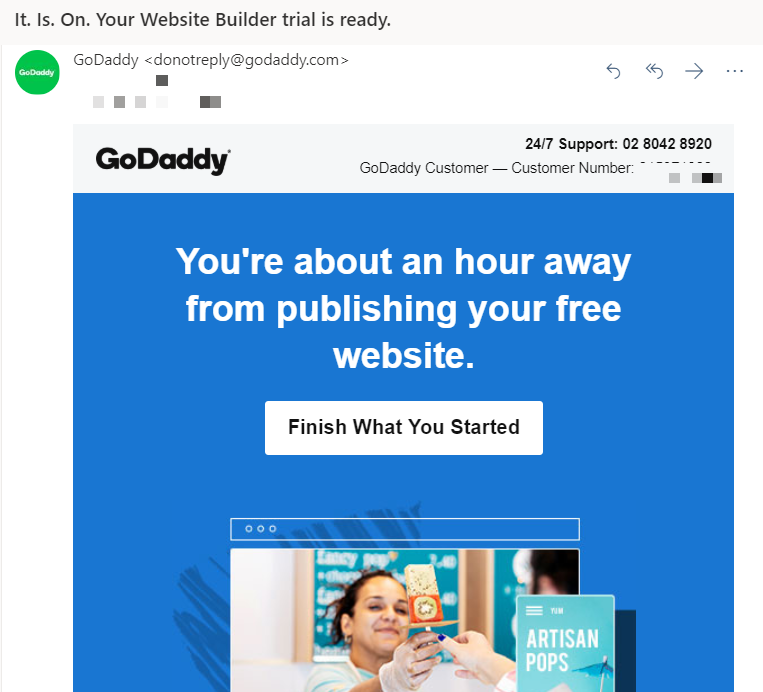 So, we can highlight the main points of our experience :
Easy signup and setup process.
Payment Methods include all major credit cards and PayPal.
Gods of upsells. The initial term, site migrations, backups, SSL certificates, security, and more additional features. GoDaddy will also try to sell you a lot of extra services at the checkout.
Website Builder
GoDaddy allows you to test the website builder during the first month for free: enough time to find out its pros and cons. Let's have a closer look.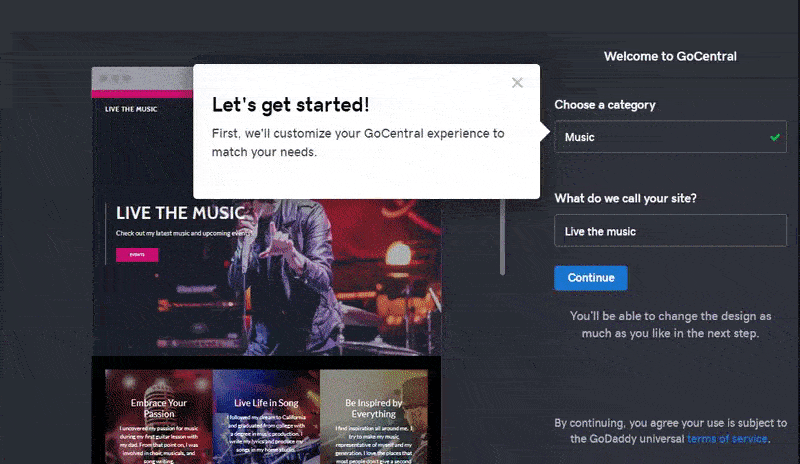 But nothing is perfect.
If you want to create a specific layout, the system is too restrictive. For example, it's impossible to add a video next to a text block. You can only insert a video above or beneath the text. Basic functions like adding social media, a picture gallery, event calendar etc. are available. In the Blogging section, you can not add an author, video, tags. One unfortunate moment of GoDaddy's themes is that you can't switch between them without losing your content. So be sure to choose your theme carefully before you fully commit. However, GoDaddy also has one-click installations with over 125 of the most popular applications on the Internet. That includes content management systems like WordPress, Joomla, and Drupal. But it also includes developer-friendly tools like cPanel, MySQL, CloudLinux, Python, and multiple versions of PHP.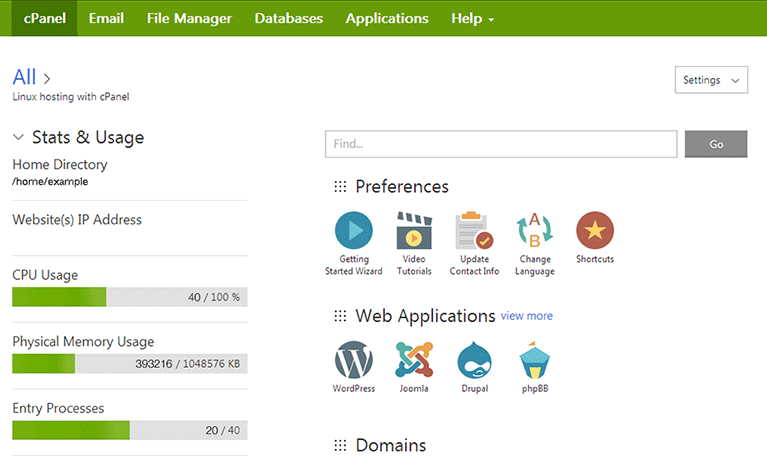 So they have a good variety of options that suit everyone from beginning bloggers to savvy webmasters.
How Does It Compare When It Comes to Uptime/downtime?
No one wants to use a website that loads slow. That's why you need a web hosting that provides you best possible page speed. In the case of GoDaddy, we found good results when it comes to loading speed. According to our testing on Pingdom.com, the average loading time is 452 ms, that is not great regarding page speed for GoDaddy.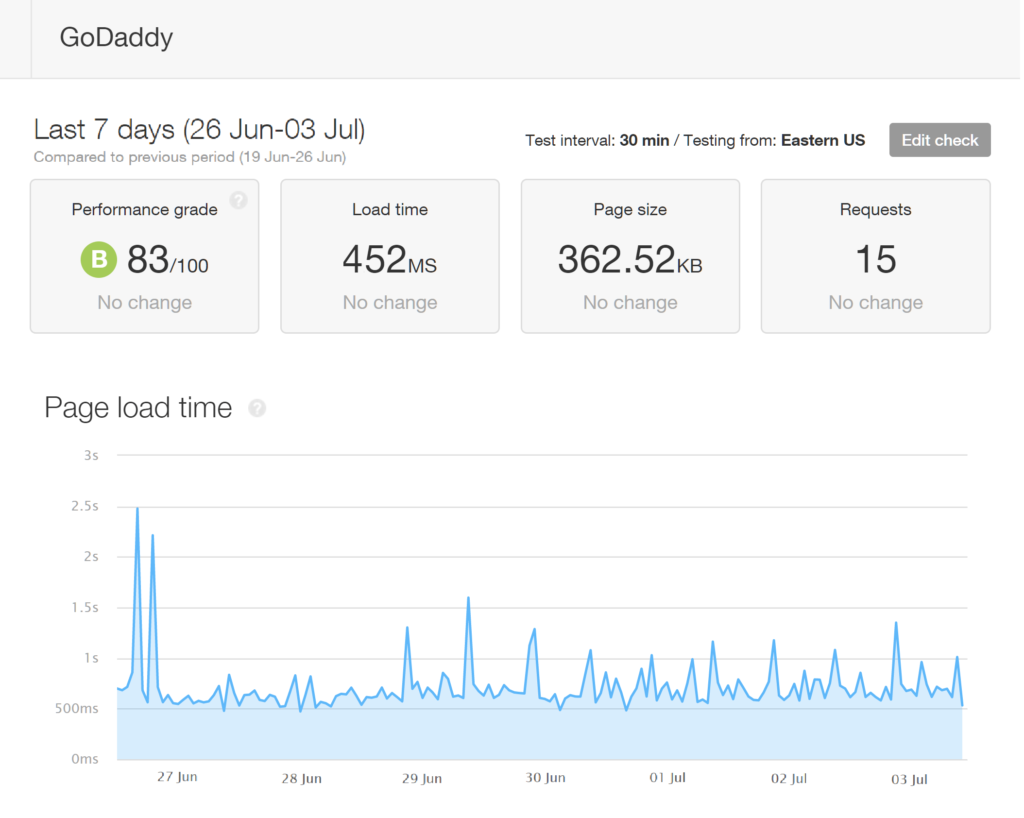 Like page speed, uptime is also important. And, the good news is that GoDaddy has an uptime of 99.97 % on average.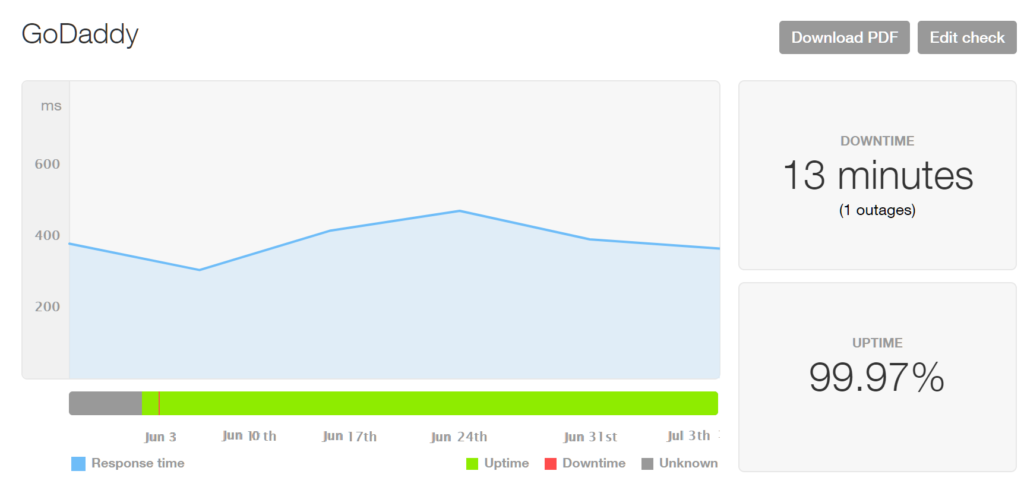 However, GoDaddy's uptime leaves room for improvement. The web hosting provider should always have an uptime of 99.98% or above for optimal user experience.
Getting Refunds – I Want My Money Back!
Refund policies are one of the biggest complaints we hear about. It's understandable – you don't want to pay for something you don't want to use anymore. To investigate, we actually bought packages and checked if we could get money back.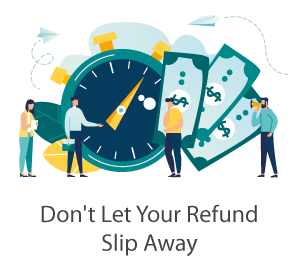 This is how it went:
To get a refund, you must cancel the product, service or domain you want to be refunded. To request a refund you need to contact customer support. Refund terms are tricky, but the main thing, you need to know – using any plan with less than a 1-year (Monthly Plans) you have only 48 hours to get a refund. And 30 days of the date of the transaction for Annual Plans+
To cancel your domain you need:
Login to GoDaddy.com
Go to your Account Settings page
Click on Renewals and Billing
Select the checkbox by the domain, and click on Cancel at the top right.
Now you are ready to contact GoDaddy for your refund. When you contact them they will want to know the reason for cancelling. You will also have to specify you want to be refunded back to your credit card / PayPal / debit card, or whatever you purchased with. Otherwise, they will try to refund your order as store credit.
GoDaddy reviews by other customers
We put our own experience aside and review what other customers had to say about this hosting on blogs and online forums like Hostadvice and Cnet.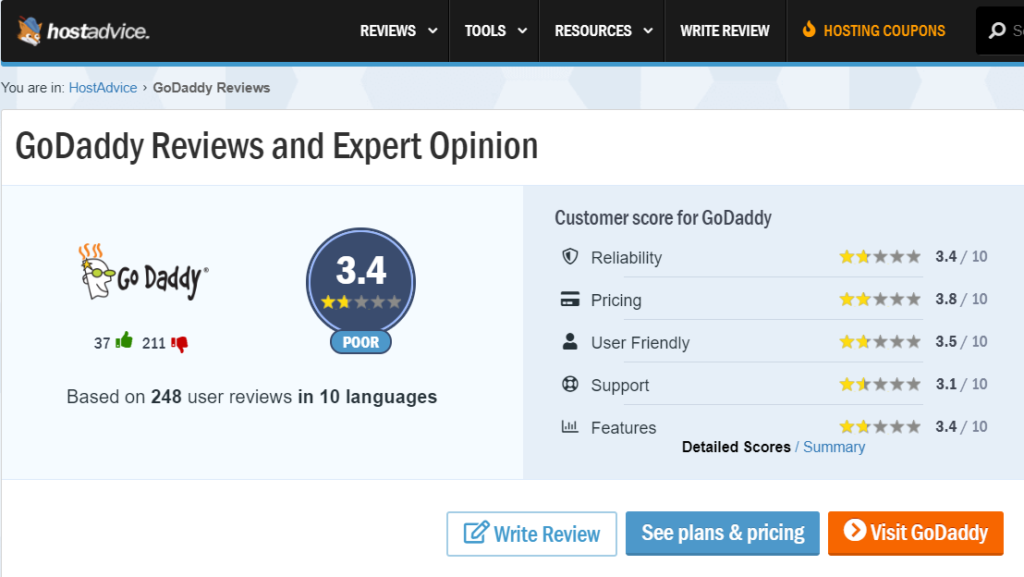 Hosting has both positive and negative feedback and ratings. But, when it comes to its hosting plans specifically, GoDaddy gets much more negative comments compared to other servers. Here are the main points of the review we divided into pros and cons:
Pros:
The choice of plans and services available is impressive. If you expand your business it is easy to find a new plan that is suitable.
Uptime was an amazing 99.95%.
High competency for staff manning the support phone line.
Cons:
Rip-off prices for services that the basic plans are not included.
The basic plan is useless. It includes one domain per account and the lack of basic CMS installs that makes it hard to get started.
The support service is not good. Response time could be very long. Customers often find the support chat not available. They really chat well, but that applies to sales only.
If you disable the auto-renew – you may be charged a second time without notification.


---
Do you have any personal experience with GoDaddy – positive or negative? If so, please leave us honest, transparent feedback below! Check out the WordPress Flipbook Plugin by Supsystic

Like any product, there will be tradeoffs, advantages and disadvantages – depending on particular goals, preferences, and resources.