1. To begin click " Subscribe Forms" on the left navigation menu of the Plugin. To make it use "Add New Form" button.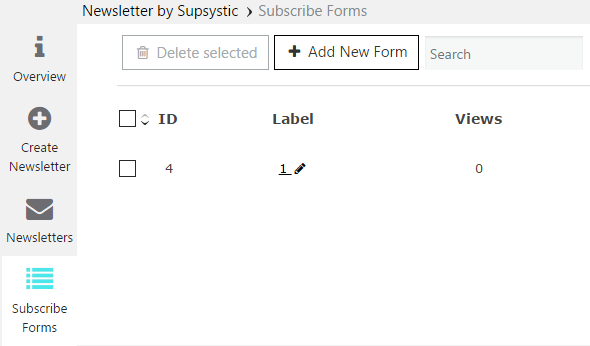 When a new page opens enter Form name and select template. Also you can change it later. Press "Save".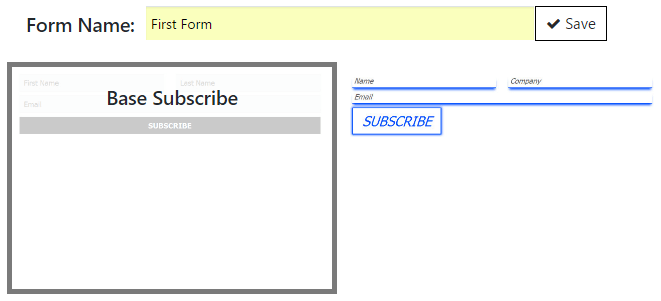 In new Form you can edit Design, it's Fields, Submit Options, </> CSS / HTML Code and Watch out the Statistics.
2. To arrange Design Tab use:
"Change Form Template" button
Width

– customize width up to your wishes in percent or pixels

Form background – set it with picture, color or none of the variants
Submit buttons background – set it with picture, color or none of the variants
Reset buttons background – set it with picture, color or none of the variants
If you have selected the image, download it to this Form by "Select image button" from your media gallery, PC or other source.
If you prefer some color push "Select color" button.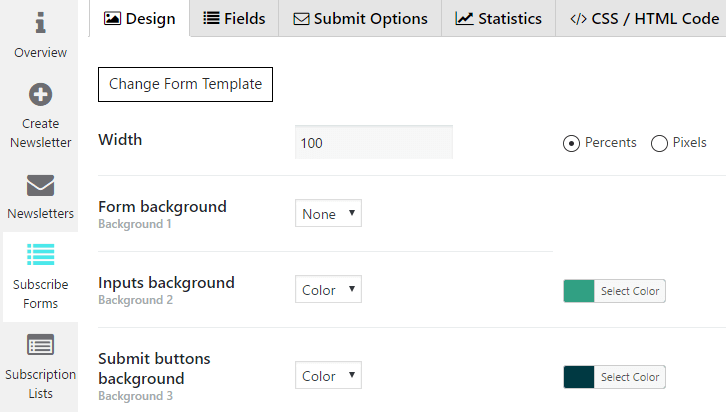 Below you can see a preview, to be sure you get what you want click "Preview" button on the top.
3. To control Fields tab:
Add Field invalid error message
– type here a message you want your visitors see if there is an error
Add New field to your Contact Form
– by default in standard versi?n you have Name, Email, Message, Check and Send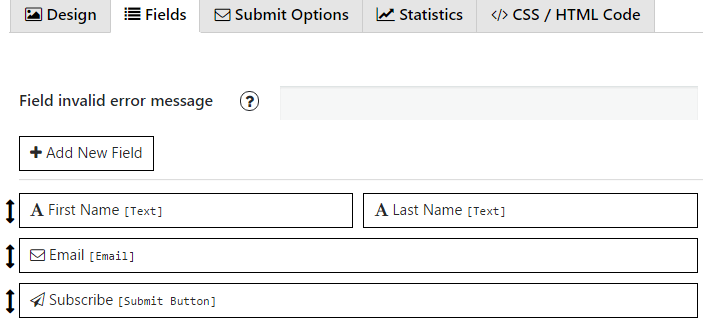 To see the whole list of fields, you can add click the button "Add New Field"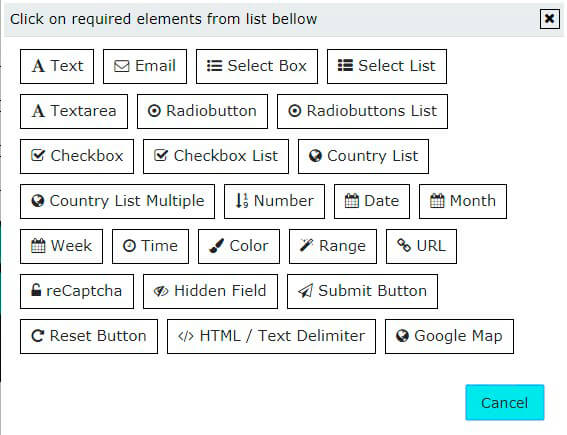 Text/Textarea – any text you want to get from your customer, maybe the long reply, some comments etc
Email – your user email address to contact
Select Box/List – a field in your Form, where you can choose some points (select them from several)
Radiobutton/Radiobuttons List – make a field option with radiobutton type of selection
Checkbox/Checkbox List – make a field option with checkbox type of selection
Country List/Multiple

–it allows to choose your customers their country of origin.

Pro feature
Number – a number multiple list
Date/Month/Week/time – a box with date/month/week/time
Color – color choosing for your boxing
Range – you can configure the range selection
URL – add some URLS, links to the site etc.
reCaptcha – helps to avoid spam
Hidden field – you can add some field you need to be opened after someselection one-by-one etc.
Submit Button – the most important button in your form – submit. Pro feature
Reset Button – allows to clean all the fields by one clicking
HTML/Text Delimeter – for users, who has basic knowledges of it
Google map – add map to your form
4. Submit Options includes:
Lists for subscribe

– to this lists new subscribers will be added

Form sent message

– message, that your users will see after success form submission

Form sent message color

– text color for your Success message

Hide form after submit

– by default, form will be hidden after successful submit, but you can disable this here, and after submitting the form just will be  cleared

Redirect after submit

– if you want, you can redirect user as soon as the Form has been submitted. Just enter required Redirect URL here – and each time when the Form has been submitted, the user will be redirected to that URL. If you don't need this functionality in your Form, leave this field empty.

Test Email Function

– email delivery depends on your server configuration. In some cases, you and your subscribers are not able to receive emails, just because email on your server is not working correctly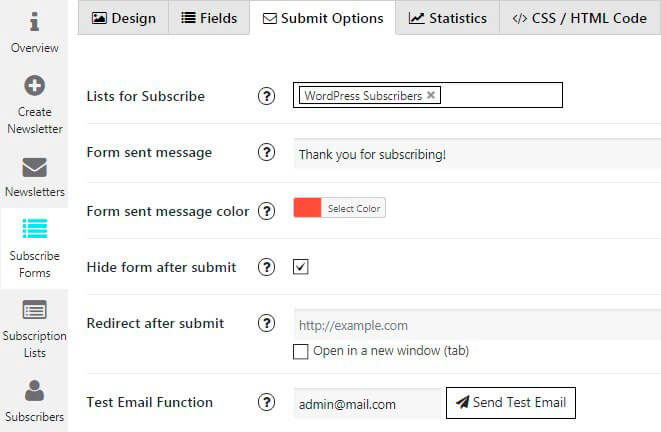 The preview is below all of this stuff.
5. At Statistics tab it will be shown division by the bright graphic and pics of your Form.
It displays how many of them have been submitted, how many have been failed, etc. Itis the unique and important tool for market managers and business owners.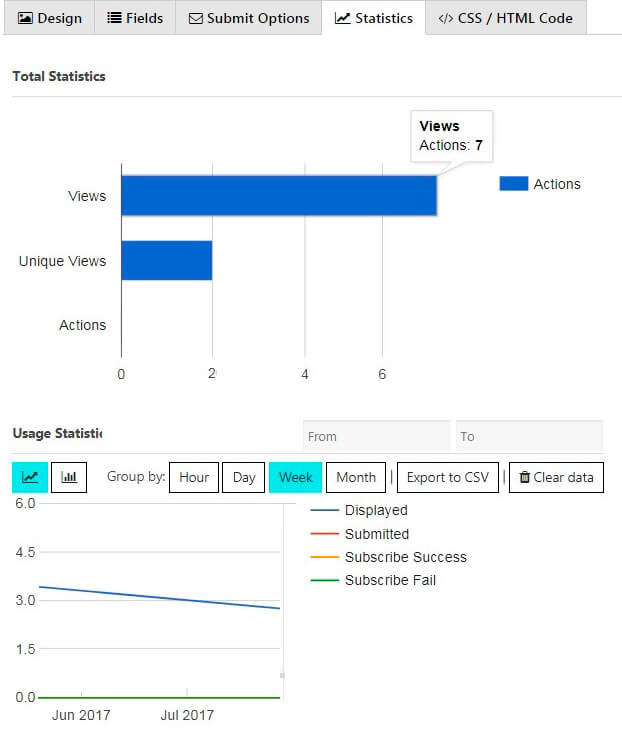 Total Statistics – diagramm of form actions.
Usage Statistics – diagramms of form activities.
Here you can Group by:
Also you can:
6. CSS/HTML Code
Newsletter Subscribe Forms by Supsystic allows you to edit code of the form – ONLY if you know basics of HTML, CSS and have been acquainted with the rules of template editing described here.
Important! After changing the settings of subscribers form don't forget to click "Save" button.
Also you have the ability to Clone the form – click on the Clone button on the top of plugin, enter the form name and click OK.

The copy will appear at the left navigation menu of Newsletter plugin on the Subscribe Forms tab.