This section is made for you to display your Newsletters Subscribers. Here you can search by Subscribers name or id and see the next parameters:
Column Email demonstrates subscribers with emails.
Head of the column Subscribed to contains the name of the list that subscriber was committed to.
Joined on – indicates the time when user become a subscriber to the one of your lists.
Id – serial number of Subscriber accordingly to the time of registration.
If you are looking for a certain object use arrows up and down near "Subscribed to" and "Email" in order to range them by alphabet or opposite order. The same with 'Id' and "Joined on" – range them by increasing or decreasing sequence.
On the left you can see checkboxes, tick some of them to make common operation – delete Subscribers. Click on the line under Email or Subscription List to edit the data.
There is a pagination setting window with numbers in the right corner. Select there a quantity of Subscribers you want to be shown on the one page.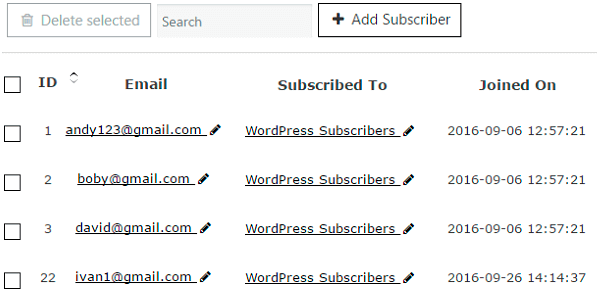 In editing mode of subscriber, you can:
Change his/her Username and Email
Enable or disable Status of getting mails
Add or delete subscribers List he/she is committed to
Save last info or Delete Subscribe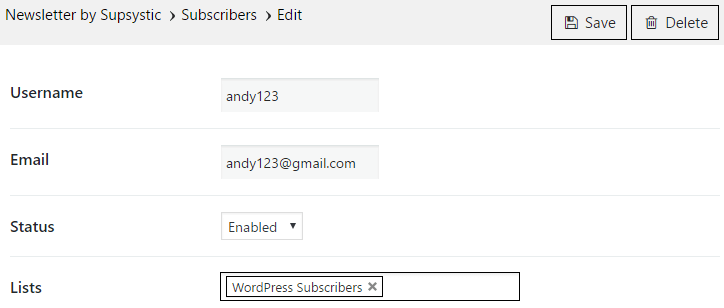 In Subscription List you can edit
it's Name
Description
Import new Subscribers manually
Don't forget to Import new Subscribers to The List and Save changes.
Read more about Subscribers Import in this article.