Introduction to the Supsystic WordPress Pricing Table Plugin
Designing an attractive and detailed pricing table for your site might seem like a complex challenge. Yet, the task is simplified with the Supsystic WordPress Pricing Table Plugin. Designed for various businesses to showcase their pricing plans, this plugin smoothly pairs with Elementor, making it a prime option for contemporary webpages.
Characteristics of the Supsystic WordPress Pricing Table Plugin
Smooth Coordination with Elementor

Elementor Tables: Flawlessly blend tables using the Elementor platform.
Elementor Pricing Table: Construct pricing tables effortlessly through Elementor.
Pricing Table Elementor: Modify and personalize your pricing tables within Elementor itself.

Adaptable Aesthetic Solutions

Pricing Table WordPress Plugin: Presents a range of design themes to complement your site's look.
WordPress Pricing Table: Establish sleek, responsive tables without needing coding expertise.

Added Features

Drag-and-Drop Customization: Simplifies the process of tailoring.
Import/Export Capability: Enables uncomplicated shifts between various sites or pages.
WooCommerce Connectivity: Assists in efficient handling of items inside the tables.
Advantages of Selecting the Supsystic Pricing Table Plugin
Improved User Interactivity: The user-friendly WordPress Pricing Table assists clients in effortlessly comprehending your products or services.
Enhanced Conversion Metrics: The lucidity offered by the Pricing Table Plugin might lead to improved conversion statistics.
Elementor Compatibility: As an Elementor-affiliated Pricing Table, it integrates smoothly, allowing consistent design maintenance.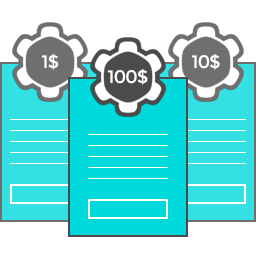 Steps to Begin with the Pricing Table Plugin
Getting the Pricing Table WordPress Plugin functioning on your site is uncomplicated:
Purchase and Retrieve: Obtain and download the Supsystic WordPress Pricing Table Plugin.
Setup and Activation: Set up and trigger the plugin through your WordPress control panel.
Create with Elementor: Use the Elementor tool to form and personalize your tables.
Publication and Transformation: Launch your tables and witness your webpage evolve!
Final Thoughts The Supsystic WordPress Pricing Table Plugin emerges as a complete answer for any pricing table requirements. The combination of its adaptability and flawless connection with Elementor renders it essential for those aiming to boost their site's formality and functionality. With the Supsystic Pricing Table WordPress Plugin, crafting sophisticated and operative tables is merely a matter of a few actions.
Sophisticated Features of WordPress Pricing Table Plugin by Supsystic
1. Versatile Pricing Solutions
Diverse Pricing Levels: Craft unique pricing options to cater to different customer preferences.
Incorporation of Discounts & Offers: Flawlessly integrate special offers and coupons right into your tables.
Recurring Payment Display: Easily show subscription-based pricing for continual services.
2. Personalized Appearance and Styling
Endless Color Palettes: Align your pricing tables with your brand's visual theme.
Customizable Fonts & Iconography: Enhance the look with various fonts and symbols.
Adaptive Design: Guarantee your tables' flawless appearance across all devices.
3. Insightful Analytics and Assessments
Tracking Conversions: Evaluate the impact of your pricing tables.
Google Analytics Connection: Scrutinize customer interactions for data-driven choices.
A/B Variations Testing: Explore diverse designs to pinpoint the most effective approach.
Integration with Elementor: A Seamless Collaboration
The harmonious interaction between the WordPress Pricing Table Plugin by Supsystic and Elementor distinguishes it from others. Here's the essence of this synergy:
Ease of Table Management with Elementor: Craft and organize tables effortlessly using Elementor.
Elementor's Advanced Customization for Pricing Tables: Exploit Elementor's robust tools to make your tables uniquely yours.
Simplified One-Click Fusion: Achieve seamless integration with Elementor, free from complicated setups.
Case Studies: Supsystic's Success Stories
Discover how diverse enterprises have utilized the WordPress Pricing Table Plugin by Supsystic to amplify their digital presence:
Online Commerce Platforms: Efficient arrangement of product display and cost.
Subscription-Based Models: Lucid portrayal of layered subscription plans.
Professional Consultancies: Candid exhibition of service fees.
Support and Guidance
Supsystic's committed team furnishes exhaustive assistance, ensuring your interaction with the plugin is satisfying and trouble-free:
Comprehensive Installation Guides: Instructions guiding every phase of setting up.
Collaborative Community Spaces: Engage with and seek assistance from fellow users.
Prompt and Attentive Assistance: Immediate and considerate help for all inquiries.
Contrasting with Alternate Plugins
More than a mere table creation utility, the WordPress Pricing Table Plugin by Supsystic serves as a multifaceted platform that enhances your website's interactivity and functionality. Its unification with Elementor positions it as a potent asset in your creative arsenal, enabling the development of tables that connect with your brand and audience.
From novices seeking a straightforward approach to seasoned pros craving intricate personalization, the WordPress Pricing Table Plugin by Supsystic is fashioned to satisfy all requirements.
Contrasting with Alternate Plugins Evaluating how the WordPress Pricing Table Plugin by Supsystic measures against alternatives can be vital for a well-informed choice. Here's an analytical comparison:
User-Friendliness

WordPress Pricing Table Plugin by Supsystic: Designed with an intuitive interface, accommodating both novices and experts.
Rival Plugins: Might necessitate a broader understanding and more detailed customization.

Aesthetic Adaptability

Pricing Table WordPress Plugin: Furnishes extensive creative freedom, including integration with Elementor Tables.
Rival Plugins: Restricted design options, potentially lacking harmony with Elementor.

Varied Pricing Features

Elementor Pricing Table by Supsystic: Facilitates diverse pricing arrangements, including subscriptions.
Rival Plugins: Might be bereft of multifaceted pricing attributes.
Target Audience for the WordPress Pricing Table Plugin by Supsystic
Small Enterprises: Employ the Pricing Table Plugin to exhibit your offerings in a visually engaging manner.
E-Commerce Vendors: Exploit the WooCommerce and Elementor Pricing Table functionalities to present your merchandise professionally.
Consultants & Independent Contractors: Utilize the WordPress Pricing Table to delineate your charges and packages transparently.
Persistent Refinement and Upgrades Through Supsystic's dedication to quality, the WordPress Pricing Table Plugin constantly evolves to guarantee:
Synchronization with the Latest WordPress Editions: Remain aligned with the freshest WordPress developments.
Introduction of Innovative Characteristics: Periodic refreshments encompass novel attributes, enhancements, and rectifications.
Adherence to Contemporary Web Guidelines: Assures that your pricing tables are in line with prevailing web norms.
Final Remarks
The Supreme Pricing Table Resource The WordPress Pricing Table Plugin by Supsystic transcends being merely a tool to fabricate tables. It signifies a venture in augmenting your website's operational efficiency, visual allure, and overall visitor engagement. Its distinguished alignment with Elementor and a plethora of personalization choices make it unparalleled among its peers.
Whether your demands are for a simple price representation or complex, multi-layered pricing schemes, this plugin avails an all-encompassing answer.
Explore the WordPress Pricing Table Plugin by Supsystic now, and uplift your site to greater heights! Comprehend personally why innumerable users have opted for Supsystic as their preferred pricing table solution.