Google Maps plugin allows you to enable different useful filters for your map:
Markers filter
KML layers filter
With information below you will know more about them.
To use markers filter first of all you need to create categories on your Google maps plugin.
For this move to Marker Categories Tab of the plugin. Here is possible to –
Add Category
Add Categories Levels
Edit Category
Delete Category
Search and Sort by Title and ID
Turn pages with categories
View – elect the number of categories on one page
To create new one click Add Category button. In new window you can establish:
Category Title – type your category name inside the field
Parent Category – select Parent Category from the dropdown list or create new.
Background Color – tick needed color for marker icon background
Cluster Icon – Upload Icon choose you like or back to Default Icon variant for your markers category
To make plugin remember your adjustements, click "Save" new markers category.
Also, in Map Tab Settings you can:
Select Filter background color for sidebar.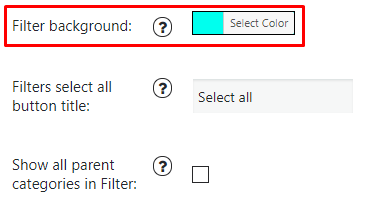 Enable Filters select all button title if you want to select and display all category by 1 click: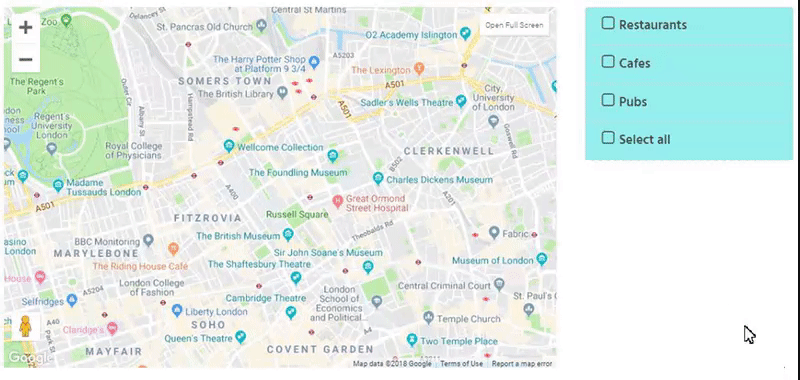 Enable Show all parent categories in Filter to Show parent categories even if they have no markers, but their child categories have.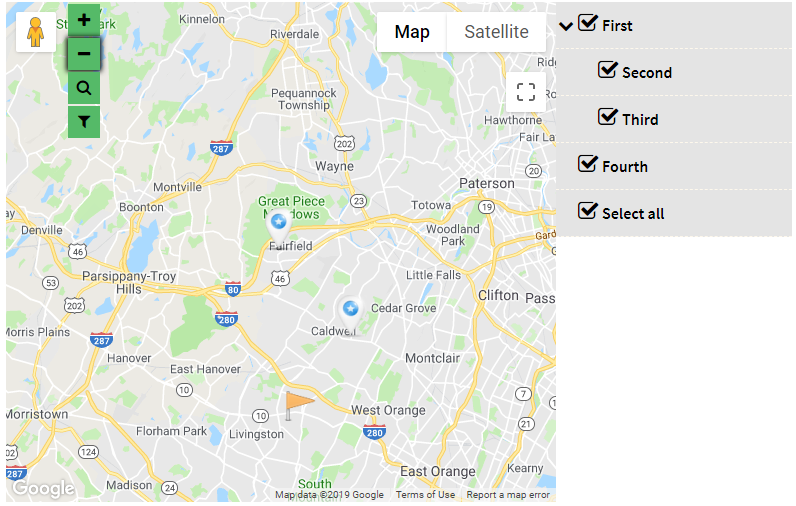 When you have created the marker on the Marker Tab, scroll down till you find Markers Category, set the one you created for current marker and click Save Marker button.


After that you need to enable Custom Map Controls option by clicking on the main Map menu checkbox.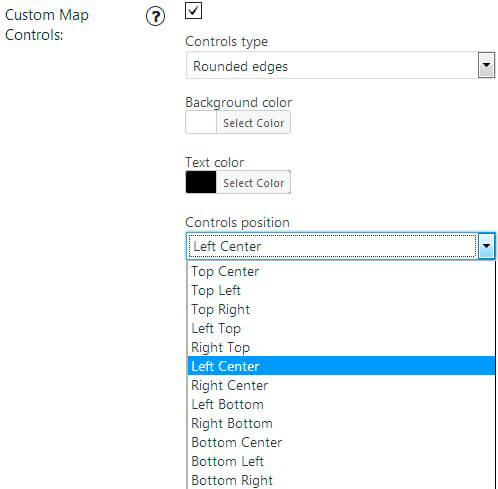 Here you can manage next parameters:
Controls type
Background color
Text color
Controls position
Min Search Radius (in meters): 0 by default
Max Search Radius (in meters): 1000000 by default
Search Country – All countries by default
After all this settings your map will display with parameters – filter all your markers by categories: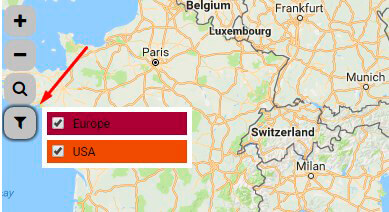 On Google Maps plugin you can also Add KML files to display custom layers on the map.
Its additional option – Enable KML layers filter – add form to map for dynamically enable / disable KML layers and sublayers.


You can enable Hide Sublayers at KML filter option by clicking on checkbox, otherwise you will see a full list of Sublayers.