Use your Data Plugin for a long time and now need to check database table structure, field value or run custom SQL or need to export database? Then simply use Data Table Generator for WordPress site. By this plugin, you can not only create tables but make them understandable, easy for customers even if you have lots of information. In addition, this plugin has a new advantage – it's very easy in the creation and with ease you can make as much as you want even on one page. Don't touch the line of the code, HTML or CSS – create it with several buttons, arrows and lines.
To enable table searching follow next steps:
Open Settings tab in the table properties.
Find Features section and activate Searching option.
Over the table will appear the search field.
Data Tables Generator provides global search and search for each individual column. For this, you have to enable the Search by Column. 
Use column searches with the global search at the same time for complex searching options:
Search by Column option: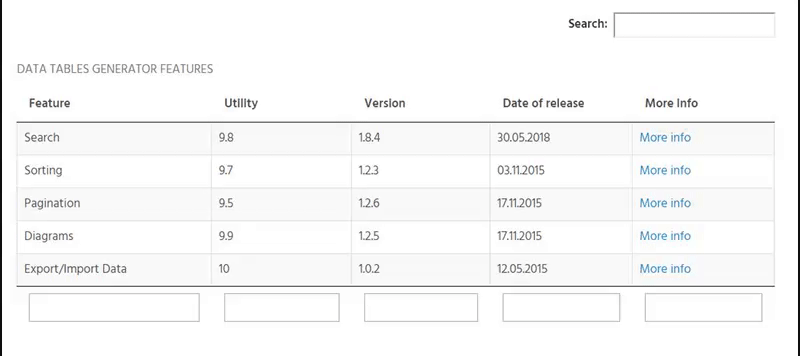 Search by Hidden Fields let you to search through fields, marked as hidden.
Show Only Search Results allow to hide table by default and show only if search has a result.
Show Only Search Results option: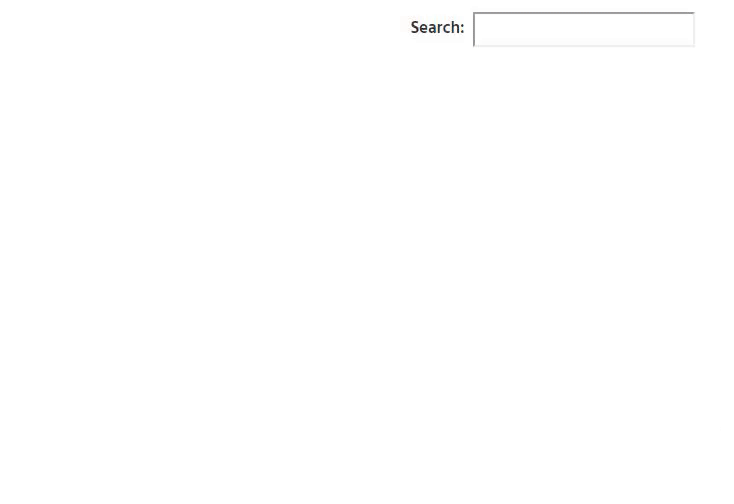 Show Empty Table. Table will not be hidden by default , but will be empty.
Show Empty Table option: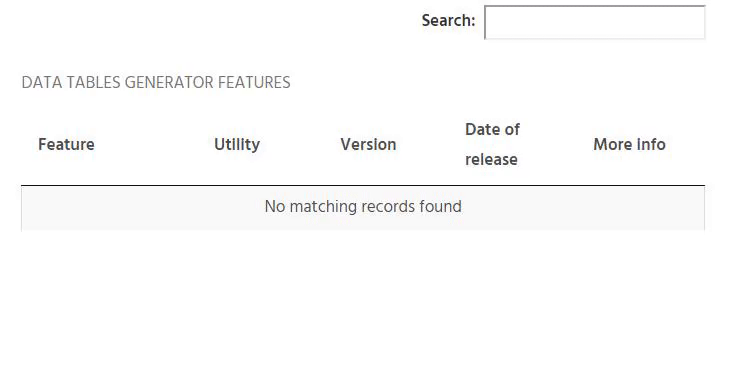 Strict Matching. Display only entries with matching characters in the beginning of words.
Minimum Count of Characters. Set minimum count of characters to start search in Search field. Set 0 to make search in any case.
With a Data Table Generator, you can not only create tables but make them understandable, easy for browsing and searching for visitors. 
Important! Check out the info with FAQs, video tutorials and different kinds of asking pages, question-answer forums+general info and plans back on this page WordPress Data Tables Documentation.
Back to main page of WordPress Data Tables Generator . Look through the main tasks of our plugin, themes, variants and also some advice for installation!
Using our plugin you can see database table structure, table fields with values and can run custom SQL from admin panel of your WordPress site. Don't forget, that you can use Data Table Generator plugin also for creation differents kinds of tables: with an additional information, comments, pictures and even change the number of the columns, lines etc.
Create, manage and design tables without writing HTML code. Paging, sorting, filtering, searching and more options. Make tables one of the best and make them user-friendly. Tables can be as easy and comfortable as breathing for a person. The table is one of the most useful and effective ways to sell, explain and add info for your guests. Users and guests of your site can be the real buyers, customers of your site. Increase the conversion rate of purchasing without an expensive advertisement.
With this plugin, your tables can not only attract the customers but help you to administrate your site and make this process comfortable, light and even fun. A WordPress plugin that makes your HTML tables responsive and awesome on all devices – No matter how many columns of data you may have in them.
Have you ever wanted to show a lot of data in your tables, but hate how badly it scales on smaller mobile devices? Data Table Generator solves this problem by hiding certain columns on smaller devices, but still allowing the user to expand each row to see the columns that were hidden. Responsive tables in WordPress.
We have answered you on a question "Hot to search by the table?". If no – you can look through our tutorials and FAQs. For your comfort and ease, we even have a video variant of the tutorial. How to search by the table? Easy and quickly, just follow our rules and detailed instructions and make it in two steps!