Sometimes, it is necessary to export or import large amounts of data tables into or out of a database and to do it one by one, by hands is not a way.
Mass migration of tables Pro Feature helps you with literally all of your import and export needs and save you time.
Mass migration of tables allows you add tables into website in a short amount of time. If you already have a lot of data tables on website, this feature also allows you to export them.
Both import and export work with SQL files.
Using the Export option, the selected tables with diagrams in the SQL format (with some additional formatting) are downloaded to the file migration.sql 

Using the Import option, upload the migration.sql file to the Plugin database.
Mass migration of tables Pro feature can be useful for:
Taking regular backups of all data.

Transferring tables to a different website.

Lending/selling your data tables.
Data Tables Generator plugin makes it absolutely easy to migrate huge amount of data tables on the website at a time.
Let's consider how to do it:
Go to the Data Tables Generator Plugin to the Tables Tab.
Here are Export Selected and Import buttons located in bottom under the tables.

Export Selected provides the option to select specific tables or all of them. To display full list of tables for selecting, use the

Pagination List Content 
Start the Export process, and then, when the file has been downloaded, go to the Downloads section of computer to find the bulk download file in it.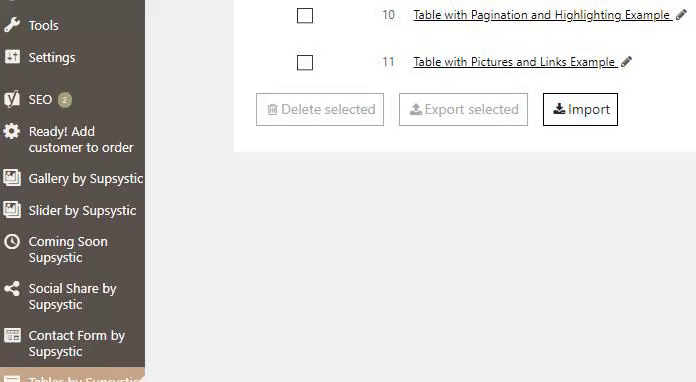 To Import the Data Tables, press the Import button and Choose the SQL file for uploading from database. 
Imported tables will appear in list of tables in seconds.