RATING:
7.5
Uptime

15/25
Load time

12/25
Price
25/25
Support
23/25
Pros
Cons

Fully-Loaded Value Plan
Good price
No hidden or increased renewal fees

Poor Uptime and load time
No Phone Support
Gets expensive after 1 year of renewal

Poor Uptime and load time
No Phone Support

Poor Uptime and load time
No Phone Support
Like any product, there will be tradeoffs, advantages, and disadvantages – depending on particular goals, preferences, and resources.

We actually sign up and test the hosting following this plan:
Website interface
Customer support Phone support Live Chat Tickets service
Service and price
User experience Registration and purchasing Website Builder Uptime/downtime Money Back
NameCheap reviews by other customers
---
The purpose of this review is to provide you with enough information to help you select a hosting provider that meets your needs. Our goal for this review is to test this host and tell you the main points of our experience with NameСheap. It is impossible to find the "best" host. The "best" is the right fit for your project based on your goals, budget, experience & expertise.
General Info & Hosting Overview
As a leading domain registrar, Namecheap has market share since it was founded in 2000. Namecheap has provided over 4 million domain names to customers throughout the world. Although Namecheap's core business is domain registry services, it provides additional services including web hosting, email hosting, security, and cloud-based services.
Let's start with a first impression

Website interface
You will not find bright advertising banners here, the quite austere design promotes fast navigation and orientation. An intuitive interface. The main menu is clearly highlighted, convenient, and structured.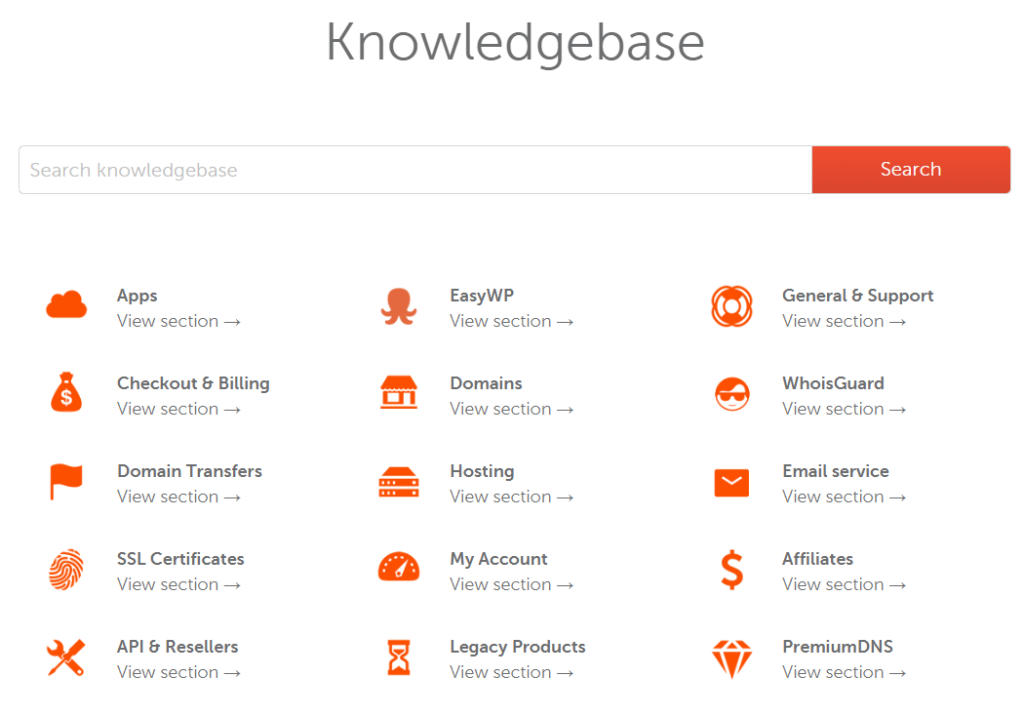 We can surely say the customers will find all the necessary information easily: the website contains a brief FAQ on 5 points on the main page, a great knowledge base section, support center.
It is extensive and conveniently structured with the ability to search. Detailed, step-by-step articles with a multitude of illustrations contain answers that should help solve the most common problems you run into. The comments section is available for users. So, our user experience was really good, we like the NameСheap website.
Customer support
Customer support is notoriously hard to judge. It's hard to know what is really going on behind the scenes, and whether a company will be helpful when *you* contact them. Namecheap is committed to the satisfaction of its customers, providing professional 24/7 technical support. Namecheap offers support through tickets and live chat.
There does not appear to be any type of support by phone, which could be an issue if you need help fast.
We tested their live chat several times and got a response in just under one minute, which is pretty good. Responses were fast and clear. And it's usually a good service for me.
The most important thing here is the response time. We've decided to ask Namecheap if can we switch between versions of PHP after the site will be published.
As you can see, it took 41 minutes to respond. We contacted them several times via ticket support also and the response time was from 15 to 50 min with brief, clear answers. It is common for some providers to be even quicker but the time by Namecheap is nothing to complain about.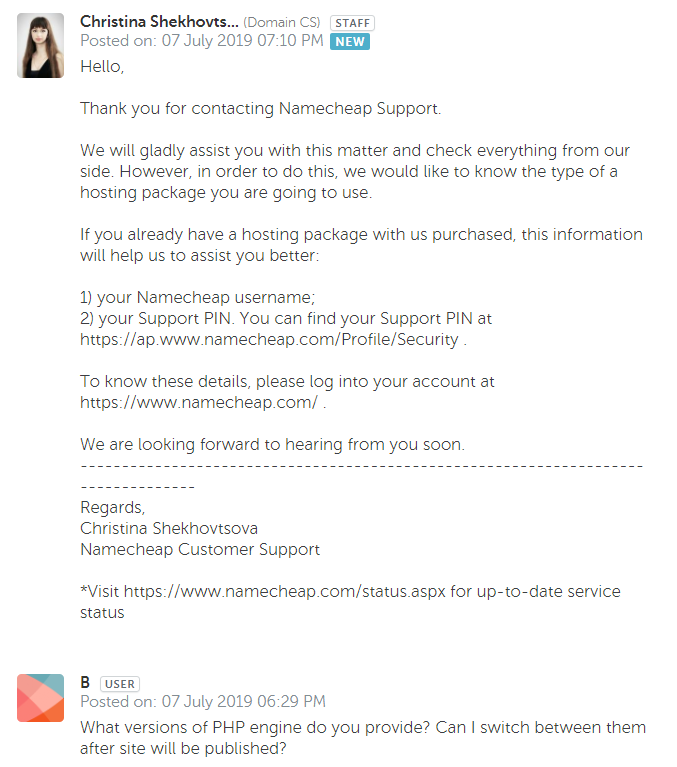 Namecheap offers three hosting plans for WordPress, starting at under $3.88 a month. All prices are displayed for monthly and annual plans. Plans based on site traffic. For the less tech-savvy, this gives an easy-to-understand reference point.
| | EasyWP Starter | EasyWP Turbo | EasyWP Supersonic |
| --- | --- | --- | --- |
| Cost (Bill monthly) | $3.88/mo | $7.88/mo | $11.88/mo |
| First Month | $1 | $2 | $3 |
| SSD Storage | 10 GB | 50 GB | 100 GB |
| Monthly visitors | 50k | 200k | 500k |
| More | | | |
| 1x WordPress website installed and ready to go | | | |
| Powered by Namecheap Cloud | | | |
| Easy Backups and Restores | | | |
| SFTP & Database Access | | | |
| Temporary EasyWP free domain | | | |
| Support for your Namecheap domains | | | |
| 30-days money back guarantee | | | |
| 24/7 Namecheap Support included | | | |
WordPress plans also offer:
One-click twice-a-week backups
SSL certificates (free for the first year)
Pre-installed WordPress and cPanel.
Every domain you'll purchase (or get for free), will also include WHOIS Guard protection. With this protection, people won't be able to find out your personal data by looking up the domain. And so, that's how you can avoid scammers and unwanted attention. Moreover, you can set up three websites on this plan and get up to 50 email addresses. This is great if you have several sites and also all these features will save lots of your money. Do note that your SSL certificate will have an annual cost after the first year. Prices vary widely based on your security needs, but those offered via NameCheap range from $8.88-$169.00 per year.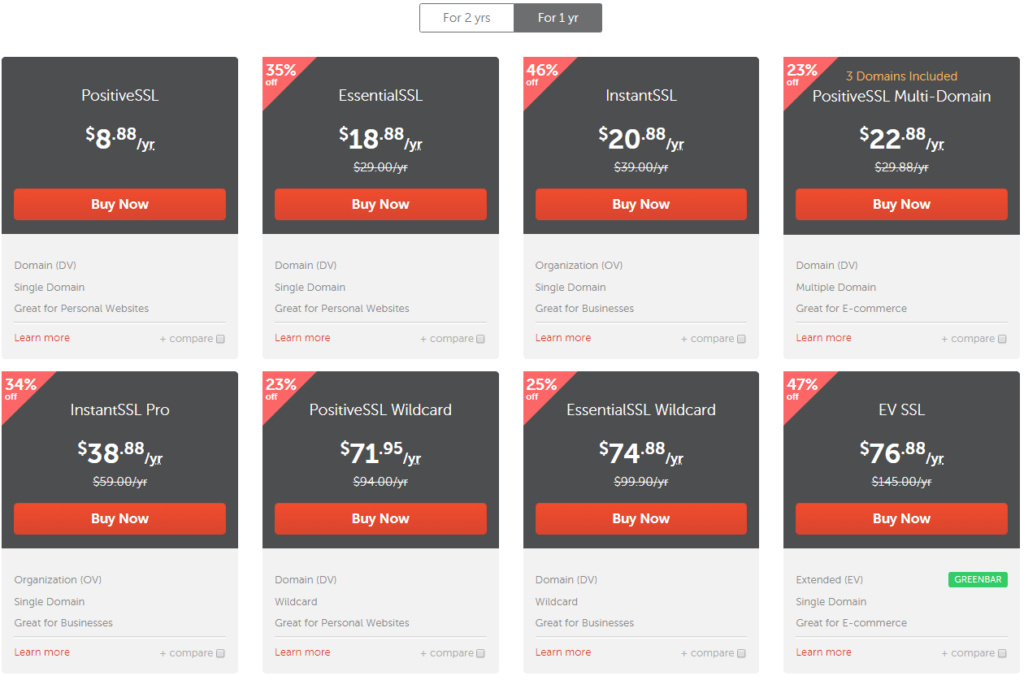 User experience
We've reviewed over 20 hosts. And for each hosting, we register and purchase the basic plan for our testing. Our reviews are based on real data and performance figures.
Registration and purchasing
The overall check-out process for registration is quick and easy. The process is straightforward, and there are no upselling tactics to disrupt your experience.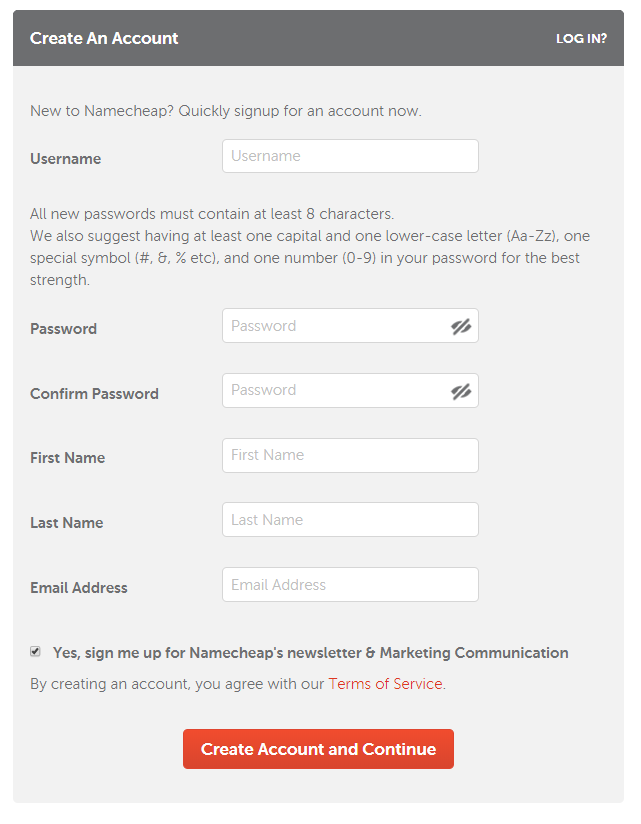 In the process of getting a new customer up and running you'd immediately get your sign-in credentials and be able to either go to a guided tutorial or be able to log in directly to your new dashboard. They send out a welcome email where you can log in directly to your services or follow directions to the right help resources.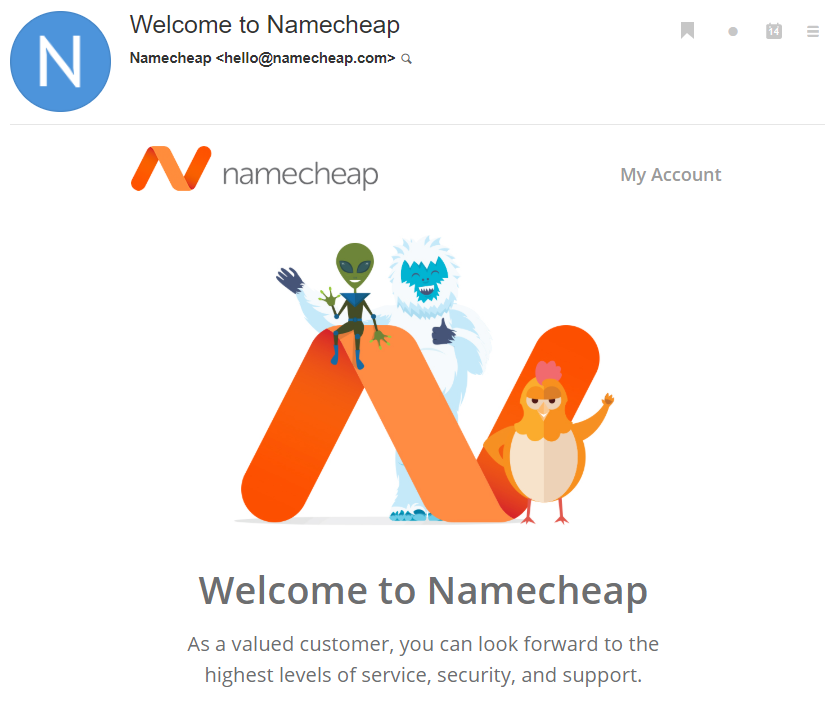 We choose the basic plan with the Price of $3.88 a month. There's no catch, the price in the checkout is the same as was represented in pricing on the website. And as we see, payment processing is clear and has no hidden fees or upsell. You can pay with credit cards, PayPal, or Bitcoin.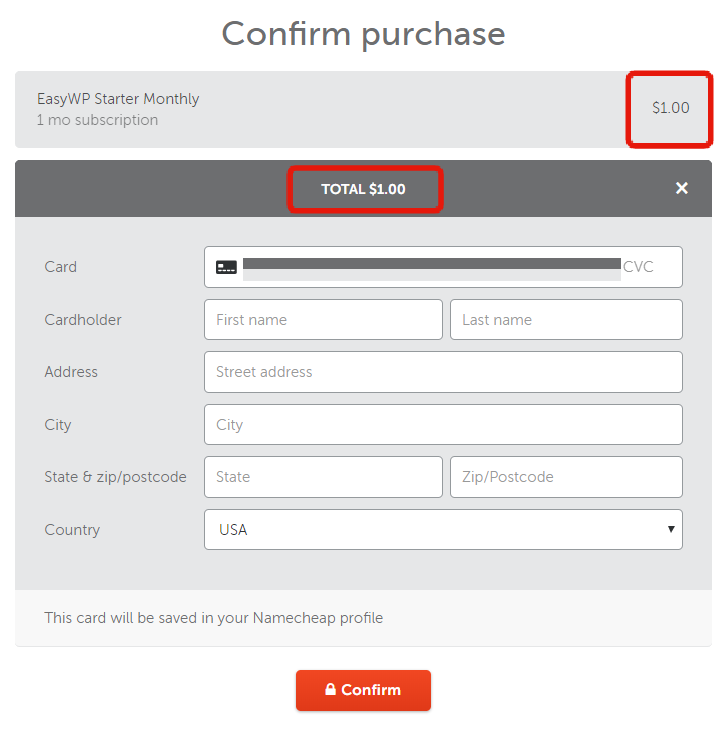 Their account backends are clean and minimalist. There are no flashing banners or hard upsells.
Their WordPress quick install software installs a clean version of WordPress with no additional plugins or themes. We installed WP+Storefront+Wordfence which took only 1-2 minutes. So, you surely can create a new website in 3 minutes. NameCheap provides cPanel – the most popular, simple, easy-to-use control panel and its detailed documentation on how to use it.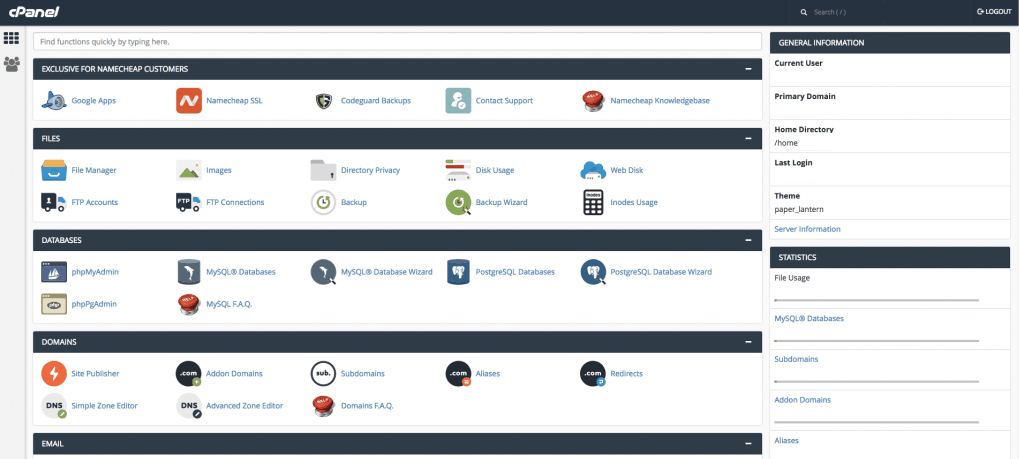 SiteBuilder
Unfortunately, NameCheap does not provide a website builder that allows creating a website using a drag-and-drop editor. It is available only for Shared Hosting Plans. Anyways, we will shortly describe the site builder for customers, who use not only WP hosting. With Website Builder, you simply drag, drop, click, and publish all of your content. There are over 200 templates to choose from. The templates are basic, and clean, but modern. Your website will be fully responsive,
You'll be able to add pictures, contact forms, buttons and text to your website. If you'll be selling products or taking online payments, there are also e-commerce tools to help you add a store, shopping cart or configure a payment processor. Website Builder also allows you to add Google Analytics and Maps, develop pages in several languages simultaneously and integrate social media. Website Builder includes short built-in interactive video tutorials for each option and tool.
Entering Website Builder, you begin by selecting a template for your site:
You can preview each template, and you can also watch a demo of how the homepage was originally built using the Website Builder tool. Upon selecting a template, you're directed to your template editing interface: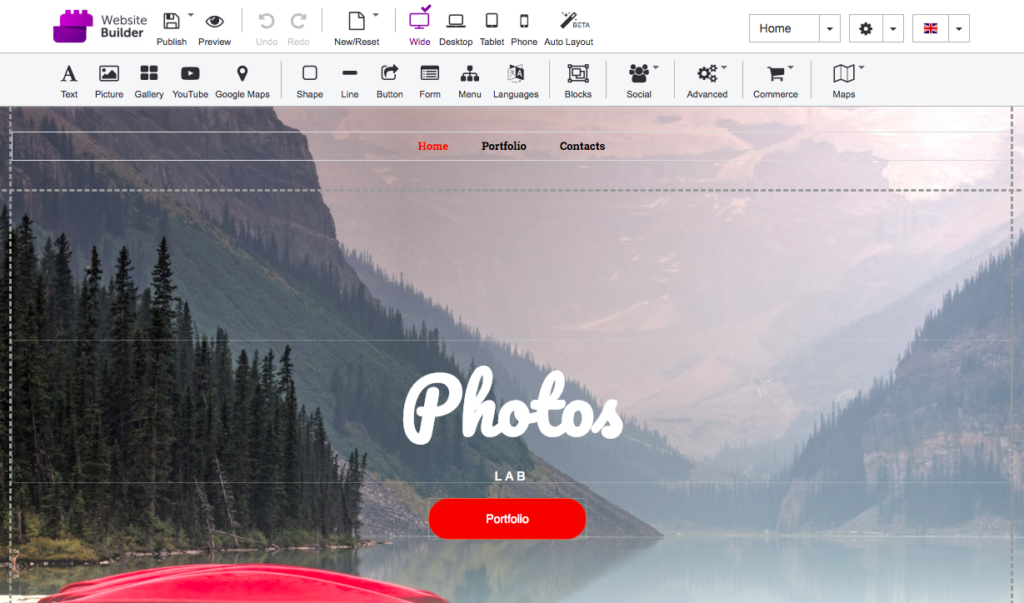 The best part of the tool is that you are able to customize, drag and drop, and resize your page elements. But Website Builder will feel a little bit confusing. Our opinion is that the developers of Website Builder think too much about what developers want, and not understanding what novice website creators want. They provide a basic guide to the main settings but no detailed tutorials or videos. The price is right, and the features look okay, but how does Namecheap perform when it comes to uptime and speed? Let's take a look.
Uptime/downtime
The price is quite good, and the support is fine, but how does Namecheap perform when it comes to uptime and speed? Let's take a look at how reliable and stable Namecheap servers really are. A basic WordPress website was set up. Then, using the Pingdom.com service, it was tested once every minute. This is perfect to measure the host's overall availability at all times. Not only the downtimes but also response times.

Namecheap offers a 99.9% uptime for most hosting packages, which is standard in the industry. 99.9% uptime sounds good, but it means that your site could be down up to 8 hours a year (43 minutes a month). According to my Namecheap server data, Namecheap was of the time. Page speed is critical to your online success. Our results show overall load time is 896 ms, which is not good.
Getting Refunds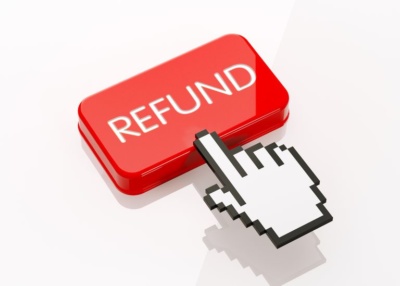 Namecheap offers up to a 30-day money-back guarantee for shared and WordPress hosting plans to see if their service is fit your needs. They also offer a 14-day money-back guarantee for resellers and VPS plans. There is no money-back guarantee for dedicated servers. The refund does not include additional fees for items such as software licenses for cPanel or WHM. Then we contacted NameCheap to ask for a refund, the chat took 22 minutes, and the staff left apparently coordinated the actions and asked to wait. They promise to refund the money in a period from 2 up to 10 business days. The response was polite, custom support asked to name the reason for the refund and took a chance to propose an alternative solution. After that, we got consent to return the money.
NameCheap reviews by other customers
Hosting has both positive and negative feedback and ratings.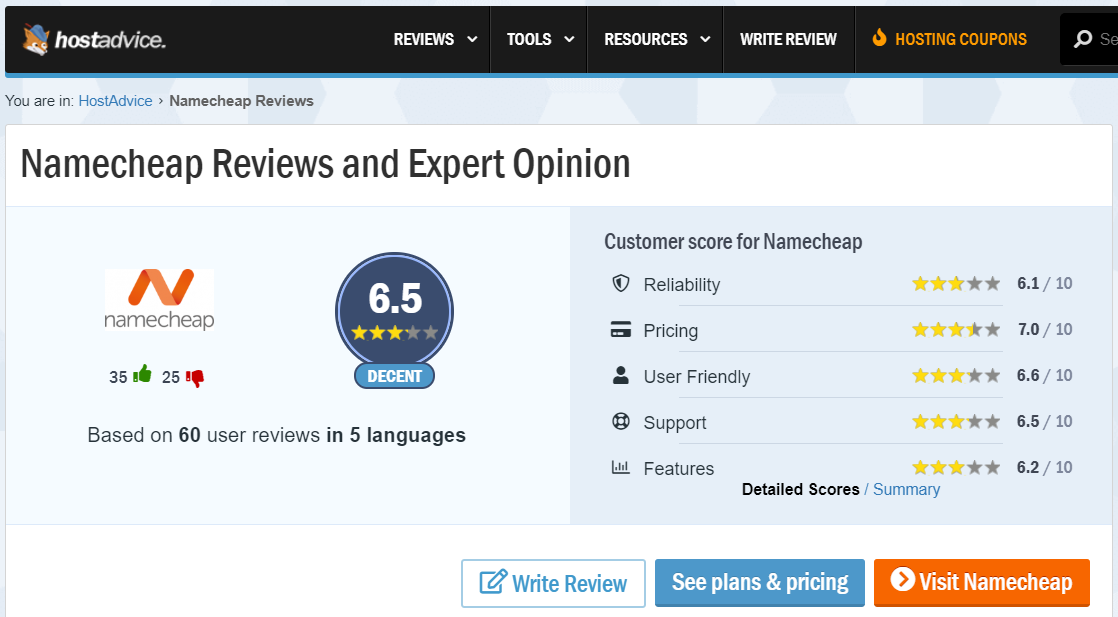 Here are the main points of the review we divided into pros and cons:
Pros:
"The best service from them on every possible side with the best pricing plan."
"Their support team is really good, they listen, patient, to understand a problem. Very professional and helpful."
"Comes with security and free backups"
"Their renewal chargers are very fair. All other hosting provider charges you double or even 3 times their initial offer."
"SSD Storage with Great Features+Email Account Service with Cpanel and ability to add up to 3 add-on websites."
Cons
"Sometimes in a couple of seconds, your website is inaccessible."
"Website speed is way too slow."
"Their e-mail service as their servers are on spam/block list and all e-mails you sent will end up nowhere."
"They're not the fastest. Limited disk space."
"A domain could be blocked over the redemption period before renew and you need to pay crazy money to get the domain back."
"They never warned that my order was expiring."
"Sites always get 503 errors every day, and income decreases."
"They don't even have a phone number to call."
"Namecheap charged me for a service I didn't approve of. They took my money and haven't given it back! My account wasn't on auto-pay. It was turned off."
---
Do you have any personal experience with Namecheap – positive or negative? If so, please leave us honest, transparent feedback below! Download Free WordPress Plugins by Supsystic