Newest Updates Of The Gallery Plugin
The summer is till in the zenith, and you may lay on the beach, drink cold coctail, while we are producing new features for your online passion, for your site. For the first sign is nothing special, like a watermelon in the garden. But soon, when you begin to use this last fresh updates, you will feel free and boosted for new achievements with updated Photo Gallery plugin by Supsystic.

Let's begin from the most interesting, most long-awaited and so long-expected – New Gallery Template. It makes the sight slay from one image to the other in your previously setted order, from the biggest to the smallest photo. Thus making your site visitors become engaged with the pictures set you have organized. Don't you surprised with such psychological trics? It's not all. If your gallery has more then 5 photos, the fifth will have a shadow and the number of images are hidden. So, this wonderful template has additional possibilities – to adjust this shadow color, transparency and Image Text Count parameters.

beautifull gallery.

Another one foxy ploy to design your site well and intertain your site guests with new caption effect – Show On Hover. It sounds simple and boring until you try it personally. It's like a children's game with face – when you cover it with hands and suddenly show saying "Hello!" – it's here, but hidden. Or this effect can look like a card game, when you have a face-down cards and if the mouse is on the card – it opens. Wanna try? Point on the gallery below.

"Our life is frittered away by detail. Simplify, simplify." The same happened with Images List at Gallery plugin admin area. Firstly, when you test it with ten or twenty photos it looks good. But in real live, when the gallery has around one hundred photos or even more, it begins to look like the mess in the hell. A long-long list of images is scrolling and scrolling… forever… Stop! There is no need to torture yourself – Pagination option for Image List will simplify your life just in two clicks!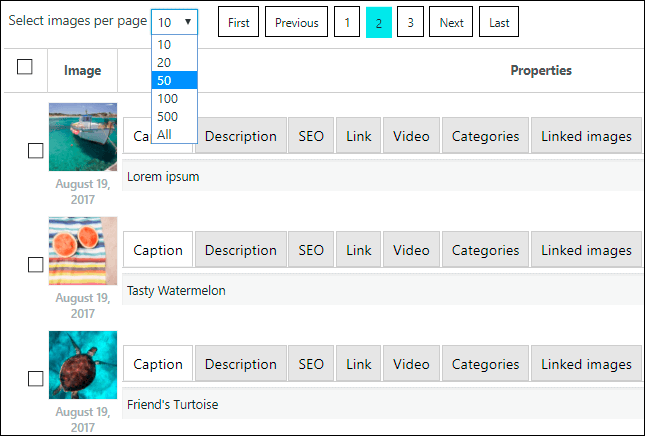 In overage, new updates of the Photo Gallery plugin was surprisingly fresh and fruitful for both FREE and PRO versions – new Mosaic Template, capture effect and hornonizing Image List improvment and other. Enjoy more amazing examples of New Gallery Template and welcome to plugin page, there you will be able to upgrade your opportunities.