Use the new feature Places Toolbar of Google Map Easy Plugin and activate search function for a variety of places and display them on the map.
A new useful feature that allow you to add special useful toolbar on your map. Now you and your users can search for a variety of places and display them on the map.
This toolbar has different categories of places: restaurants, schools, museums, banks, cafes etc. There is a new ability to make additional searching requests for Places Toolbar, full list of categories you can check in the left drop down menu.
Activate this function and make your page even more attractive.
Activate "Use Places Toolbar" checkbox.

Pick Min and Max radius in meters for searching results, which will be displayed on map.

Search Step (in meters):

using Places toolbar, you can set a quantity of scroll step.

Press Save button

under the map preview in right corner

and use the shortcode to add this toolbar on map on your page or post.
Note toolbar must be placed on the same page as its map.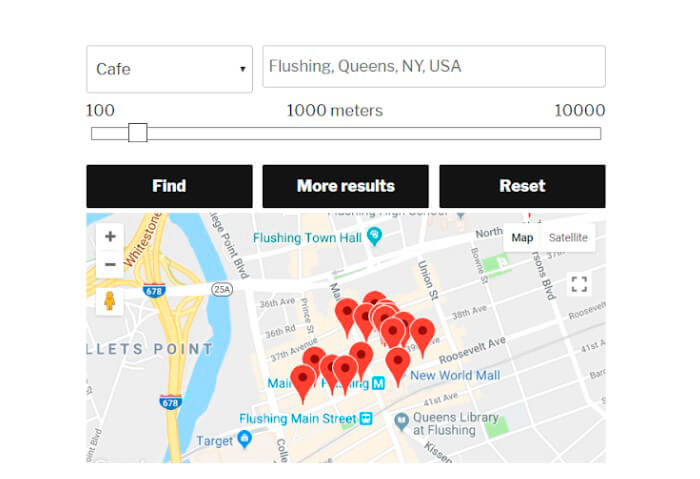 This toolbar can be disposed in post anywhere you need.
Select which kind of places you'd like to search in the left column and Specify the location, these are this places will be found and displayed, using the given radius.