WordPress Easy Google Maps by Supsystic: The Mapping Masterpiece
Building a captivating website goes beyond just visual appeal; it incorporates elements that truly connect with users. Among these elements, interactive maps are paramount. Experience simplicity in map integration with WordPress Easy Google Maps by Supsystic. Let's delve into why this Google map integration stands out for your WordPress platform.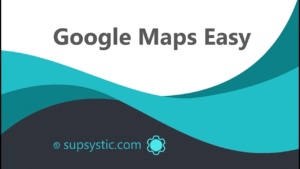 A Deep Dive into WordPress Easy Google Maps by Supsystic
In today's digital age, geographical visualization is crucial. WordPress Easy Google Maps by Supsystic serves as the beacon for all your geolocation requirements.
Reasons to Opt for This WordPress Mapping Solution
Streamlined Integration: Novice or expert, working with this Google map tool on WordPress is a breeze.
Intuitive Operations: No need for extensive coding! Navigate with ease through its user-centric interface.
Limitless Flexibility: From showcasing a single point to illustrating a comprehensive journey, the horizons are broad with this mapping solution.
WP Google Maps Tool's Distinguished Features
Diverse Map Aesthetics: Ensure your maps sync harmoniously with your site's theme.
Adaptive Design: In an age of diverse device usage, guarantee your maps radiate perfection on all screens.
Unique Marker Designs: Let your map markers echo your brand's personality.
Information Layers: Integrate layers ranging from traffic details to popular tourist attractions effortlessly.
Amplifying Your Online Presence with the Google Map Integration
Maps on websites amplify:
User Engagement: Interactive maps can captivate users, offering vital information effortlessly.
Business Authenticity: Displaying your business location fortifies its real-world existence.
User Directions: Guide users to desired destinations, be it a local store or a grand event.
What The Users Say
Many have redefined their sites using this unique mapping solution. A few testimonials:
"Effortless map integration, all thanks to WordPress Easy Google Maps by Supsystic!" – Jane D.
"A game-changer in WordPress mapping solutions." – Alex L.
Wrap-up
When you're in search of a versatile, easy-to-use, and powerful mapping solution for WordPress, WordPress Easy Google Maps by Supsystic stands unparalleled. It's not just a mapping tool; it's a holistic solution.
WordPress Easy Google Maps by Supsystic: Beyond Standard Mapping
Exploring the vastness of WordPress Easy Google Maps by Supsystic, it's evident that this isn't merely another mapping plugin. It's a blend of functionality, innovation, and enhanced user interaction. Let's uncover the exceptional offerings of this tool.
Tailored Map Customizations
Styling Beyond Themes: Match your site's look perfectly with customized map design options.
Route Guidances: Direct users with pinpoint accuracy, invaluable for brick-and-mortar businesses.
Localized Content with Geo-Tagging: Use geotagging for region-specific content relevancy.
Boosted User Engagement
Information Tooltips: Offer valuable insights at different map points.
Flexible Zooming: Grant users control over their viewing experience.
User-driven Navigation: Let users navigate maps intuitively with drag-and-click functionality.
Safety and Efficiency
Timely Updates: Supsystic ensures timely updates, maintaining harmony with the latest WordPress releases.
Swift Loading: Feature-rich yet optimized for speed, it ensures swift site performance.
Assured Data Security: With GDPR compliance, user data remains in safe hands.
Synergize with Other Supsystic Plugins
Enhance your mapping experience by coupling it with other Supsystic offerings, from photo displays to informative pop-ups.
The Community and Backup
Engaged User Base: Dive into a knowledge pool with an active user community.
Reliable Support: Supsystic boasts a dedicated team, always ready to assist.
Mapping with Purpose
Maps are not just about geographical depiction. They narrate tales, guide users, and create unparalleled experiences. With WordPress Easy Google Maps by Supsystic, you're crafting narratives, not just adding maps.
In the vast sea of plugins, be astute. Choose versatility, innovation, and an unmatched user journey. Choose WordPress Easy Google Maps by Supsystic.
WordPress Easy Google Maps by Supsystic: An In-depth Exploration
We've touched upon numerous facets of what WordPress Easy Google Maps by Supsystic offers. However, the depth of its features warrants a closer look. Let's further uncover its immense capabilities and potential enhancements to your WordPress platform.
Geolocation Analytics
User Journeys: Gauge user origins and their interaction with your maps, a vital asset for informed decisions.
Traffic Visualizations: Highlight areas of user concentration, identifying popular regions and user preferences.
Language Inclusivity
Worldwide Resonance: Reach a global audience with multi-language maps.
RTL Language Compatibility: The WordPress map solution ensures a familiar feel for right-to-left language users.
Team Dynamics
Concurrent Editing: Teamwork made easy with real-time collaboration.
Audience-driven Markers: Let users add to your map narrative through reviews, pinpoints, and feedback.
Resourceful Library
Map Blueprints: Begin with a template, rather than from ground zero.
Learning Hub: Access a vast repository of tutorials, catering to all user levels.
Adaptable Functionality
Versatile Applications: From personal blogs to bustling online stores, it seamlessly integrates.
Map Abundance: With no limits, craft maps for diverse purposes and target groups.
Optimized for Mobiles
Gesture-friendly: Users can smoothly zoom and swipe, ensuring a top-tier mobile experience.
Mobile-centric Displays: Craft mobile-specific map appearances, guaranteeing the best visual treat.
Staying Ahead of Times
The evolutionary journey of WordPress Easy Google Maps by Supsystic is synchronous with technological advancements. With a relentless drive for innovation, it's always set for future waves.
When it comes to mapping solutions for WordPress, depth, versatility, and user engagement define success. WordPress Easy Google Maps by Supsystic ticks all these boxes, crafting a stellar geolocation narrative for its users.