If you have installed our Slider by Supsystic, so now you understand all the benefits. The images can be chosen from your own laptop or any other device, WordPress Media Library or any other site. Slider provides the opportunity to create slideshow for WordPress in an easy way and to integrate this gallery or grid into any WordPress installation. Images can be united with texts slides, video from youtube or Vimeo, or any other advertisement.
But maybe you want to create a new image slideshow for WordPress or change the order of your pictures, or even have some old images. How to delete a slide from your slideshow? How to change it with a new one? Check the process below!
Any image can be loaded into the slideshow by picking it from the WordPress media page, even images you've already uploaded can be inserted into your slideshow right away!
To delete an existing slide from slider you need:
In the "Media" block check those images that you want to delete.
Click on the 'trash can' icon on the top of "Media" block.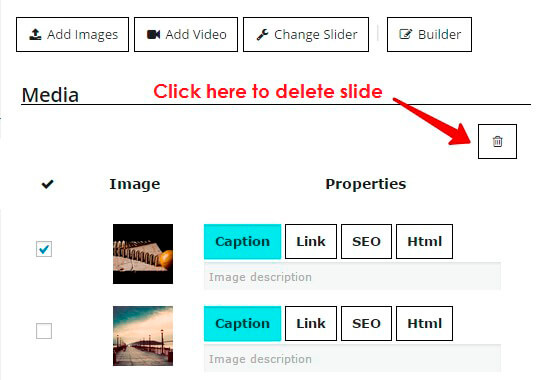 Slideshow for WordPress has a lot of different variations and options, themes and styles for customization. Check all of them and try the one you like! Maybe one of it would be the best variant for you and you wouldn't have this problem "how to delete a slide from slideshow".
Slider Plugin
by Supsystic – check this page and find more useful tips!