Mosaic PRO type of Supsystic Gallery has unique amazing properties.
This type is perfect for family pics, for a wedding or other photos. Just try and make sure in it by yourself.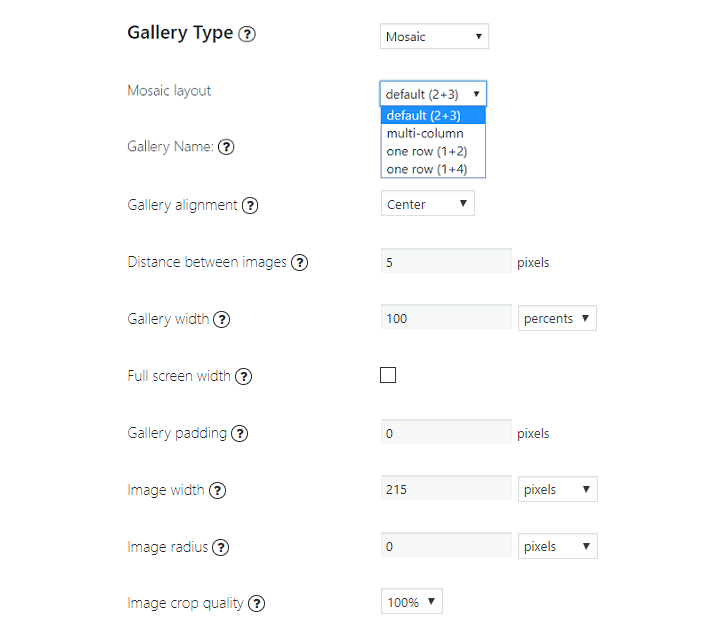 In order to create the Mosaic Gallery you need:
Select the Mosaic type in the drop-down menu.
Pick a mosaic layout:
Default (2+3) 
Multi-column 
The number of columns  – set the value from 3 to 20. Gallery area can contain up to this amount of minimal-sized pictures. The size of a single photo can vary in range from (Gallery width/Number of columns) to 70% of the Gallery width.
One row (1+2) 
One row (1+4)
As you can see, here you have the ability to configure gallery and images settings – position, width, radius etc.
After finishing customize general Gallery settings of Mosaic type you will be able to configure Image Count to display and Image Count Setting.
Images count to display
If none of the options below is enabled, your gallery images will be partially hidden under thumbnail with a count. After clicking on this thumbnail, the rest of the images will be shown in the pop-up window.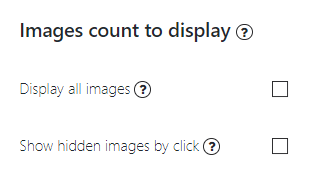 Display all images – if this option is enabled, all pictures in the gallery will be shown as thumbnails with no count.
>Show hidden images by click – if this option is enabled, all hidden thumbnails will be displayed below after clicking on the thumbnail with a count.
Image Count Settings 
Here you may change the image counting thumbnail view.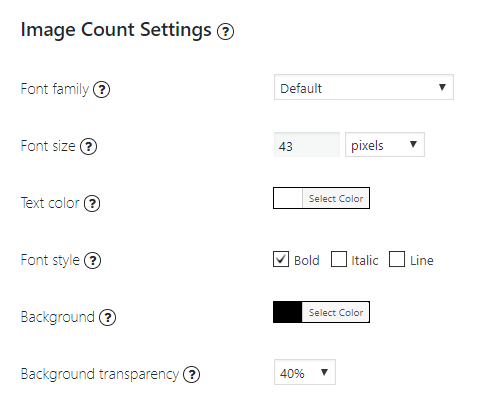 Font family – choose one font family from an available list;
Font size – set font size in pixels, percents or ems;
Colour – select text colour from colour picker;
Font style – you can add style for your text count: Bold, Italic, Line;
Background – select background colour from colour picker;
Background transparency – set background transparency.
Check the example of Mosaic gallery:
Attention! For this type of gallery, the categories and pagination functions will not work.