To enable Mad Mimi subscription service you have to follow next instruction.
Add your Mad Mimi Username or Email
Add API Key which you can find under your Mad Mimi Account.
Choose a lists for subscribe. They are taken from your Mad Mimi account. All information about your subscribers you can find in your Mad Mimi account. Go to your Lists and choose the one that you specified when customize the subscription option of popup.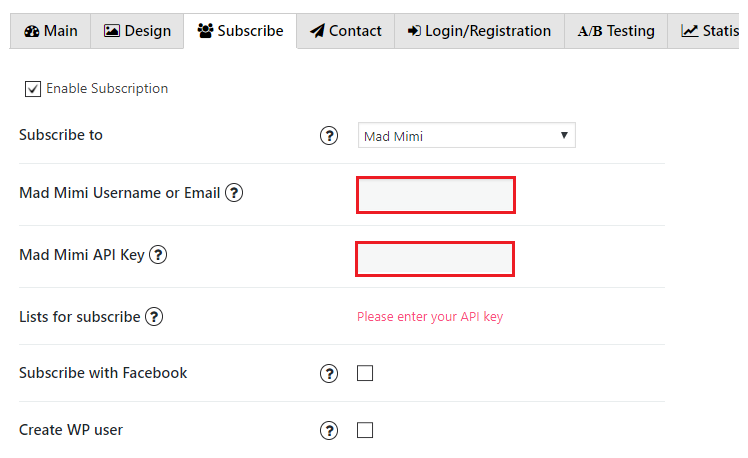 Additional settings
There are also several options:
Subscribe with Facebook – this option adds button to your PopUp with possibility to subscribe just in one click – without filling fields in your subscribe form. – Pro feature
Create WordPress users after subscribe with special roles – Subscriber, Author, Contributor etc.
Test Email Function – email delivery depends of your server configuration. For some cases – you and your subscribers can not receive emails just because email on your server is not working correctly. You can easy test it here – by sending test email. If you receive it – this will mean email functionality on your server works well. If not – it is not working correctly and you should contact your hosting provider with this issue and ask them to setup email functionality for you on your server.