Christmas Popup Templates
Dear Customers and site Visitors, Christmas time is near! Hoping the season will be full of unexpected blessings. Who owns the information, owns the world. We have been working in advance for you with this proverb in mind. Be always ready for time flow changes and feel powered back with Supsystic team. With a conviviality we bring forward fresh Christmas and New Year PopUp templates to boost your Holiday company this year in several times! If you are still standing and don't want to faint, just take a seat and prepare to see the coming beauty of this winter. Christmas Mistletoe. Not even in spring, when everything is in blossom, or not in summer time only, when everybody is in swimsuits you can find your sweetheart. Snowing beauty and energy of Mistletoe legend can make you feel in love like at the first time too. Create the Love place right on your site, place philter popup – Christmas Mistletoe template to rejoice site guests and customers!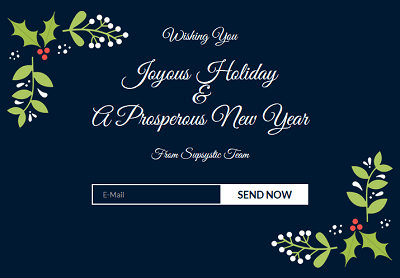 Xmas Sale. Who isn't looking for gifts? Maybe Mr.Scrooge, but not others! It's such wonderful moments, when Christmas fairytale comes with a snow to every town, to every street, to every house and building and makes every young and adult people believe in miracles again and again. The truth is people make miracles by themselves with… they can make wonders with your site products! Just provide this ability on your site with the new colorful popup Xmas Sale template that includes magic snow animation!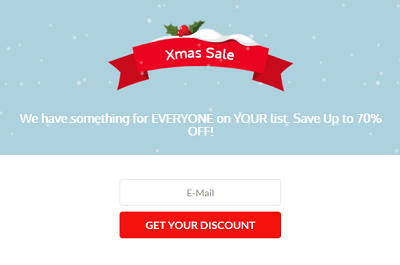 Ho Ho Holiday Sale. Sh Sh Shopping has begun, hurry up to be in time at your favorite diller's mall to grab all discounts. It's now or never. Everything's perfect for dear clients only with Ho Ho Holiday Sale PRO template! Original and nice snowfall makes your site marvellous during such important days!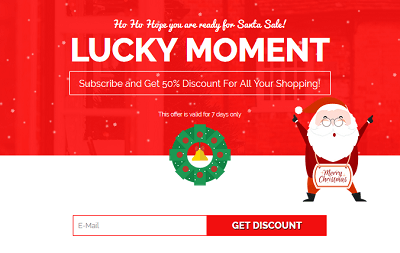 Exclusive Christmas. Going to run a HUUUUUGE Christmas party? Even relatives and friends are not enough? Remember – every neighbour is a friend too! Invite, invite, invite everybody with the help of Exclusive Christmas PRO template. They just have no chance to decline for such a realistic snow invitation.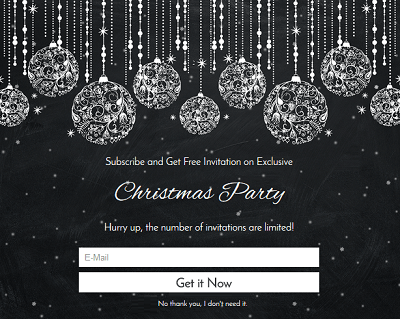 Christmas Mood. Christmas is coming and you need much more presents this year? Don't worry, we know where you can find more for the same money. Join Christmas Mood template and offer your customers more then ever before!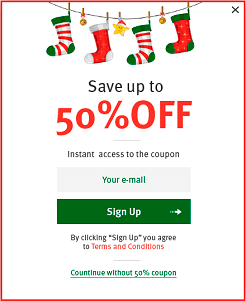 Holiday Discount. Like to underline and prevent customers money loose? You, and only you play a vital role of customers best selling presents offers. Be awesome this winter with Holiday Discount PRO template with unique snow animation.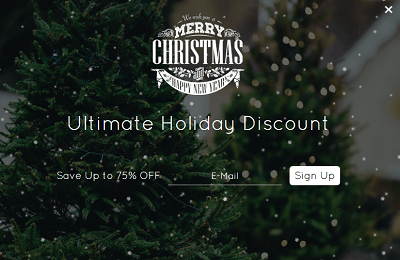 Christmas Recipes. More champagne and fireworks will gone, but here you are and other issues of diet plan? Daze and attract your new subscribers with rare tasty and healthy recipes for winter parties! We believe, you can do it with Christmas Recipes wow-template!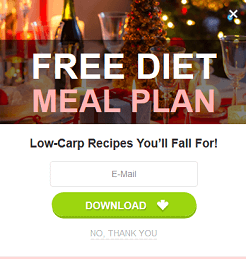 Merry Christmas.The mobile phone hasn't rang on time or you live far away from hot celebrating and nobody will come to your Christmas party? Come On, don't be frozen Queen of isolated ice kingdom! Insert inviting Merry Christmas popup to your site and let your place be full of unexpected visitors who you always like to see!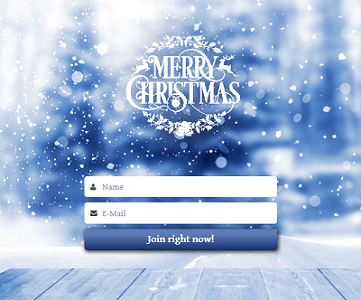 Santa Discount. The clock strikes now and Santa special discount appears! Don't stop to get it! Santa Discount PRO template will surely be an amazing tool to impress your customers and provide more deals successfully!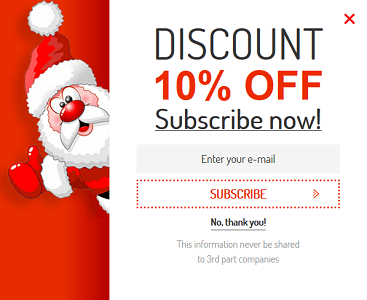 Let it Snow. Decided to increase your subscribers at Holiday time? Good solution! Make them freeze with astonishment with Let it Snow popup template and thaw out with your mind-breaking proposals! It's exactly for your site!
It's easy to get these perfect and bright templates for your site! Just download Popup plugin by Supsystic or update your already existing version or buy the Pro version to be really cool this winter holidays! Merry Christmas and Best Wishes for a Happy New Year!