Registration, Subscription, Publishing inside Contact Form
Contact Form Plugin by Supsystic was designed to deal with wide range of tasks. It is a universal fully customizable tool for website on WordPress fit for any kind of online business. So what kind of forms can be constructed using Contact Form Plugin?
Registration form
Subscription form
Contact form
You also can turn on publishing function which means that content entered to form will be published on website. It has to be said that form constructor offers wide range of options for creating forms so it easy to design unique and functional form solving tasks you need.
You can set up form for signing up combined with any other kind of content on the page. You only need to enable this feature for the specific form in Dashboard. As a result you can get an additional page user can sign up from. It is a valuable feature if you need to combine signing up with any other action or if you see that there will be more users registrated from a specific page of your website. One more thing about this form. When enabling registration you can set up the role of the new user signed up from this form. This detail provides you with numerous options for adding different types of users. For example, if you have two types of users on your website – executor and client – you can set up registration for both of them on different pages from different forms with automatically assigned roles.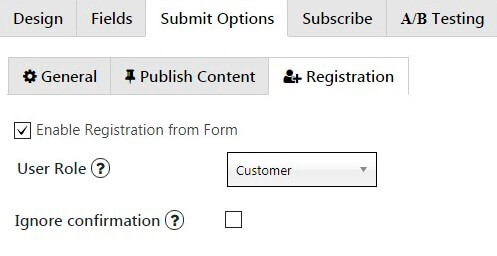 When dealing with online business email marketing is the strongest tool for sales stimulation. That's why you need to increase your subscription base and here is Contact Form Plugin by Supsystic is rather helpful. This plugin allows you to create subscription form that after submittal includes user to specified mailing list and assigns specified role. For example, if you have an online business dedicated to education and you have several programs on your website with separate mailing lists you can set up forms for each of them. Thus, subscribers will be included to the list you point out. Adding new users cannot be underestimated so plugin that allows to add new users to mailing lists is useful for business no matter whether your monetization is provided via sales or ads. Note that you can also set up confirmation and other options for new subscribers. That's how your form can look like: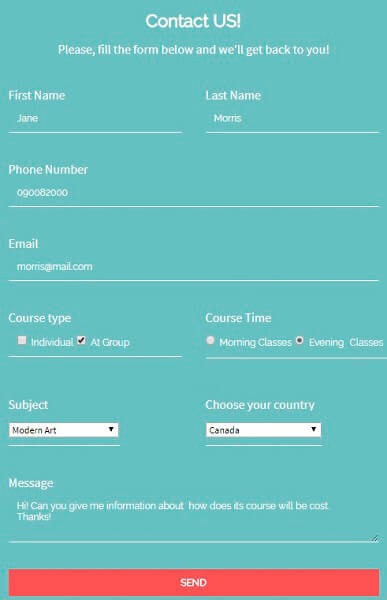 You can create unlimited number of fields for the form. For example, you can add Google Maps, Country List or Time field. You can see full list of fields in the trial version. There is a wide choice of templates for redesign and all details, fields and buttons can be replaced or situated the way which you think to be the most appropriate. Along with standard form it is possible to create very unusual forms which allow you to collect any kind of info from the client: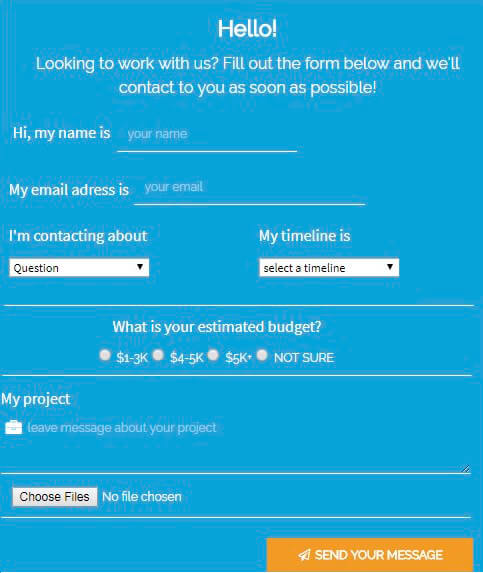 Contact form is necessary for your online business as it is the most convenient way to communicate with you for clients especially if you have not provided online chat widget.
An ability to publish content opens tremendous potential of this plugin. User can publish any kind of content (type of content for each form is stated by you) from this form which makes it a page that can be used for creating new product, forum, topic, post etc. This feature allows you not only to create form itself, but to turn your website into forum, membership site or blog. You can set up how entry will be treated after form submittal – whether it will be drafted, published or remain private. Anyway, there are many options for using and customizing this feature. More info about publishing feature you can get here.
You can also create feedback form, survey, order form and many other types of pages that demand from user entering data. The reason this form is so universal is the fact user's entry can be treated in different ways and also you can add many kinds of fields to request data of different type.
A/B Testing for Contact Form Plugin
This feature allows you to evaluate your efforts on designing form. You can add unlimited amount of test forms and check statistics to choose the best one. For example, if you have doubts on what kind of contact form to be designed you can construct several variants and compare their statistics in corresponding section of plugin. Once you have made a choice less successful forms can be disabled. To conclude, this universal plugin can bring a lot of value if used wisely. Enjoy Contact Form examples and learn more about Contact Form by Supsystic in plugin documentation.