Age restriction popup helps for every site with adult content. But sometimes it's also a tool for gathering the info about the main category of users, who visit your site. Age restriction popup by Supsystic offers you the maximum result with minimum efforts. WordPress Age restriction Popup has nothing redundant: two- three buttons and the info is in your pocket!
One very basic way of doing your popup restriction system without any code you can make it by using the cover page feature. Create a cover page, set it as your homepage and have one of the two buttons be "enter" with the age restriction text posted above and you're set, unless someone enters your site indirectly through a search engine or via social media.
But this way is rather long and not so easy as it can be seen on the first view. So we decided to make something helpful, easy, well-designed and user-friendly – PopUp plugin by Supsystic.
As about Age restriction popup from this plugin – the theme is very popular not only for its usability but for minimalistic design and a long queue of functionality.
To install the Age restriction popup for your site, you need:
To have an access to your Popup plugin – find the directory "PopUp by Supsystic" on your admin panel.
Click the insert "Add new popup", choose there a theme – Age Verification and type the name of your future plugin.
Don't forget to "Save" the efforts result!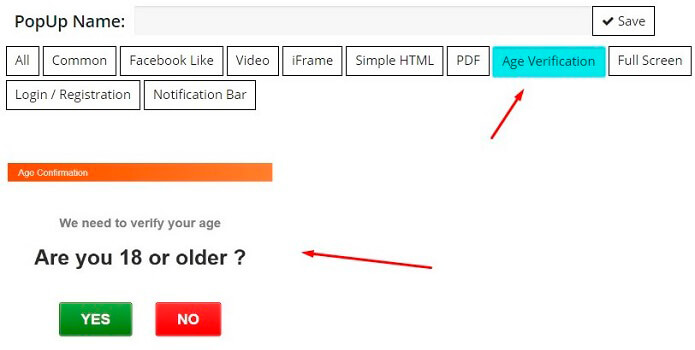 The changeable "world" of your plugin grabs the attention of even very experienced user. You can literally change everything: from the background and colors to the size and frames. Inserts like Main, CSS/HTML Code will help you with this. Intuitive understandable buttons for changing and clicking are clear.
Popup by Supsystic includes tons of cool options available to you! Check more variants for your own site WordPress Popup examples
Don't forget, that if you have some questions, want FAQs or any kind of an additional information about an Iframe Popup or another – go through the page Popup plugin for WordPress pages by Supsystic
Age restriction popup is an important feature for most of adult sites and for those who even doesn't sell anything. If you just make some reviews or post notes – you need this plugin!
PopUp plugin by Supsystic is the Complete option for Popup building in WordPress where you can select any type of post to show as a popup. Just select the options from the menus and generate the shortcodes and you are ready to GO!.A web page with a popup typically sees more conversions than the same page without a popup. More important, a page with a well designed and thoughtfully implemented popup converts better than one with an ugly popup. With Popup plugin by Supsystic you can customize the popup according to your needs and not only this.