Create and manage powerful promotion popups for your WordPress blog or website, stores and e-commerce sites. Powerful, easy to use Popup plugin by Supsystic that will help you to grab your visitor's attention to introduce him offers, discounts or other kind of promotional notices. It can be even easily automatically closed without client and users efforts.
Popups are really a good marketing tool, they impressively help to grow the converting of your site and the percent of purchasing. A web page with a popup typically sees more conversions than the same page without a popup. More important, a page with a well designed and thoughtfully implemented popup converts better than one with a poor popup. With Popup Builder plugin you can customize the popup according to your needs. Lucky you are that PopUp plugin by Supsystic is one of the most user-friendly and easy-to-use plugins for every person, who just want to install it! The Free version of Popup WordPress plugin by Supsystic gives you anything you need for creating unlimited fully functional popups and insert them wherever you want. But the Pro version opens an ultimate world of options and types, themes you ever need.
How to make your Popup be closed in several seconds, while user is staying on the site-page?
If you want to choose and create your new Popup in this style, follow the next steps:
Choose Popup by Supsystic on your admin panel of the WordPress admin page
Find there an insert "Add new PopUp" and choose Iframe theme. Don't forget to click Simple iFrame icon.
Type the name of future Popup and click the button "Save".
Then you will see another window with several option inserts like: "Main", "Design", "Login/Registration", "A/B Testing", "Statistics", "CSS/HTML Code". Your choice is Main insert and a directory "When to close PopUp", there find an option After time passed and type the number of seconds you need.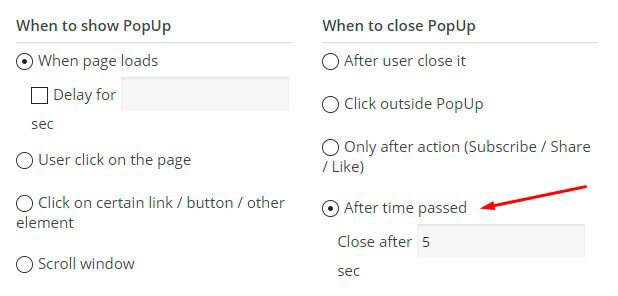 After creating your popup, go to the desired page or post and you will see a box with HTML CSS codes. Select the shortcode of popup you want to set and then update the page. You are done! After you go to that page/post the popup will get opened automatically.
Customizing the look and feel of the popup is as important as the content itself. That's why Popup plugin by Supsystic gives you the ability to customize the timings, effects, position and size of the popup to your needs.
WordPress Supsystic team constantly works on upgrades and improvements. With our upcoming updates we are planning to add more types of popups.
Don't forget that sometimes you may need some additional info. Before asking us and writing to the support, check the page Popup plugin for WordPress pages by Supsystic. Plus to this Popup by Supsystic includes tons of cool options available to you! Check more variants for your own site WordPress Popup examples