WordPress Flipbook plugin by Supsystic was created for making a first magazine, catalogue or any other issue on your WordPress site. Use Images, Posts or any HTML and CSS as a content of your flipping book publication. There are tons of options and you can choose, customize, click, change on your site, making your site a really unique by creating a magazine or publication book. Choose the posts or pictures you want to put on the site and follow the next points.
Go to the tab "Properties" on the admin panel of your WordPress Flipbook Plugin by Supsystic.

A long list of options and triggers starts from:
Name – The name of your future magazine/portfolio/any kind of publication, how it appears on your site
Area Width – Define here the width of the publication background area in pixels or percents (%)
Area Height – Define in this box the height of the publication background area in pixels
Publication Width – Define the publication width in pixels
Publication Height – Define the publication height in pixels
Area Background Type – Background type for an area of publication window. You have the option None, Color (choose their colour and set the opacity) and Image (you can download it from the WordPress Media Library or from your computer and define the image position)

Pages Background Type – Background type for pages of the publication. The same issues as in the Area Background Type option
Cover Type – Type of the publication's cover. It has two variants: Soft/Hard
Flip Sound – The great option, where you can select an audio file for the flipping of pages in your magazine, portfolio (this feature is supported only in HTML5 browsers)
Transition Direction – Direction of publication pages transition. Two ways for all countries: from left to right or vice versa from right to left
Transition Duration – Set here the transition duration for page turning in milliseconds. If you set 0 (zero) – there will be no transition. The standard option is 600 milliseconds
Open Publication On Page – Publication will be opened on the provided page number, if empty or zero – it will be the first page.

Important! If Open Fullscreen On Click option is enabled – publication, in any case, will be opened on the first page, regardless of the current option value. However, if publication have an even number of pages – you can set the last page as the page to open the publication
Content Indent – Indent from an edge of the page to its internal content in px
Zoom Level – Zoom level, that will be set after you click on the Zoom button
Border Shadow – Shows border shadow on publication perimeter. Enable or disable this option
Volume Fake Pages – Adds the effect of volume pages, like in real publication
Show Gradients – Shows gradients and shadows during the transition. Again you can switch it on/off
Open Fullscreen On Click – Enable fullscreen mode by a click on publication pages
Close Fullscreen On Click – Disable fullscreen mode by a click outside of publication pages.
The second big type of options is Properties Design parameters and buttons. They start from Toolbar Design.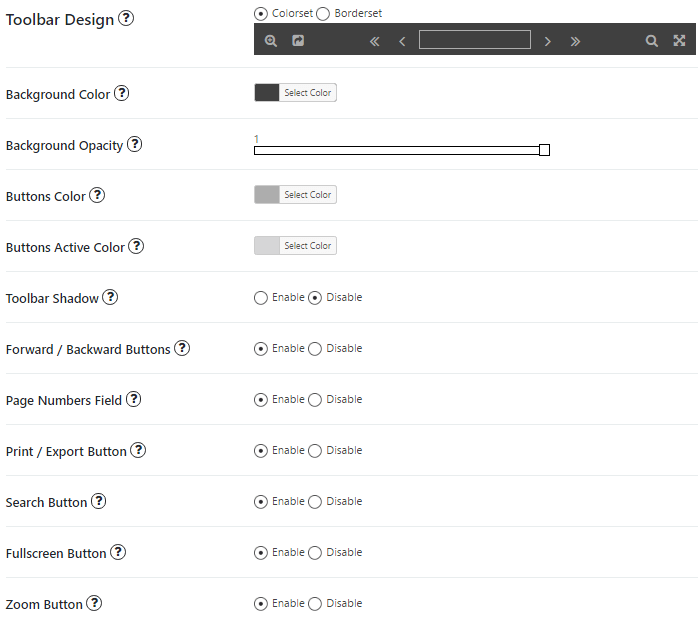 Toolbar Design – Choose the design of publication window toolbar. You have two sides for it: Colorset and Borders. Don't forget to choose Background Color and Opacity
Background colour – Select the colour of the toolbar
Buttons Color – Select custom button colour
Buttons Active Color – Select custom active button colour
Toolbar Shadow – Show/hide toolbar shadow
Forward / Backward Buttons – Buttons for turning publication pages
Page Numbers Field – Field with a number of published pages. Enable or disable this option
Print / Export Button – Button for publication export into the PDF file or HTML page for printing
Search Button – Button for text searching in the publication
Fullscreen Button – Button for displaying publication in the fullscreen mode
Zoom Button – Button for publication zooming