Icons (PRO feature) shows the amazing icons on the images with different options. There are several types of icons, it all depends on what exactly is attached to the picture – link, video or anything else, so you can improve functionality which becomes a pleasure to work.
You can create Icons for your gallery after clicking Images list button. Improve usability of your gallery, make icons links or insert a video inside, it's up to you. So here, in Link and Video tab, you can add them to your images.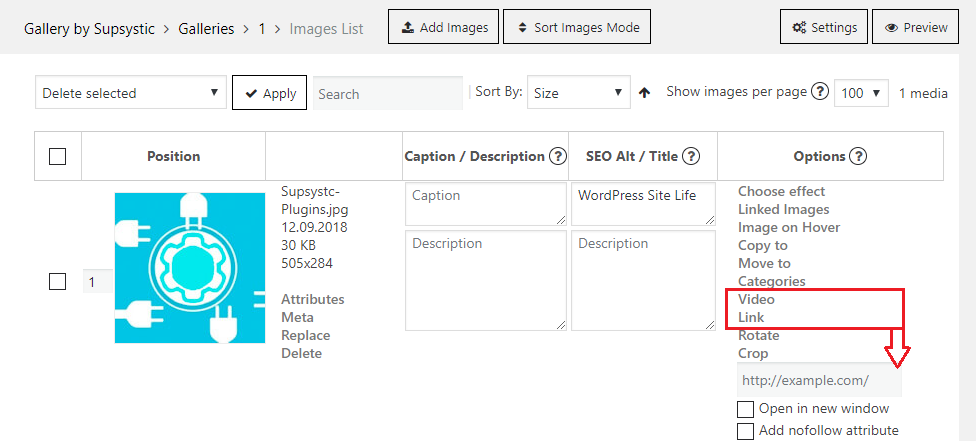 In order to adjust
Icon Configurations
move to
Properties
of the gallery, open
Captions and Icons tab
and scroll down — here
Icons
options are.
If this option is enabled, icons are displayed when mouse cursor is over the thumbnail. Icons make your gallery interactive and allow your site visitors to take different actions with images. Note: if Caption, Description and Icons options are enabled at the same time, they may partially overlay each other.
Icons option allows you to –
Set the Icons height.
Select the Icons color.
Choose the icons position.
Set the padding values for the icons.
Choose your pop-up image icon symbol.
Set the Icon size and color.
Establish the Icons hover color – color of the icon when mouse is over.
Choose the icon symbols color transparency.
Choose color of the highlight behind your icons and highlight color transparency.
Set the distance between icons. Note: you may set this parameter only for several icons.
Point the Background color for icons.
Choose the Background hover color for icons;
Enter the Distance between icons.
Select effect for icons animation – you need to click Animation button and choose the effect.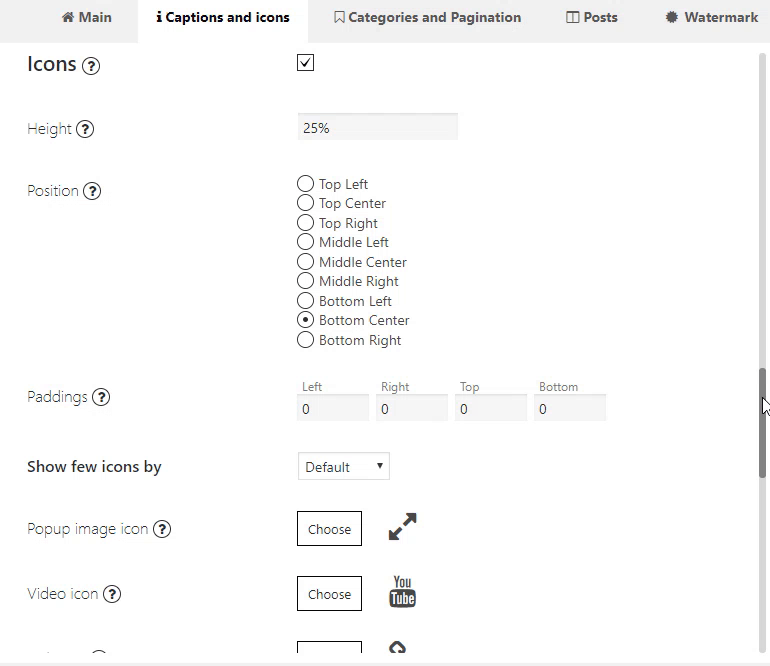 Besides you have the opportunity to enable Captions with Icons PRO feature at the same time. Activate the both options and you will be able to use Captions with Icons effects. Click Choose effect in Captions section and scroll to the bottom – there you find block of Captions effects with icons.
Enjoy of Captions+Icons Gallery.
Back to main page of WordPress Photo Gallery plugin .