Closing Popup – it's a function which can influence a lot on your conversion rate and the amount of purchases you get. Just because it's can be very annoying if it's not closing for a long time and this is a duty for your customer to fill it in.
Sometimes users can be not so attentive or just don't want to fill in the PopUp. But you strongly need WordPress users data and the plugin by Supsystic for creating popups for WordPress sites will help you with this!
Converting website visitors into email subscribers and paying customers is the main goal of all businesses. Did you know that more than 70% of people visiting your website will probably never come back again unless you offer them a chance to subscribe. This is where a WordPress popup plugins and lead generation tools come in handy. Considering there are tons of great WordPress lead generation plugins in the market, we have decided to compare the top ones to determine which is the best WordPress popup plugin overall.
With Popup by Supsystic you can make your popup not to be closed only after users action.
If you want to choose and create your new Popup in this style, follow the next steps:
Choose Popup by Supsystic on your admin panel of the WordPress admin page
Find there an insert "Add new PopUp".
Type the name of future Popup and click the button "Save".
Then you will see another window with several option inserts like: "Main", "Design", "Login/Registration", "A/B Testing", "Statistics", "CSS/HTML Code". Your choice is Main insert and a directory "When to close PopUp", there find an option Only after action (Subscribe/Share/Like) or don't forget to choose the time, after which Popup will be closed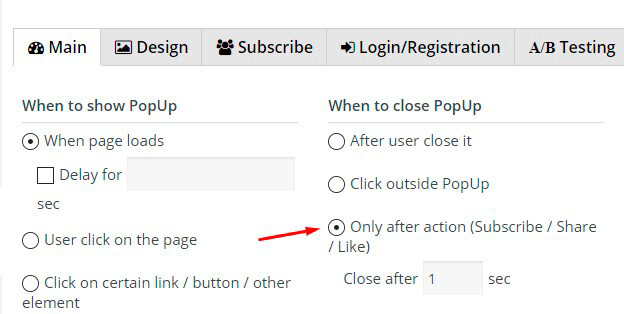 Don't forget that sometimes you may need some additional info. Before asking us and writing to the support, check the page Popup plugin for WordPress pages by Supsystic. Plus to this Popup by Supsystic includes tons of cool options available to you! Check more variants for your own site WordPress Popup examples
Unique designs and several color schemes are available for the popup form. The plugin shows you statistics on how many times a form has been displayed and how many times the form has been completed. Our WordPress plugin also includes A/B split testing, statistics about clicks and conversions, support for exit popups, and lots of targeting options that lets you decide who sees the popup, and who does not. There is also an option to force a visitor to subscribe to your newsletter before they can view the content of the page.