Post Feed slides are a slide type included in the PRO version of Slider by Supsystic. Post Feed slides are used to show off your site content. You can choose it to show your latest posts and pages! Post Feed slider pull in slides of your latest posts, advertisment etc, using the featured image as the slide.
As with all our other slide types a Post Feed slide can appear in combination with any other slide type.
Settings of the slider allow you to mix the type of your slides, to change the order to display them in and to restrict the posts by some tags or divide them into categories. The task "How to create a slider" for your WordPress site is very easy, you just have to choose the source and configure the options. You can change the slide transition, slide interval, randomize slide and many more other options. Post feed slides have preview section, every time you change the options, the preview will reflect the change you have done.
The Post Feed slides can be easily integrated with other types of sliders. You can see the compatibility of it here:
Bx slider ✘
Coin slider ✔
Jssor slider ✔
Add a new Post to your slider
Creating post feed slider you can make in two ways – by pasting posts manually or using Auto post function.
For the first way, slect post/page from corresponding dropdown list at the "Select posts to show" block.
Click Add post / Add page button.

Post/page will appear at the "Posts and Pages" block. If you don't like posts, you can delete one or several of them in any time by clicking on the box near post you want to delete and then on the trash button.

In the case you prefer posts edding to the slider automatically, Enable Auto Posts function. Here you can chose:
Number of posts you want to add to the slideshow
Auto Posts Categories – categories you want to display posts from

After you have added posts to your slider Post Additional Settings appears. They allow you to show post details or no, such as:
Title – name of the post
Optimize title – enable post name optimization
Date – time when post was published
Except – shows short description of the post/page
"Read More" – button, that leads to the article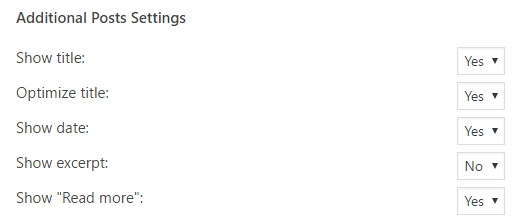 Also if you chose Carousel mode in Jssor slider settings, it's parameters will appear too:
Distance – the number of pixels between the parts of slides, equal or less than 10
Part – the quantity of slides you will see on the page
Steps – the number of slides you will go through after one click on the arrow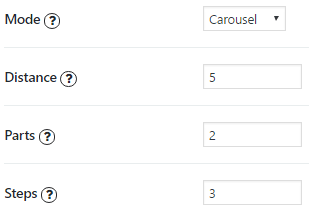 Here you can enjoy one more example of post feed slider – Post Feed Carousel
Need another type of slider? Choose something another, that can fit to your requirements. Examples of Slider Plugin by Supsystic for every site can be very different.
Post Feed slides add on your page some intrigue and help you to attract your customer by unexpected visual effect.
Disappearing gradually details open for an eye another picture and shift the focus of the user to the new bright object. Your job is only to pick up images in color range or vice versa contrast images. Another important point is that you are not limited in the amount of sliders on one page: add as more as you want. Your pictures can be united in some grids or galleries. After the creation of your slider – you can add the shortcode on any page. Post Feed slides are appropriate in any theme and site: portfolio, blog, site of some small store or even tour agency.
Post Feed slide can appear in combination with any other slide type and would be great like one slider. Post Feed makes your site more modern and increase the visual appearance of your site. Make your site intelligent and responsible on any device!