Return and Wake Up your visitors and customers after freezing. Push them to action and show WordPress popup after user inactivity.
Enable After Inactivity option (*Pro Feature) in the When to show PopUp section on the Main tab of Popup plugin by Supsystic.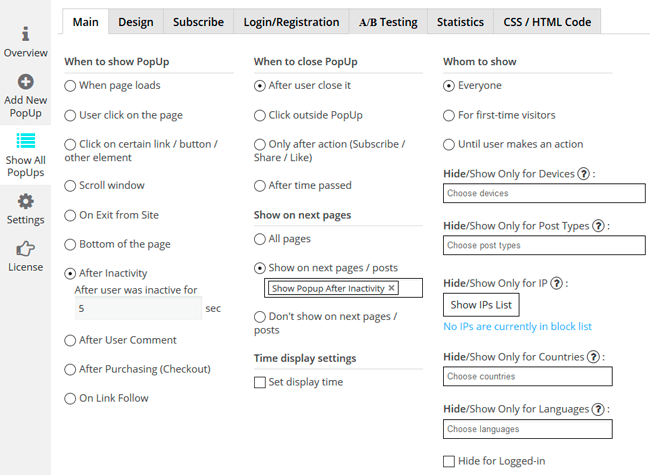 More Popup triggers and options.
Whenever you create a new Pop-Up, Fly-In or Below Post opt-in, you will be presented with a set of "Display" settings. These settings are used to control where on your website your opt-in will appear, as well as when it will appear. You can choose to display your WordPress popup on your entire site, or you can choose to display it on individual posts or post types. If you are building a Pop-Up of Fly-In, you can also adjust a set of "trigger" that affects when your popup is displayed. For example, you could create a Pop-Up by Supsystic that exists on all pages, but is only triggered when a visitor reaches the bottom of your post. Or you could create a popup to exist only on a certain category of posts, and is only displayed after a visitor comments. You can make all the settings according to your taste. As a big plus – you don't need to be a developer to manage WordPress popup plugin by Supsystic.