To adding, changing or deleting Slider widget you need:
Go to Appearance -> Widgets.

Here you have ability to manage all your widgets.

To activate Slider widget you need to drag it to a sidebar or click on it (also in the same way you can add more than one Slider widget).

You will be able to add a new widget to your Widget area. For example:

After activating (or dragging), you will see settings:
Title – set your widget name
Select slider – choose one your slider of available list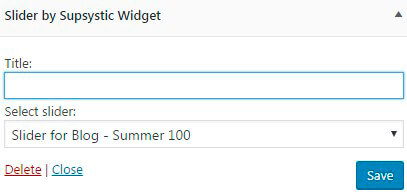 In the case you want to see some examples how widget will be displayed, open this link.
To deactivate widget and delete its settings, drag it back or click on Delete button.