Shortcode
To find shortcode you need to open buttons project settings and select Shortcode or PHP code method in Where to show menu at Main tab.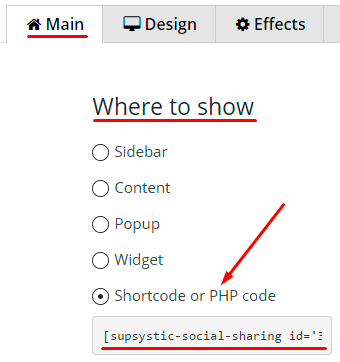 Copy and Paste the shortcode into your post or page and Publish. After that Social Share Buttons plugin will automatically create social buttons on your page using the settings you choose above.
Important! Shortcode must be inserted in a text editor page, and not in the visual.

You also can change buttons position on page by using parameters Place and Extra. They can be added manually at any social buttons shortcode you need.
[supsystic-social-sharing id="3" place="sidebar" extra="top"]
Both parameters should be used at the same time. Ratio of parameters values are shown in the table below. Any parameter at the same time can receive only one value.
Keep in mind that if you choose another method of output buttons in project settings, shortcodes will stop working.
PhpCode
Php code of Social Share Buttons is specified near its shortcode.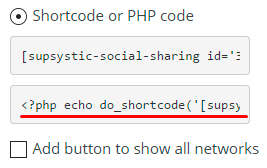 In general php code can be inserted at any place of the page code – to display exactly in this place, for example in the header or footer of the page. Besides it can be inserted in the code of template of the theme – to display on all pages.