Different slider modules allow you to make the visual part of your site more bright. Be sure, that all these variants were made with the high quality, so that they can be integrated into any site or platform. Different modules allow you to build responsive, resizable, beautiful slideshows. With slider modules you can create the slideshow of your dream, put there any of the content – posts, texts, images and even videos. Choose the module that fits only your needs and make your site better!
To swich your slider to Coin click Change Slider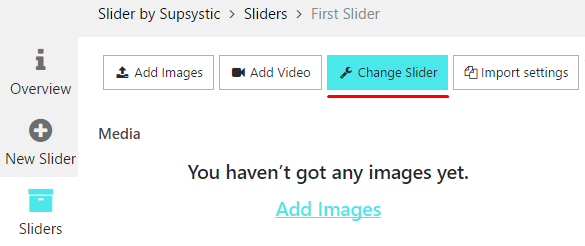 Elect Coin slider here and click Change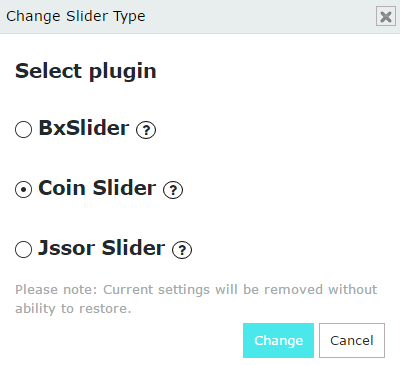 With Coin slider you have the opportunity to:
Establish it's Name and copy Shortcode
Set the Width and Height of the slider – only in pixels

Select one of the amazing Transition Effects of slides – you can choose between four types of transition effects: random, rain, swirl and straight:

Turn on the Responsive Mode to re-calculate slider width and height by the slider's container width;
Enable image Caption and edit it's paramemters:

Text color
Font size
Font family
Text align
Background color
Background Opacity

Type the Title Speed of Coin Slider in ms;
Set the Delay between slide changing;

Enable Pause mode, when mouse is over slider container;
Hide or show Navigation controls of slider;
Show all images with their full size Links
Here you can enjoy several examples of Coin Slider –
If all these variants are definetely not for you – no problem don't worry!You can choose any other theme of our plugin – Slider Plugin by Supsystic.
Make your site unique and beautiful today – just install Coin Slider on your WordPress page and inspire your clients!
Looking through lots of same plugins and all of them have some disadvantages? You are tired from compromiss between technic part and visual appearance of your plugin? It is rather hard to undestand how to manage your slideshow? You need to spend a lot of time and waist it on different strange settings and options? You are tired from popups and windows?
We have a solution for you!
Our Coin slider! Just install Slider from Supsystic and choose there "Add a new slider". After this choose Coin skin and here it is. Now you can start your changing – the size and amount of pictures, pause modes, navigation etc. By the way, WordPress plugin Coin Slider can be easily integrated with WordPress Media Library. so that you can choose your own pictures and add them from your computer, laptop or something els. But also you can choose already done pictures and add them to your gallery grid. Remember, that real style consists from details – so add somethinf fashionable, modern, user-friendly, beautiful and light to your WordPress site!