If you do not want to show your content for unregistered users – this feature is for you. You can make the content inaccessible until the user does not share or fails to perform other operations using the Social share buttons.
You can hide content of page or all site content until the user clicked to any of social share buttons, by using function Content lock (PRO feature).
To do it you need to follow next steps:
Put content which you want to hide into html container with unique class name. For example, we use container:

<div class="content_lock">Welcome to WordPress. This is your first post. Edit or delete it, then start blogging!</div>

Open Main tab in social buttons project.
Click Content lock.

Enter class name in Element class field.
Click Save button.
Important! Don't forget to save changes in project.
Now on site pages with locked content the users will see the message stating that they need to share this page to unlock content.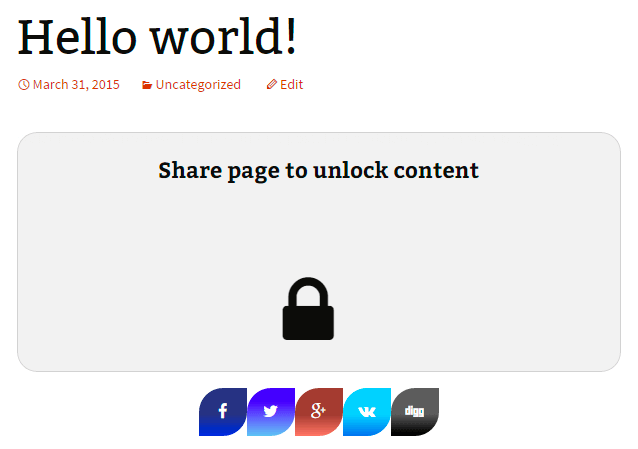 After the user clicks on one of social button a locked content would displayed on the page all the time.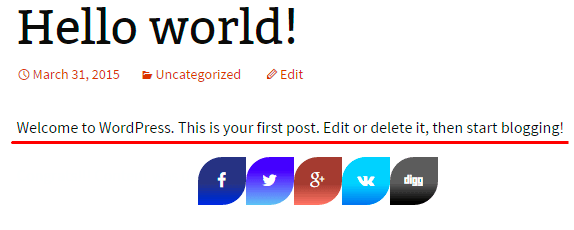 ---
Today Social Networks begin more popular from day to day. They are a great source to get more followers and fans for your blog. WordPress Plugin Social Share Buttons by Supsystic helps you and your site users share blog content like posts, pages, pictures, galleries, popups directly from your blog to needed Social Network sites like Facebook, Twitter or Linkedin.
Not everybody begins personal blog for money. Thus you can see, that free Social Share Buttons by Supsystic are very useful and this plugin is easy to download and activate for your WordPress site. In the case you want to make your site brilliant looking and awesome welcome try pro-version, that has more templates to fatisfy your needs and surprise your site guests.
There is nothing more easiest than to add buttons to your site pages, just foolow the instruction and don't forget to welcome lots of new users on your source!