Step 1. Installing Coming Soon by Supsystic
In WordPress, navigate to Plugins > Add New. Search for "Coming Soon by Supsystic" and click install. When the installation has completed click "Activate Plugin". You will have a new admin menu item titled "Coming Soon Supsystic".
Installing Coming Soon by Supsystic PRO
In your personal account on the supsystic.com, you will find a unique download link after purchase. After downloading the file (supsystic_comingsoon_pro.zip), navigate to Plugins > Add New > Upload and upload the file. When the installation has completed, click "Activate Plugin".
After activation the PRO version, you need to enter a license key (you can find it in your personal account on our site). To do this follow next steps:
Go to the Coming Soon Supsystic in WordPress navigation menu
Click License tab on left navigation menu of plugin
Enter your email and license key
Click "Check" button
With Coming Soon Pro version you have an access to more options and stylish templates.
Step 2. Work in Coming Soon plugin
Click the Coming Soon directory on the admin panel of WordPress site
Choose the plugin mode
You have three variants for your Coming Soon banner on the site.
Coming Soon Page
Redirect to URL
503 Header Response
Let's get a little more details.
Coming Soon Page – this is a ready-made template page, which will appear for users, while you have repairing work on the site or just close it. If you haven't Pro version – you have 2 templates, but with PRO one you get more than 9 of them.

When you choose the template, you have the option to edit it – customize your coming soon page with block builder, set the time frame for coming soon, edit content of the page and much more. Read more…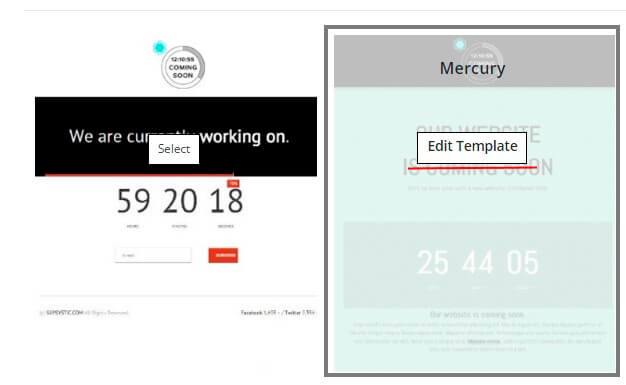 The second option –
Redirect to URL
. The one additional function you have here –
Redirect URL
. And the same System/Site View Options.
The last one option is – 503 Header Response. User will see this error, when coming to your URL address.
Check out the more explicit description on the page Coming Soon Page Modes
Below all the modes you have abilty to adjust Site View Options. They include several points for customizations:

Login URL – If you change login url for your site, you need to set new login url for this option too
User Roles – By default only administrator can view the site, but here you can select other user roles that can view your site while it is under construction. Note that administrator can always view the site (even if de-selected in this list)
Exclude / Show only on URLs – By default while your site is under construction – all users will see this in all links on your site. But here you can list links where you want to disable Under Construction mode (or vice versa – depending on Exclude/Show Only option). Just print links here, each link – from new line
Hide / Show Only for IP – set the user's IP, who will see Coming Soon page or not. For this click "Show IP's list" and enter users IP's if needed in the opened window and "Save" changes.


In addition, you have System two functions:

Send usage statistics – Send information about what plugin options you prefer to use, this will help us make our solution better for You
Enable promo link – We are trying to make our plugin better for you, and you can help us with this. Just check this option – and small promotion link will be added on the bottom of your Coming Soon page. This is easy for you – but very helpful for us!

Right after you have adjusted Coming Soon mode, don't forget to save options
Important Note! You can check the work of Coming Soon plugin by opening your site like a guest, not like an admin. The easiest way is to open it in other browser or in incognito window.