Pre-Chat Triggers were created in Live Chat Plugin for catching the eye of your guests and users. They couldn't pay attention with such a tool.
To install Pre-Chat Triggers into your Live Chat Box you need:
Step 1. Find your Live Chat plugin on the black admin panel
Step 2. Click the insert "Settings" and find the tab "Pre-Chat Triggers"

Step 3. Click the button "Add Trigger" and first of all, type Trigger Name

Conditions or options that you can choose:
Agent Online– your Pre-Chat Trigger will be displayed, when Agent is online
Pages/Posts– choose the pages or posts, where Pre-Chat Triggers would be available. In addition here you can choose the option Equal or not Equal Triggers it should be
For Countries – Countries, where the Triggers can be seen
Hour of the Day – the time Pre-Chat Triggers should be on the screen. Options for you here also More then and Less then
Day of the Week – choose the days, when your Pre-Chat Triggers should appear on the screen
URL Pre-Chat Triggers will be on the screen, if people come from the concret place
Time spen on the Page – the time on the page, after which the Pre-Chat Triggers will be displayed
An additional Pro Feature of our Live Chat Plugin – On Exit – Pre-Chat Triggers will be shown, when the person leaves your page
You can add as much conditions as you want. Just click the plus button, if you need more then one.

The main option for Pre-Chat Triggers is the Action. You have three variants:
Show eye catcher – your users will see the picture, you choose
Auto start chat – type the default message your chat would automatically start
Auto open chart – the chat opens with the opening of the page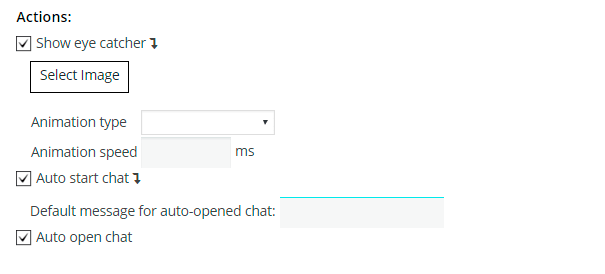 Step 4. Click the button "Save" near the Triggers Name and "Safe" the whole plugin. You have a preview on the right part of the screen for your comfort.
In case of some additional questions – click the Live Chat Documentation Page