Social Share Buttons by Supsystic allows you to create your own unique design of share buttons without any programming skills. It offers you wonderful collection of multiple design templates, different counter options and a huge variety of amazing animation effects.
You can find all these options on Design Tab. Here is a list of all your opportunities:
Buttons Design – you have the ability to choose one of 9 amazing button templates in different type of appearances. See the examples of different designs on this page or change it here:

Button spacing – with this option you can add space between the buttons.
Buttons size – choose the right size for social buttons – smallest, small, normal, big, biggest. It is very useful option, it allows you to accent the attention for as much as you want it. Check all available sizes of buttons.
Display counters – displays counters of social shares on buttons. See the example of buttons with counter here.
Counter style – choose standard or arrowed style.
Show counter after the number of shares – you may wish your site visiters see the number of post shares when it was shared more than 10 times or 1000 times. It's up to you with this function
Show numbers from – select from where exactly to show numbers of counter – the all projects, the entire project or from the each page.
Use short numbers – option rounds up big numbers of counters and displays the short numbers.
Enable gradient mode(PRO feature) – this mode creates smooth transitions from the one color to another.
Overlay with shadow – enable overlay effect with shadow when mouse is over the button.
Buttons animation – select the effect for animation of buttons.

Icons animation – select the effect for animation of icons inside the buttons.

Check the examples of animation effects.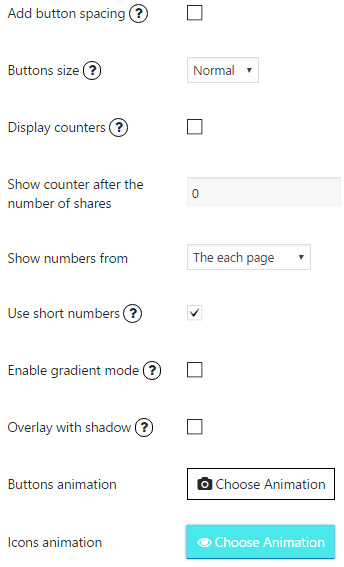 Besides on the Design tab you can see the Preview of all this options and effects.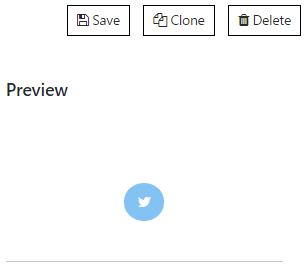 ---
Social Networks are very popular now a days and great source to get readers for your blog. WordPress Plugin Social Share Buttons by Supsystic helps you and your users to share blog posts directly from your blog to social network sites like Facebook, Twitter, Linkedin etc.
Most people do not make a blog for money. So, it will be very useful for them to upload free Social Share Buttons by Supsystic on their site. But in pro-version you have more templates for your social share buttons.
Its easy to add buttons to site; choose place where you want to see buttons; select template, animation for your social share buttons.