Sometimes it is useful to choose the right place and moment for displaying the social share bar. Social Share by Supsystic gets users sharing the right content аt the right moments, and keeps them engaged on your website. Plugin allows you to choose the various options When to show and Where to show social buttons. With this options of Social Share, you have much more chances to attract a wide variety of your website visitors.
On the Main tab of Social Share by Supsystic you can find different options how to display social share buttons. Here you can set –
Networks to show

Click Add Networks button.

Choose networks, with which you want to create social buttons, delete or Select all of them. You can select any numbers of social networks.
Save changes or Close this window without them.

After this you will be able to add Title, Button Text, Tooltip, Image, Default Message of the button or make a quick deletion by red "X" button.


Where to show – choose where to show social share toolbar

At the Sidebar of the page – Top, Bottom, Left or Right.
At the Posts or Pages Content – Above content, Below content or Above + Below content. Also choose align for buttons on content page – Left, Center, Right.
At the Popup window – you need to install Popup by Supsystic plugin to use this feature. When you already have Popup by Supsystic, just choose needed popup and "Save" changes.

At Photo Gallery by Supsystic – check Photo Gallery setting to let sharing whole gallery or each picture separately.
At the theme's Widgets areas – create a widget of your project at Appearance -> Widgets.
Use Shortcode or PHP code – insert the project shortcode/ PHP code and show buttons where you want. Also here you can set buttons align on content page – left, center or right.
Besides here you have such abilities –
Share only post link – permits you to share post link even if post is in the list.
Show all networks – allows user to display all networks in popup window
Content lock (PRO feature) – allows you to lock content elements by class name before user share this page with any network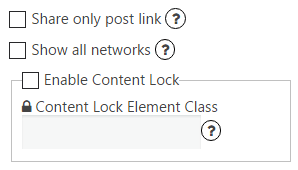 Show on next pages

Show everywhere – Social Share buttons will be seen on every post and page of your site
Show on Homepage only – buttons will appear only on the main page of your site
Hide on home page – you will be able to seу buttons on every post or page, except of the Home page of your site
Show on next posts / pages / post types – select here where you wish social share buttons have to appear
Don't show on next pages / posts – establish pages and post, which will not have social share buttons
Hide share buttons on mobile devices – tick here to conceal buttons on mobile devices
Show Only on Mobile Devices – if you want buttons to appear only on mobile devices, check here

When to show

When page loads
When user clicks on a page
Important! After changing the settings of plugin don't forget to click "Save" button.