With Slider by Supsystic plugin you have the ability to change slider modules and choose the one you like – simply click "Change slider" button, choose the another module and click "Change" button. But please note that current settings will be removed without ability to restore. The configuration of each from slider modules is not complicated at all. After installing the Slider, your task is just to create a new one with its own appropriate name and choose your template. Then nothing complicated again – check the settings you need and choose the module.
If you elected Bx Slider, you'll get one of the most popular, but each time unique slider. One of the most easy-to-use slider, which has user friendly interface, intuitive design and tones of settings for customizing your BxSlider. The best thing is that you are not limited in amount of slides and grids per each page of your site. Another thing is that you don't need any tutorials for making settings – you can see the result of your efforts immediately and make all the corrections this moment!
What are the advantages of using BxSlider on WordPress site? To try them firstly click Change Slider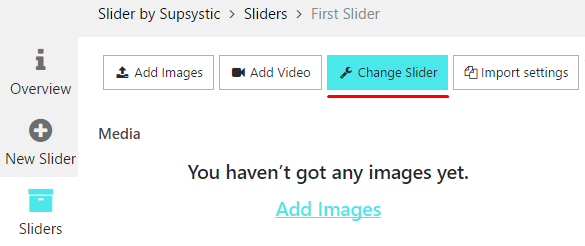 Choose BxSlider here and click Change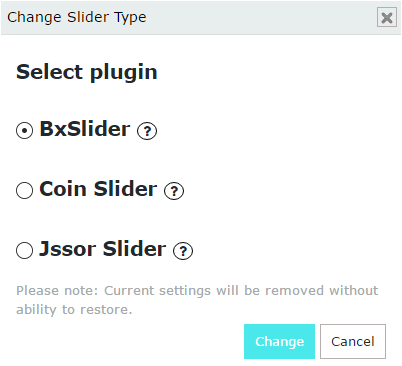 The new WordPress plugin BxSlider allows you –
Set it's Name and copy Shortcode
Set the Width and Height of the image slider (width can be set in pixels or percent, and the height only in pixels):


Choose the Mode of transition between slides – Horizontal, Vertical or Fade. If you choose Horizontal or Fade you will need to set only Steps, but if you select Vertical mode, it's additional settings will appear –

Number of slides you want to see at the same time
Distance between slides
Set the number of Steps for the slides' parts flipping
Vertical arrows mode – adds arrows to your slider

Turn on Autoplay Video to begin video in slider as soon as you see the needed slide;
Enable the Autostart Slideshow – auto navigation between slides;
Turn on Slideshow Controls;

Select type of Navigation between slides – standard or thumbnails. In the case you choose Thumbnails additional options will appear —

Multiple rows – type here the number of rows for thumbnails to display
Hide Arrows

Enable displaying images Captions and edit it's paramemters:

Text color
Font size
Font family
Text align
Background color
Background Opacity

Set the Transition Speed between slides in ms
Enable Start of BxSlider on a random Slide;
Choose type of Easing, which will be used during transitions of slides, choose type of easing, which will be used during transitions of slides;
Enable Touch support – BxSlider will allow touch swipe transitions;

Enable One-To-One Touch option – non-fade slides will follow for the finger when you swipe it across the screen (available, when touch option is enabled);
Set the Swipe Threshold – amount of pixels of a touch swipe, which must be exceeded in order to execute a slide transition (only used if touch is enabled);
Enable Pager – to use pages points for quick navigation between slides
choose Type: if "Full", a pager link will be generated for each slide; if "Short", a x/y pager will be used (ex. 1 / 5)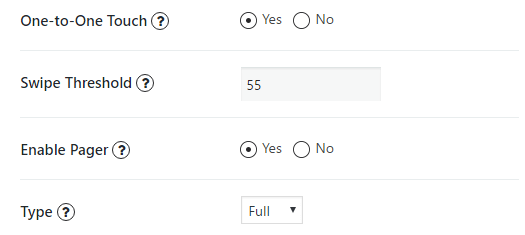 Also BxSlider has a unique PRO feature – Bx Builder – visual editor! To edit BxSlider in visual mode – click "Builder" button. Here you can specify settings for –
Viewport
Caption
Buttons
By the way, BxSlider is fully adaptive and will look good in any device: tablet, personal computer, laptop or even cell phone. In addition, BxSlider is supported by any browser: Safari, Chrome, Opera, Firefox and platform: iOs, Android.
It can be easily integrated with WordPress Media Library – so that you can or add your own images, or choose the one you need. You can change the order, the size, the color and lots of other things. Super easy customisable BxSlider for Supsystic customers.
Here you can enjoy several examples of BxSlider –
If these variants don't fit you – you can choose any other variant of our plugin – Slider Plugin by Supsystic.
Make your site unique and beautiful today – just install BxSlider on your WordPress page and inspire your clients!