In order to create and correctly configure field with Google reCaptcha on Registration page – please follow the instruction below –
First of all, you need to create new field. On the "Registration Fields" tab click the button "Add Field" and choose Google reCaptacha type.
You will see the window of options. Label and Section boxes are typical, the questions begin from two second "Google ReCaptcha Site Key" and "Google ReCaptcha Secret Key".
For normal functionality of your reCaptcha field you need to generate site and secret keys. Follow the link. If you already have these generated keys – you can simply copy them – choose your site from "Your sites reCAPTCHA" and copy the keys. Otherwise look to the bottom of the page, there you will see the directory "Register a new site".
Type there a label and domain of your site and click "Register" button.
You will see your site key and secret key. The only thing you need is just to copy them and paste into boxes of field settings.
Also here you can customize such settings –

Google ReCaptcha Theme – light or dark
Google ReCaptcha Type – image or audio
Google ReCaptcha Size – normal or compact

In order to complete field creation – click "Add field" button.
Also you have ability to add Google reCaptcha on your Login page: go to Design tab -> Registration and Login. At the following list click Yes on the checkbox with title "Google ReCaptcha" and paste your site key and secret key on fields below. As in Registration reCaptcha configuration here you can choose Google ReCaptcha Theme, Type and Size.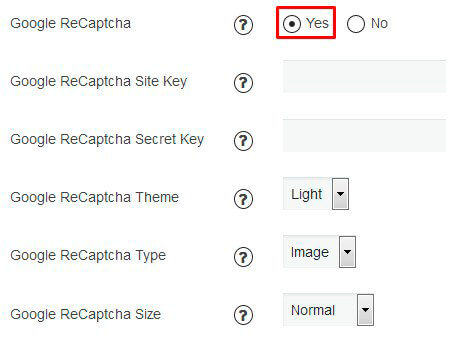 Don't forget to click Save Settings button!