On Profile page membership user will be able to edit personal information, make some actions with friends and groups. Here you can change the main attributes of user profile –
Avatar photo – hover your mouse on avatar and click on it. Click "Upload new photo", choose the picture and save it.
Cover photo of profile – click on camera icon in bottom right corner of Cover image.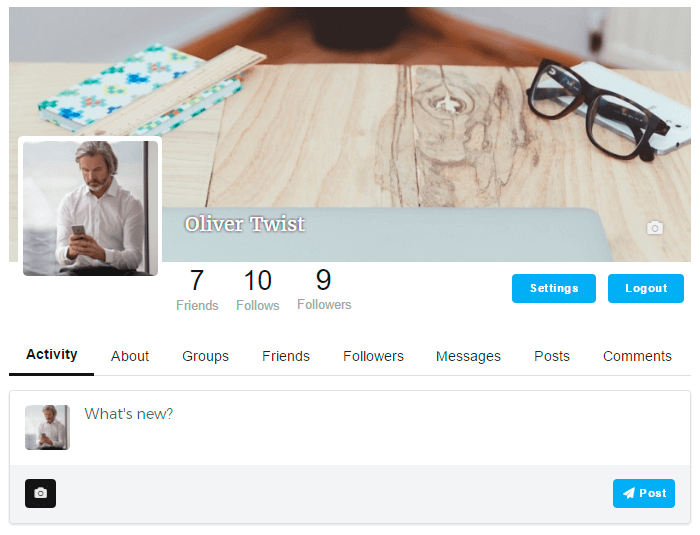 Profile page includes such sections – Activity, About, Groups, Friends, Followers, Messages, Posts, Comments and Settings. Also on this page user will be able to Logout from his personal account. Let's check each tab in more details.
Activity
Here you can post the text, photos and videos. Also on Activity tab there are possibilities to like, comment and share the posts for you and other users of Community. For profile owner – Membership plugin allows to delete and edit the posts. Read more about Membership Activity. Activity example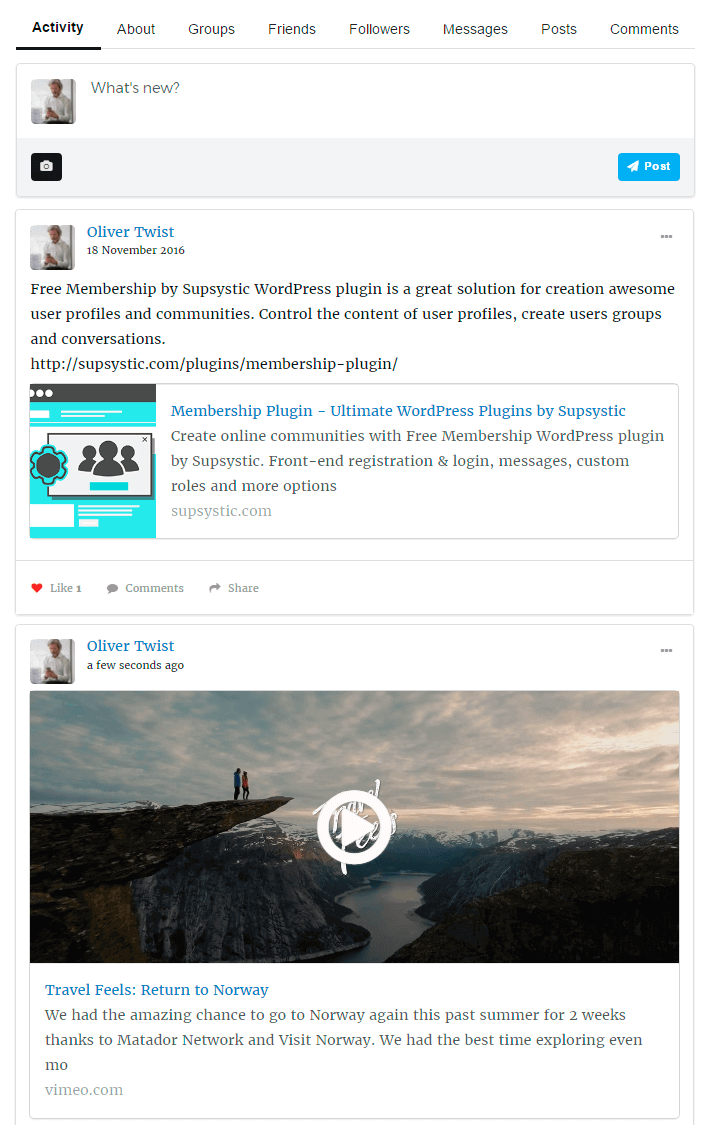 About
On this tab you can edit the information about yourself. Here will be displayed those sections and fields which you have created in Registration Fields settings of Membership plugin. About example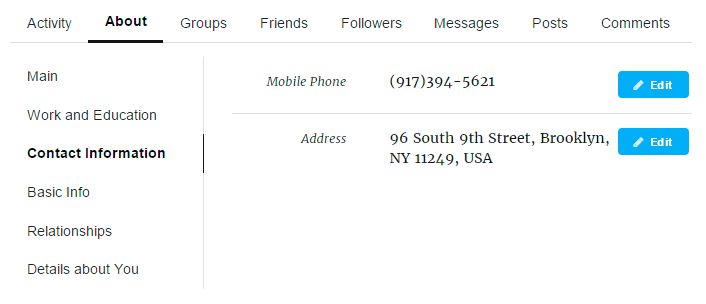 Groups
Shows the communities on which you have subscribed. Also in this tab will be shown invitations to new groups. Groups example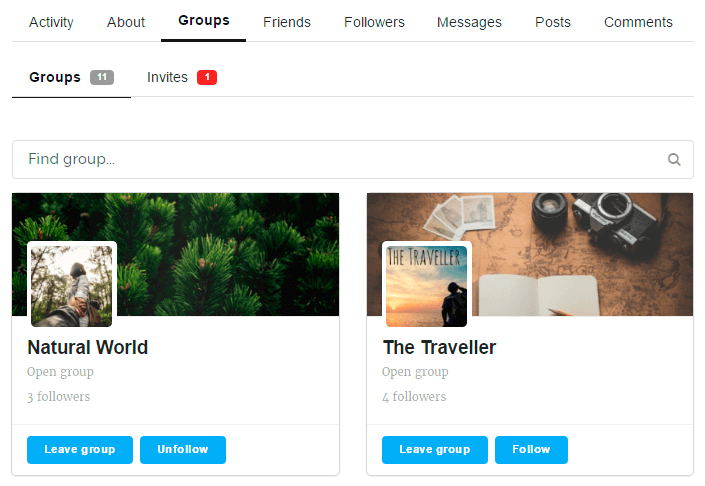 Friends
This tab shows the list of user friends. Also here you can accept or decline new friends, which want to add you to their lists, unfriend/unfollowed some of your friends or send messages to your friends. Friends example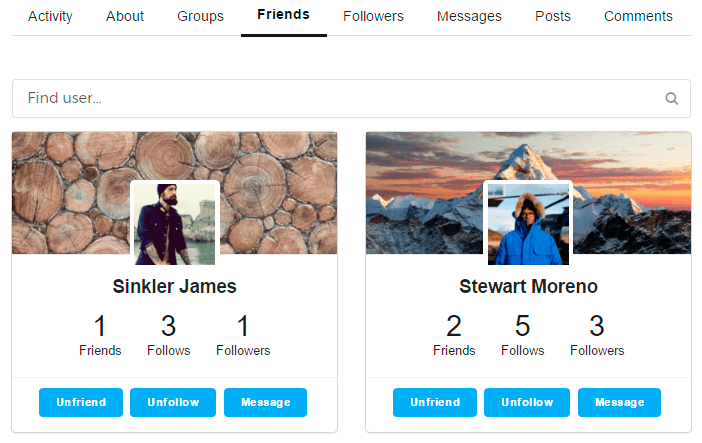 Followers
Check the list of people you're following and list of your followers. Followers example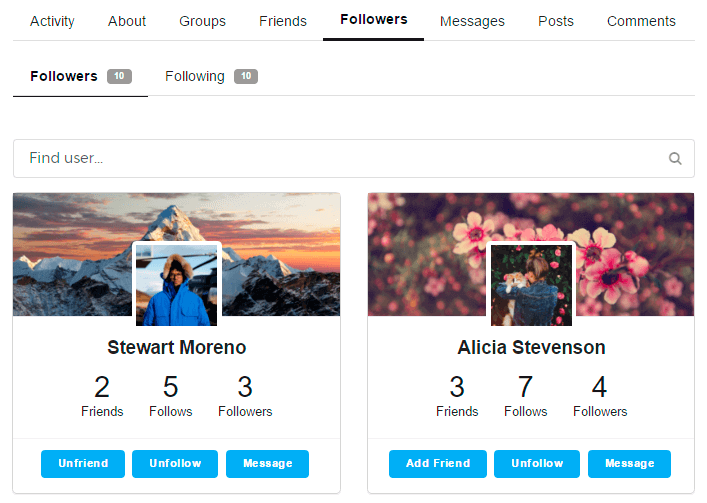 Messages
Communicate with membership users in personal chats. Here you can –
Start new conversation
Check the list of all your chats
Delete messages from conversation
Delete conversations
Block user
Messages example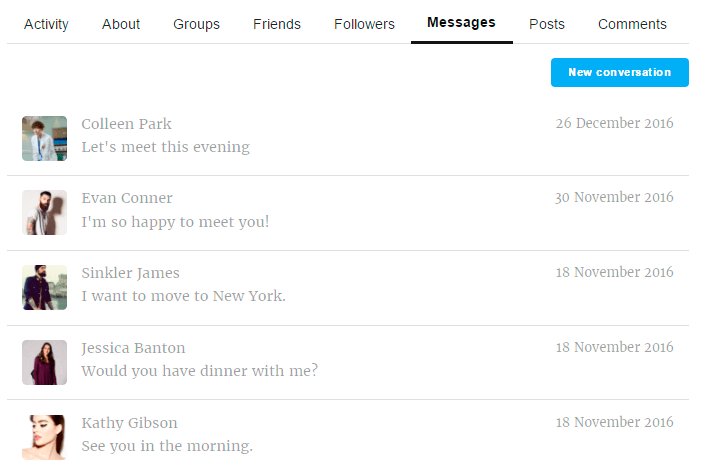 Posts
On this tab will be shown the list of all your WordPress posts. All posts with your authorship.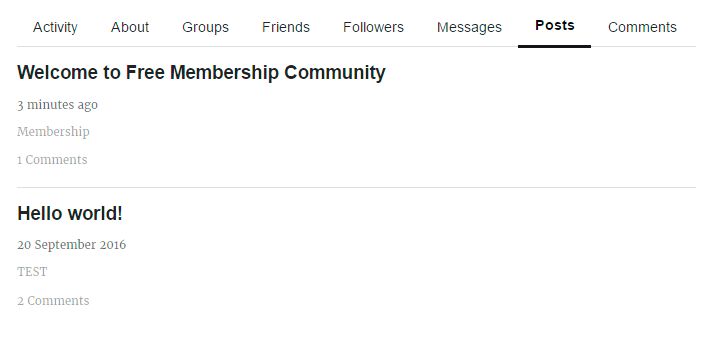 Comments
Comments tab contains the list of posts where you have left the reply. Also this tab will show the text of your comments.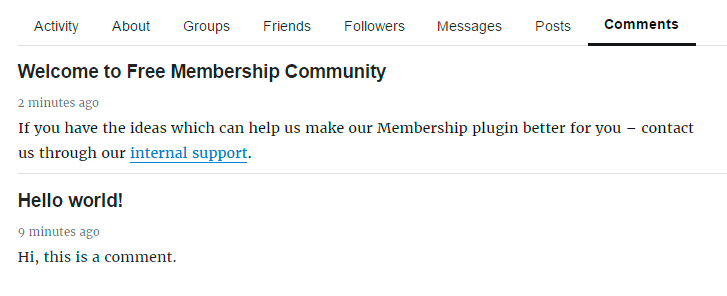 Settings
This page allows you to customize such profile configurations –
Account – here you can change your profile email and password. And also delete the account.

Privacy – set the privacy settings of your profile page for another users. Here you can specify the limitations on different actions with your profile page for different users.

Who can view about information on my profile.
Who can view my friends.
Who can view my follows.
Who can view my followers.
Who can view my groups.
Who can post to my activity.
Who can view my posts.
Who can view comments on my post.
Who can comment on my posts.

For all these settings are provided such variants for select –

All users
Friends
Friends of friends
Only me

By default, user profile is fully available for all users.

Blocked users – check the list of blocked users.
Notifications – enable notifications about different activity of your Membership profile.

Send private message
Send friend request
Follows me