With Live Chat plugin for Website by Supsystic you can show live chat in different ways – when page loads, after user scroll page. Besides you can show live chat by clicking on certain link, button, image or even show it by clicking the Menu item. Just add required code and everything is done!
Go to Live Chat Settings -> When Show tab -> "When to show Chat" section. Here you need to choose "Click on certain link / button / other element" radio button and copy the required code.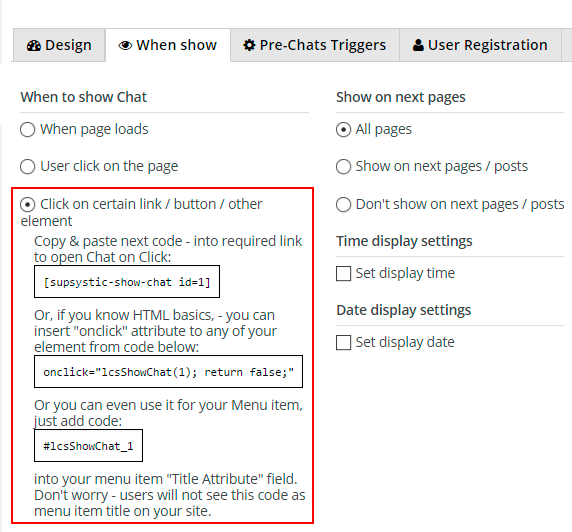 For example, how to make live chat appear after click on your content link?
Copy the Live Chat shortcode from the first field of this option
Go to your post or page and select required text
Click on create link button in text editor and paste shortcode of live chat into the URL field
Click "Add link" button
To use live chat for your Menu item – follow next steps:
Copy the third code of this option. It will look like this – #lcsShowChat_1
Go to Appearance -> Menus
In Menu Structure choose item and paste code into the "Title Attribute" field
Save menu changes