With Google Maps Easy Plugin you have an incredible ability to display different geographic information with KML files in your Google Map.
KML Import feature allows to create and customize map and quickly add points, lines, and shapes on top of any Google Map.
So, if you don't want to create custom maps for yourself, you can browse through the public ones, for example Google My Maps.
We added couple layers and now you can take a look at America's Ultimate Sports Cities and see the Extreme Places Around the World.
How does it work?
If you want to use KML layers for map, nothing can be simpler, we propose 2 ways: enter KML file URL or upload KML file.
Open a custom map of choice.
Click on the three little dots to open the menu for download .KML file. Or use KML file URL
On Map Properties tab find "Add KML layers" option. Enter KML file URL or upload KML file.
Copy and paste the shortcode into your post or page and Google Maps Easy by Supsystic plugin will automatically create the map on your page using the settings you choose above.

You are free to add as much layers you need, but sometimes it's hard for users to find necessary info.
We have the solution for you – KML Layers Filter (PRO feature)
With KML filter feature your customers will be able to hide some KML layers or sub-layers and check only that information they need.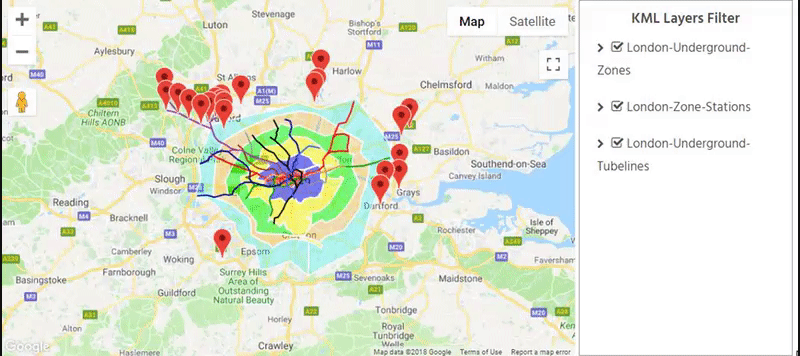 Just follow our instruction and you will be able to import thousands of objects if necessary in a matter of a few clicks.